ALL ABOARD THE MEGA
MAGILLA GORILLA FLOTILLA
by Xaser Acheron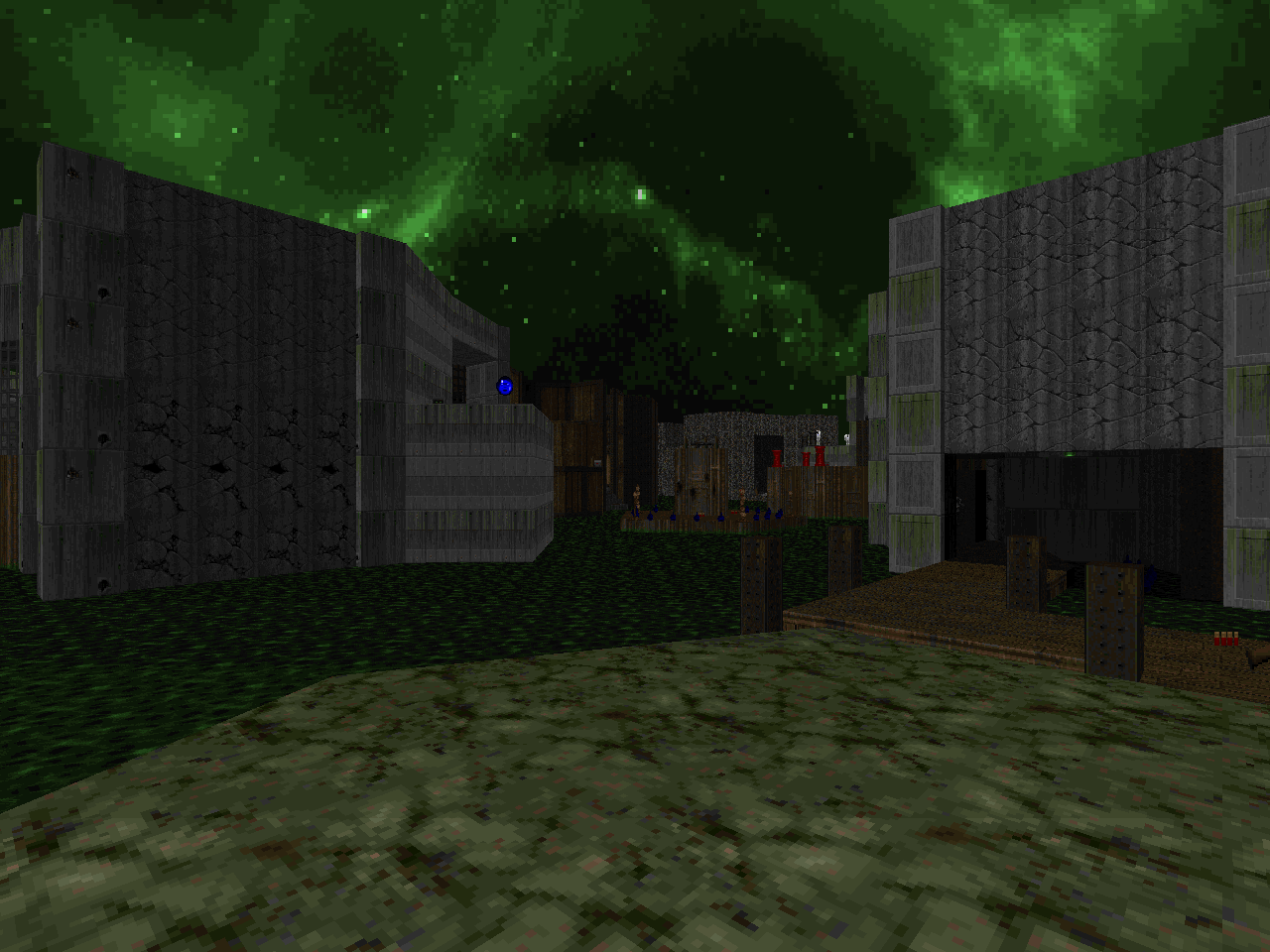 Xaser is nothing if not industrious. While all of the big projects continue to drift at a glacial pace, he cranked out a handful of single level releases in 2015 to whet the appetites of those who have come to wait with baited breath. This little number is
All Aboard the Mega Magilla Gorilla Flotilla
. Kind of a mouthful, no? Actually, while
XA-GORIL
was "released" in 2015, it originates as part of a jam hosted by
Battle of the Bits
that wrapped up in late 2014. I see that it's got ten other compatriots, some of which are familiar faces. Interesting!
Gorilla
is a MAP01 replacement that should be playable in your source port of choice, supposing that it isn't some crazy engine that's more broken than vanilla.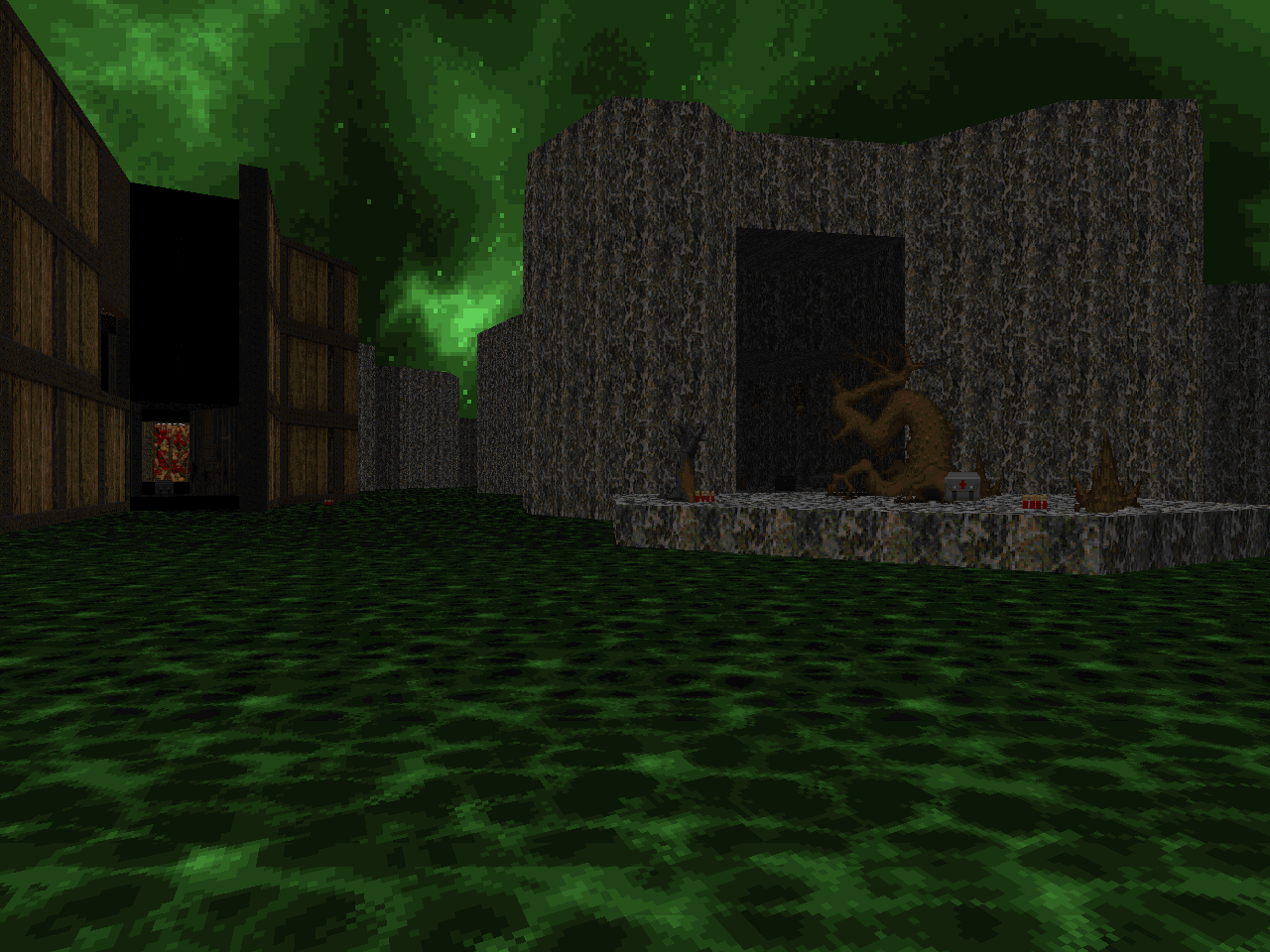 The story, if you care to read it, is Xaser to the core. Doomguy was supposed to be on vacation on some kind of cruise to Fiji but somehow got sucked into Hell, where he was beset upon by some kind of infernal navy. After a fantastic battle you'd be loathe to miss seeing, he got bored and / or frustrated and ended the battle with the mysterious powers of his mind, which were conveniently lost after the sinking of the ships, which is why you're now in a toxic caldera strewn with inundated ruins and angry demons, darting around in a panic from island to island. As for me, well, I'd like to know more about that Doomed pleasure cruise.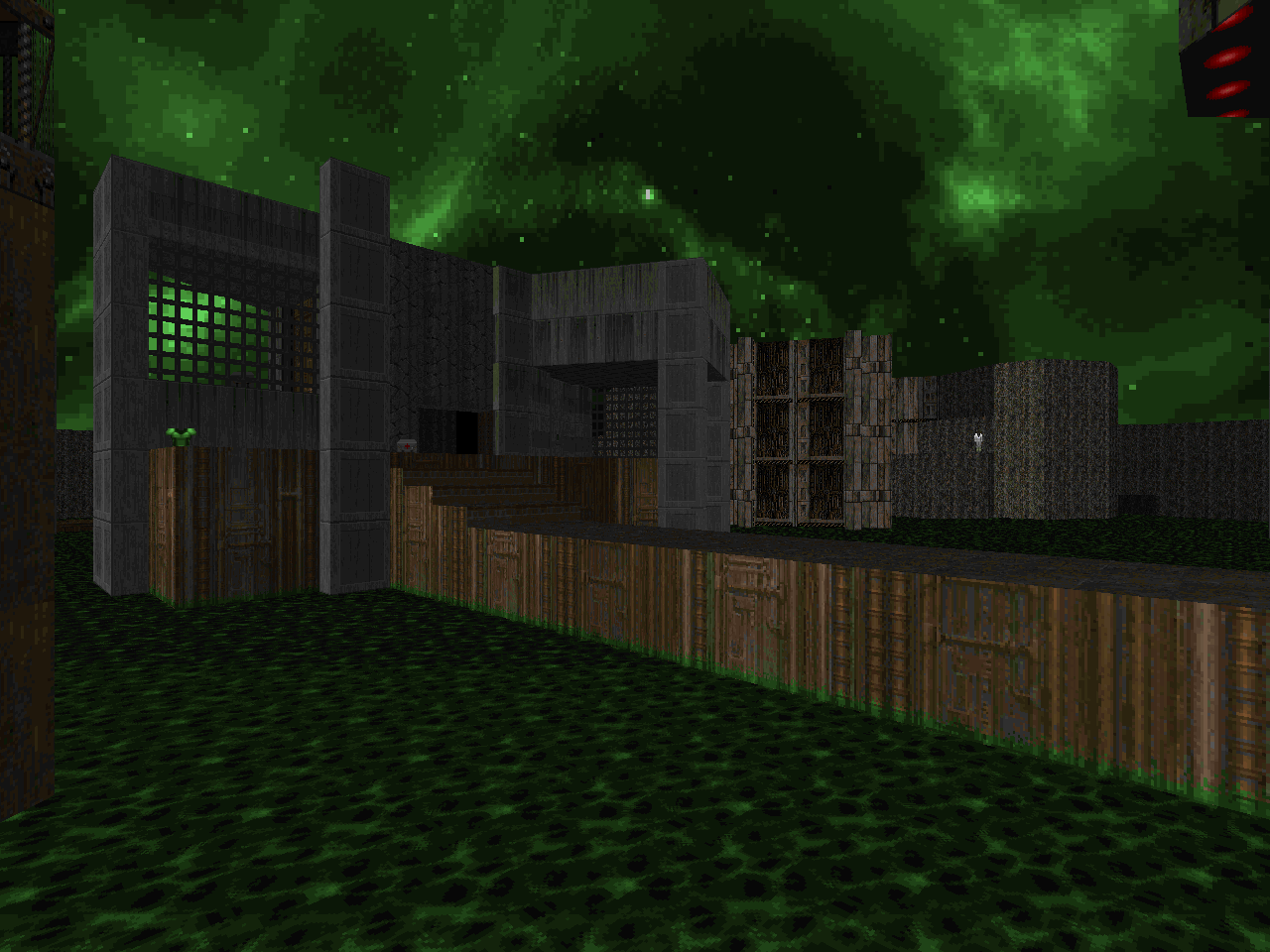 If the setting doesn't sound immediately familiar, just wait til the opening drumbeat of "Message For the Archvile". If it doesn't "Gotcha!" by then, well, there's no helping you. Xaser channels the Platonic form of the toxic sandbox, emphasis on both toxic and sandbox. It's a punishing level on all of the difficulty settings, I imagine, but even more so on UV. The X-Man doesn't give you a lot of leeway, which as he notes will probably have chronic FDA players crying foul, or at least finding some distaste in the act of having to "learn" a level in order to reasonably complete it. What I'm telling you is, expect to die, and be prepared to glean what knowledge you can from your experiences.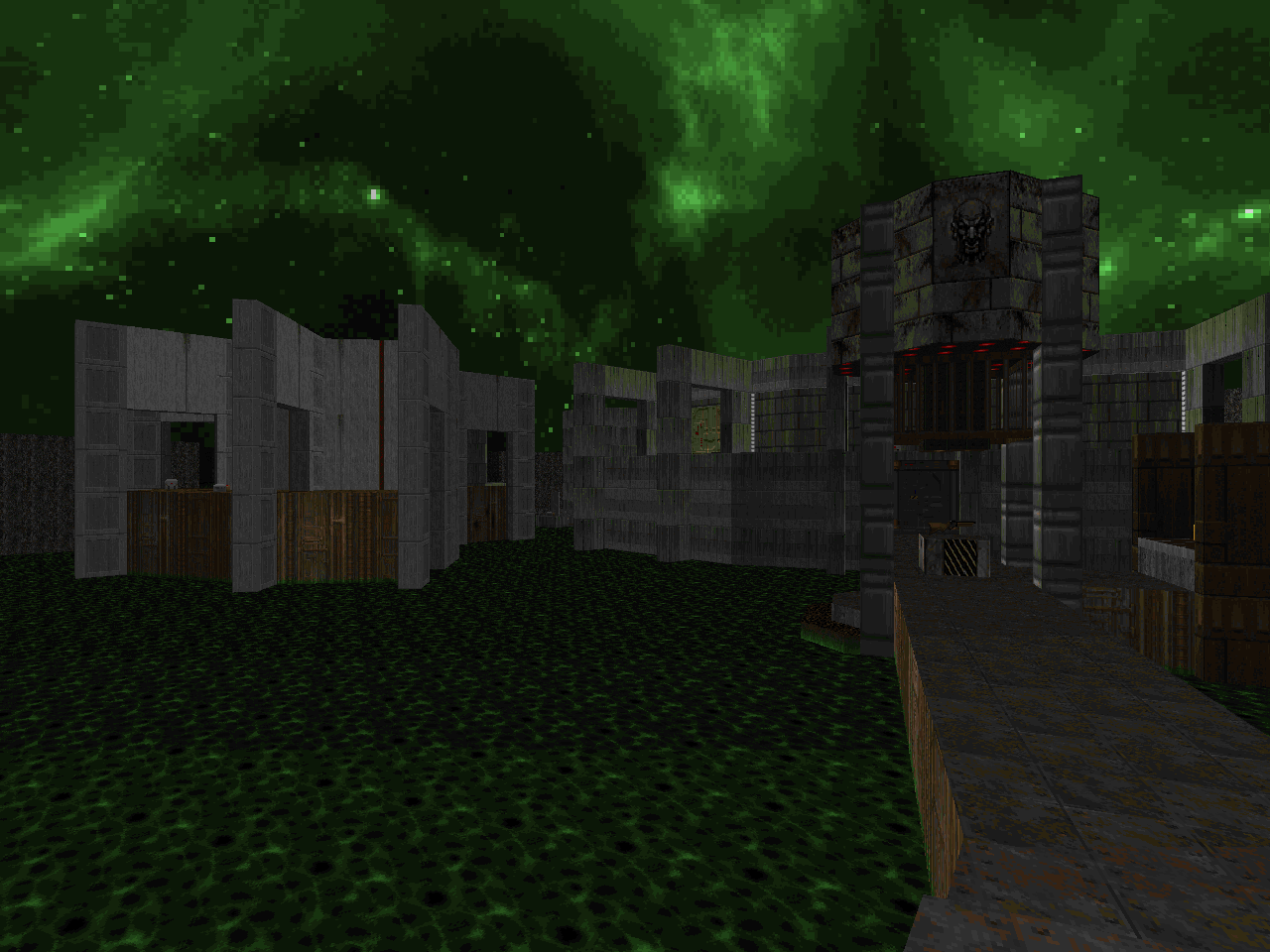 There are various resources stashed around the map, many of which are tricky to access, firstly because The Floor is Lava, second because getting to them or the items themselves are not immediately obvious. There's a squad of revenants guarding the rad suit tower, for instance, and right nearby is a cavern filled with health that might be really handy provided you can oust its arch-vile and revenant guardians. You'll come across the rocket launcher and plasma rifle during the normal course of play, but if you go digging around, you'll be able to score them early provided you can weather at least the rocket launcher battle. The BFG is a highly visible secret hidden locked with a secret key in an optional annex of the map with a pretty cool aesthetic where the relentless nukage gives way to boiling blood, and it'll make the end-of-level Spiderdemon showdown much safer.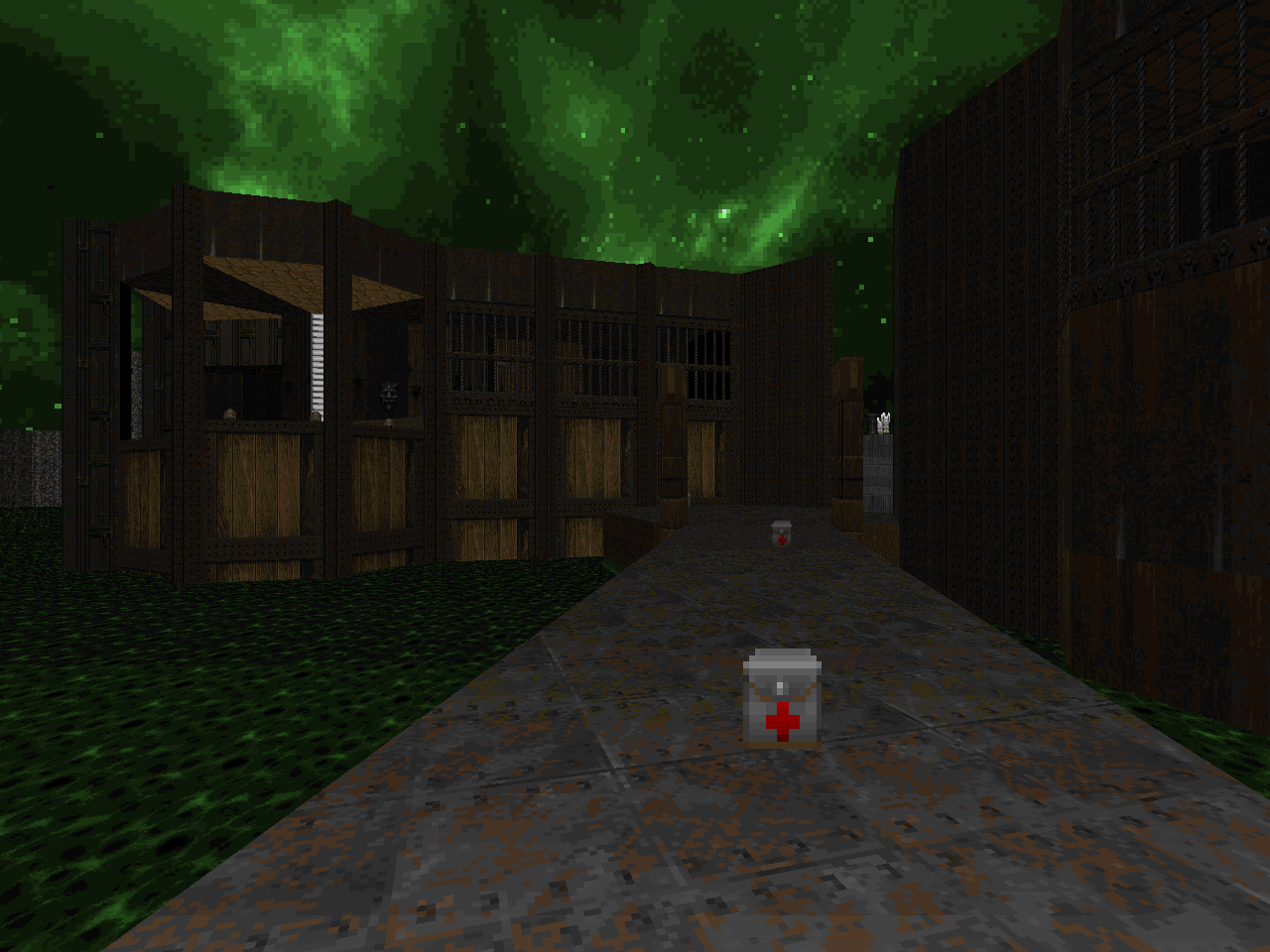 And that finale has even more nuances depending on how you've run through the level. You can scope out the area before and eliminate the revenant snipers and tricksy pain elemental cave dwellers (accessing their health and ammo stores) before leaping through the blue key gate and starting the end of level sequence. It'll make things much simpler for you, considering that once you're in, it's irretrievable, unlike the other lower steppes that surround the level which house some exit teleporter caves staffed by monsters but one of which has a pretty important function, setting you up with an invul sphere that you can use for the semi-grueling tightrope walk to the north... or use the fast-forward to confront the revenants staffing the spiral island with the yellow key door. Decisions, decisions!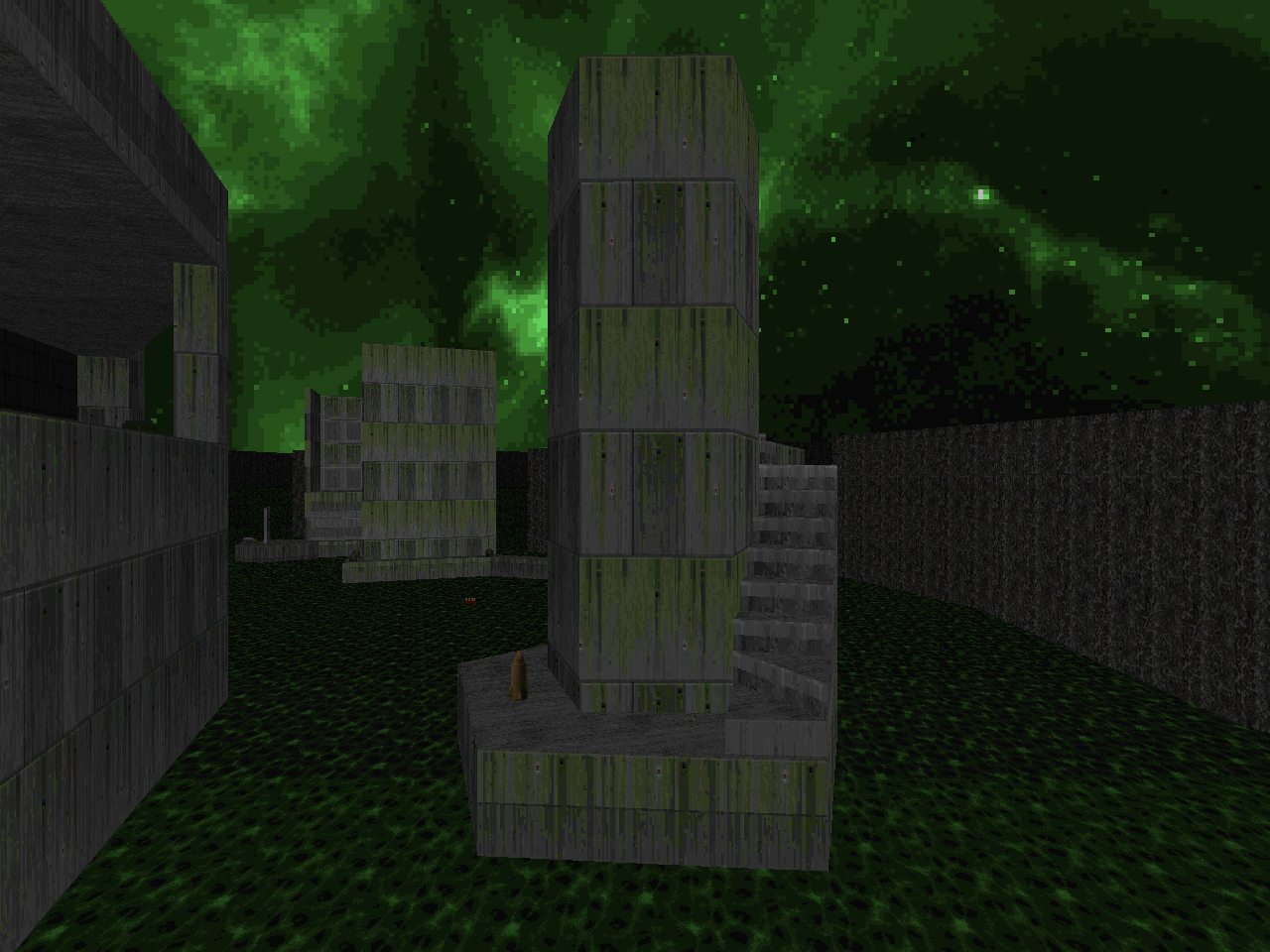 The item placement is half of the thing placement conundrum that makes the level so dangerous. The other aspect is Xaser's exacting monster positioning. You're liable to take a revenant rocket to the back of the head at any moment, and in worrying about those and to a lesser extent mancubus fireballs you'll open yourself up to the distant repeat fire of more dependable snipers like arachnotrons and commandos, not to mention the lowly imps and demons / specters. Too much time spent searching the skies and not scouring the ground. As a result, the memorability of the encounters isn't as high, but I doubt you'll be unfazed by stuff like the red key reveal or the love-in at the rocket launcher secret considering it consequentially removes one of your few readily accessible safe spaces.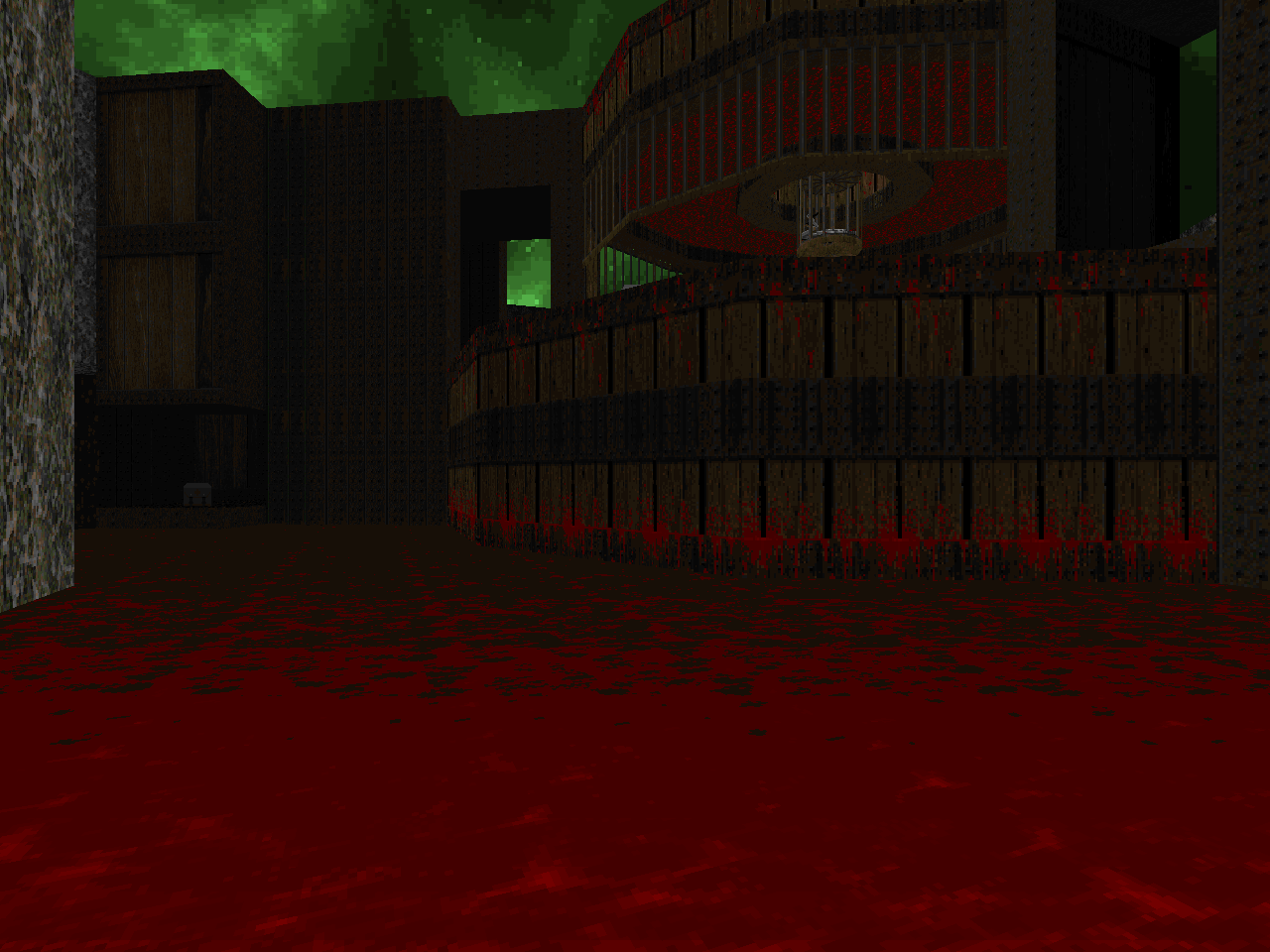 Xaser has used Dark Souls to describe the tone of the gameplay. I haven't actually played Dark Souls, given that it's one of many, many things sitting in my Steam library that I just haven't gotten around to playing, but it has entered into so many dialogues attempting to describe gameplay in other works that I think I have a decent idea of what it means. As it applies to Xaser's thoughts, I believe that XA-GORIL offers a significant amount of freedom to the player with harsh (but not immediately lethal) penalties for making a "wrong" decision. This is anathema to the sort of experience that FDA players preach, extending in part to a lot of modern notions about game difficulty, about what's acceptable to subject a player to.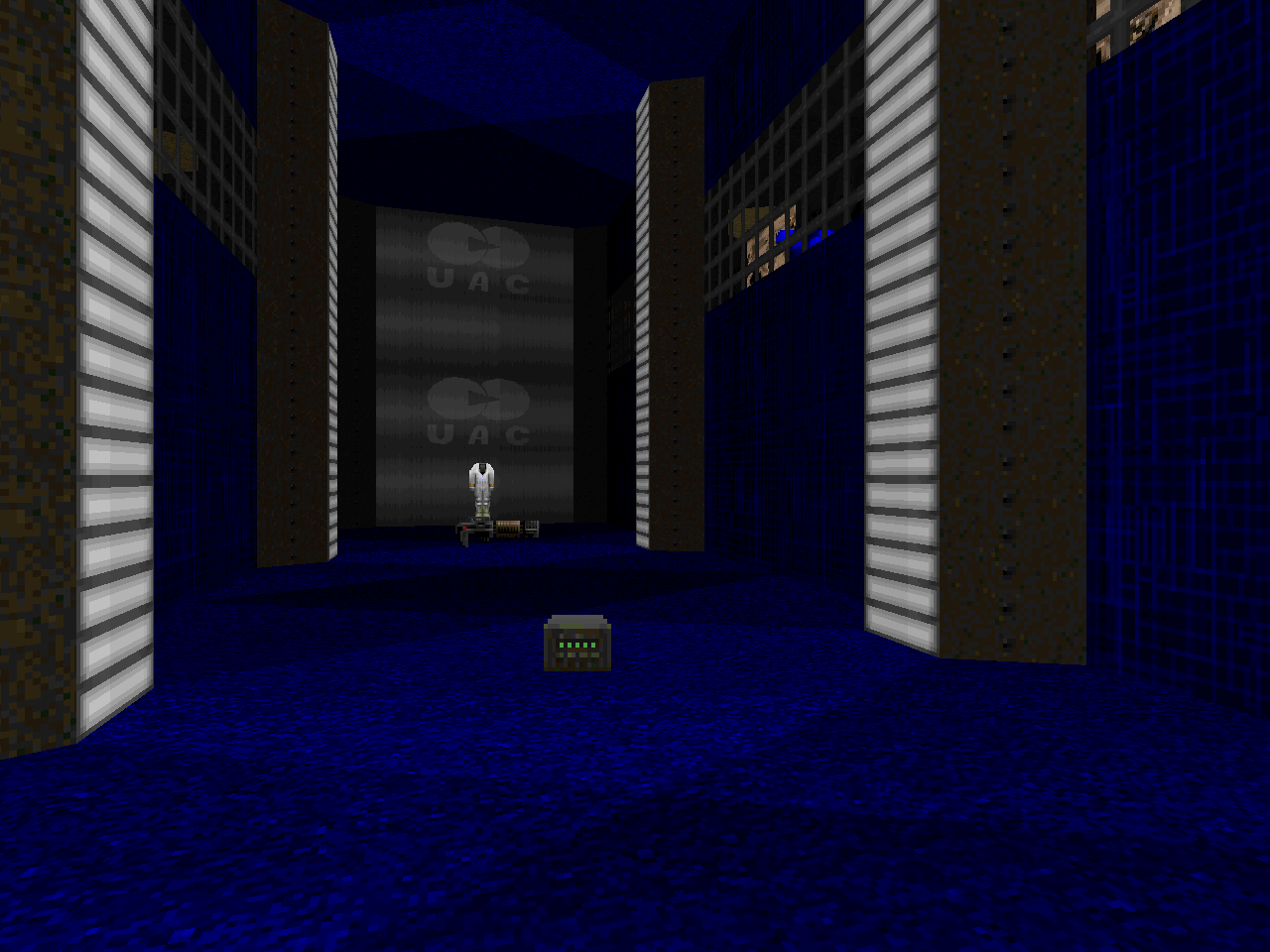 Flotilla does not cater to any of these views, beyond the fact that it does not include any certain death traps. Any player who may become incensed at a death that they felt they could not predict should give this level a wide berth, because there will only be angst and sorrow. As I've mentioned, you'll need to want to learn this map, at any cost, in order to succeed... even on HNTR, I'm guessing. If none of these warnings have deterred you thus far, then this might be your kind of map. And, really, any excuse to see more of Xaser's iconic level design is a good excuse.


SUCH A MEGILLAH
OVER A FLOTILLA