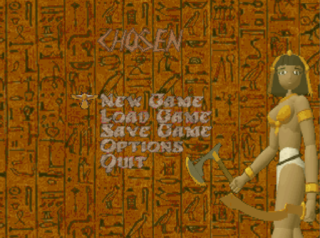 When people think "Total Conversion" in the context of
Doom
, they're usually thinking of what's technically a partial conversion. The
Aliens TC
, for all its vaunted glory, still uses a lot of
Doom
assets (even if they're recolored or mash-ups).
Chosen
(v 1.33 for
ZDoom
) uses virtually none of
Doom II
's textures or sprites. LilWhiteMouse has included a glut of gorgeous Egyptian wall textures and flats that highlight the WAD's separation with the game typically played with the
ZDoom
engine. All sprites have been replaced with pre-rendered 3D objects, and few if any monster replacements exhibit behavior indicative of their original placeholders.