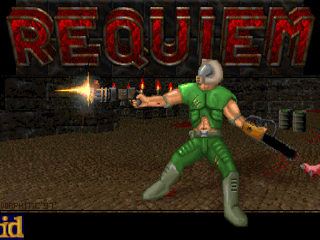 Most of these authors should look familiar to you.
Requiem
gathered some of the greatest "star" power when it came to megaWAD authors of the time. Some of the names you may recognize from
Memento Mori
/
MM2
, and others from
STRAIN
and
Dystopia 3
. And, of course, there are a few new faces, as always seems to be the case with these community projects. The show-stealers for this particular project appear to be Iikka Keranen and Anthony "Adelusion" Czerwonka who together might as well have released Dystopia 4 in disguise. Adam Windsor contributes a fair number of maps as well, but all but one of them are short but sweet affairs, singled out by some as filler speedmaps made to push
Requiem
to release (given an apparently troubled development, not unlike
STRAIN
and
The Talosian Incident
).