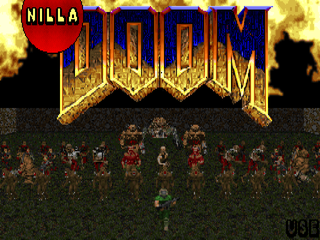 Nilla Doom
is a seven-map episode for vanilla
Doom II
(duh), courtesy of Doomworld forum superstar
Use3D
(Mike Alfredson). The plot is simple and winking, following the adventure of a post-retirement marine as he attempts to warn his neighbors of another incursion of Hellspawn. It's a mixture of outdoor / indoor techbases and underground maps before finally settling into Hell itself, mostly to the familiar soundtrack of
Rise of the Triad
. This of course invites comparison to
Hell Revealed
, which isn't far off the mark.
Nilla Doom
is challenging, as though the first episode of
HR
got together with
The Plutonia Experiment
and had a baby. Those who fear
Doom II
's bestiary should avoid; Use3D puts the expanded roster to good work.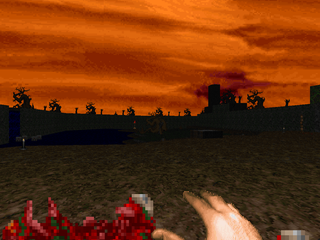 While Nilla Doom's gameplay has some parallels to popular WADs, it has a character all its own, established by Use3D's design decisions, which also help to make each map stand apart from its siblings. The one motif that pervades the entire affair – at least, in my memory – is a usage of vine textures, either pasted directly on walls or apart, as both detail and a way to cloak enemy movement. A fair number of monster traps are located behind such meshes, fostering a feeling of distrust of any wall obscured by vines. Other features include Use3D's slow spoonfeeding of weapons to you (though admittedly you begin with the plasma rifle of all things) and light "themes" for each levels, like MAP01's exclusive use of the plasma rifle, or MAP03's tactical layout of barrels (and you'll see that in more than just MAP03).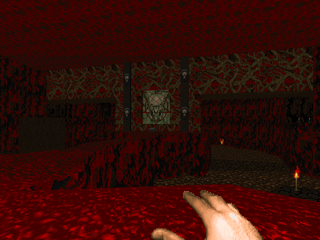 While the levels look fairly plain to begin with, the offerings become more intricate and, I daresay, attractive, with MAP07 ("Tinman's Folly") serving as Use3D's magnum opus. They're all pretty tough, of course, but the finale justly sits at the top with great looks, gameplay, and puzzle segments. Altogether, it's a fantastic PWAD that comes highly recommended from its few proponents in the community. If you're looking for challenging, classic gameplay with a few twists, I can't suggest much better than Nilla Doom, especially given its wafer-sized serving portion.

NILLA DOOM


by Mike "Use3D" Alfredson
| Plasma Springs | MAP01 |
| --- | --- |
| Small techbase where your armament is uncharacteristically restricted to the plasma rifle, which creates an interesting dynamic as you're dodging projectiles and mowing down Hellspawn. It's actually a pretty difficult opening map; the opening yard has you taking revenant rockets from the compound while mancubuses fire down on you on the perimeter. Once you get inside, it's a bit more low key. You'll also definitely want to find the map's secrets; I don't know if there's enough ammo to max it without. Finding both should give you a very comfortable resource buffer. | |
| MAP02 | Greenseas |
| --- | --- |
| | A bit larger this time. As indicated by the title, the action takes place on a series of buildings in the center of an enormous poison lake. What surprised me is an architectural feature I'd never seen before; at least, not within the confines of Doom. Use3D has two recessed outdoor areas walled off by dikes. Just thought those were cool. There's a twist in the gameplay, introducing the normal shotgun. Pistol starters will have to make do with it until you locate the plasma rifle in the map's only secret, after which you can go to town. Standout encounter for me was the penultimate encounter, the red key sequence, which requires a fairly aggressive approach, followed up by a nice teleport ambush on your way back. |
| Hot Shot | MAP03 |
| --- | --- |
| Medium-size underground cavern map. Use3D starts you off with your previously acquired armaments on account of you're in the middle of a ring of enemies on a raised crosswalk. Once you manage to fight your way out, things calm down until the western room, a cool arrangement that has barrels strategically placed as explosive roadblocks. You'll grab the SSG here, a welcome addition, before some daring rooftop dashing. Once you've got the red and yellow keys you can tackle the last bit, a couple of hectic shootouts with pain elementals and hitscanners ahoy. Well, the second isn't that hectic, mainly due to more pandering to the barrel crowd. Very fun. | |
| MAP04 | Call of the Zombie |
| --- | --- |
| | Surprisingly atmospheric outdoor map, perhaps due to the familiar ROTT track, most famously in Hell Revealed's "Everything Dies". While the monster count is much higher than you'd expect, it's almost exclusively zombimen and revenants, further hammering home the theme of undeath. The opening is the most obnoxious portion of the map. There are packs of hitscanners everywhere, some imps at your back, a few wandering revenants on your level, and another perched on the hilltop which you're bound to forget about when it means your ass. While a combat shotgun is available to grab with minimal effort, it doesn't take much of the sting out of your situation. Once you've conquered the first keep, you'll enter a large courtyard and suffer an inundation of sergeants as per the yellow key trap. Of course, Use3D has supplied you with more than enough tools to take them out, and that's even without the secrets. |
| Unearthed | MAP05 |
| --- | --- |
| Underground, like MAP03, but with much more emphasis on caverns, especially in a more Hellish style. Damage floors (though mostly avoidable) are the order of the day, but the recurring theme here are pockets of enemies distributed in areas you either can't immediately access or in some cases will never access. A lack of health compounds some of the nastier traps as well as the absence of a native rocket launcher. Also, I can't for the life of me figure out how to get to that soul sphere secret behind the hell knight ledge. The caverns that comprise the western half of the map are great fun to explore, with all kind of surprises. The pain elemental makes a big showing here. I feel I should also mention the southernmost room. It's completely optional but lets you either tackle the restrained revenants to the south or make a beeline for the sidepath housing a combat armor with strategic nooks and crannies for ducking rockets. | |
| MAP06 | Chance |
| --- | --- |
| | Half underground techbase, half cavern. Things get a bit more intense. You open up running smack-dab into two armies of Hell – zombimen to the right with arachnotron overseers and demons to the left with a lone revenant gunning for you. You'll have to grab a weapon quick and wade your way through the opposition to the southern area, whose featured encounters involve commandos, and lots of them. The ones you face after triggering the teleporter wave are particularly obnoxious if you decide to stick it out. I do rather like the southwestern crusher annex with its dangerous scenarios promising desperately needed rewards. The north side, in contrast, appears to favor revenants. Things get a little muddy here as depending on which way you decide to tackle the northeastern entrenchment; there may be some backtracking involved. There's also a secret you really don't want to miss involving a plasma rifle without which the closing fights may be unbearable, and some tricky linedef action with some crushers, imps, and commandos. Very tough, but very satisfying. |
| Tinman's Folly | MAP07 |
| --- | --- |
| A titanic journey through the very depths of Hell, Use3D employs many of his previous tricks and a few I've never seen before. The map is somewhat non-linear, with three keys located in the main chamber. You have to do some exploring, lower the key, and then use it to gain access to the other areas of the magma-flooded cavern. Nearly every monster appears as well, save the Spiderdemon, used intelligently and dangerously. Mixed packs of imps and revenants seems to be the order of the day as far as ambushes go... Among the more inspired sections, I'll count a platforming bit on the eastern side. It's all about timing as crushing ceilings descend into the gaps you have to cross, requiring you to be careful or get rebuffed, or even worse, trapped on the other side with monsters you failed to clear with nowhere to run but down into the toxic floor. There's a large network of damage-tunnels that connect the north and west sections of the map. Distressingly, rad suits are a limited commodity, so don't waste them or you'll suffer when trying to trudge back to the main chamber. If I had to pick a single standout encounter, it would be the very opening, where you're surrounded, outgunned, and desperately searching for cover. A great way to end the episode. | |