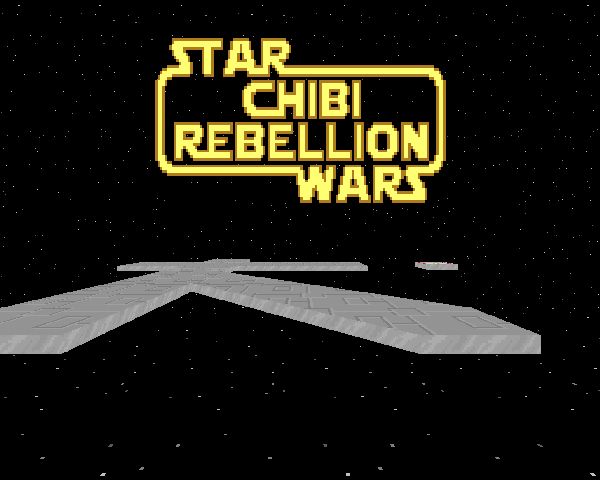 Apparently this little work began as
LilWhiteMouse
's first ZDoom project. Considering the version of
Chosen
I reviewed is circa 2003, that makes
Chibi Rebellion
's foundation quite old indeed. It saw several phases of development, with the most recent leading to a 5.0 idgames release. And yet, it moves... This article covers the 5.9 release of
Star Wars: Chibi Rebellion
. Yeah, some stuff's been added since. CR was released to little fanfare, which is a shame. This is a quality game on the level of some of Doom's most ambitious total conversions. Though it may lack the polish of works like
Action Doom II
, it's worth a play. It'll be a long one, and my only hope is that LWM continues to preen this product.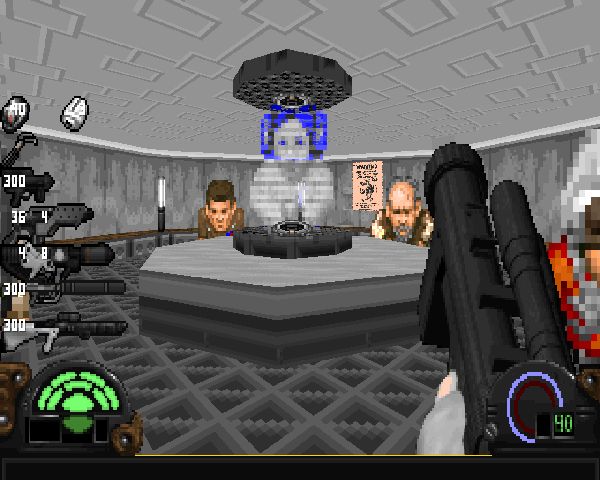 The star of Chibi Rebellion is the spunky Jaiyl, an engineer and resident of the planet Nothoth, where the campaign takes place. She's a redhead, but unlike EU superstar Mara Jade, she's got no Force, and thank goodness; there are plenty of Jedi hanging around as is. When occupying Nothoth, the Empire wrecked her repair shop, so she's out for revenge. First order of business – join the Rebellion. Second order of business – defeat scores of wildlife, imperials, smugglers, jawas and droids in her quest to stick it to the jerks that totaled her business. It's a tough job, but someone's gotta do it. No, really; I can count the times you're explicitly aided by the Rebel Alliance on one hand. You'll be getting way more health and ammo from the better-funded Imperial army, not to mention their very compelling recruitment posters.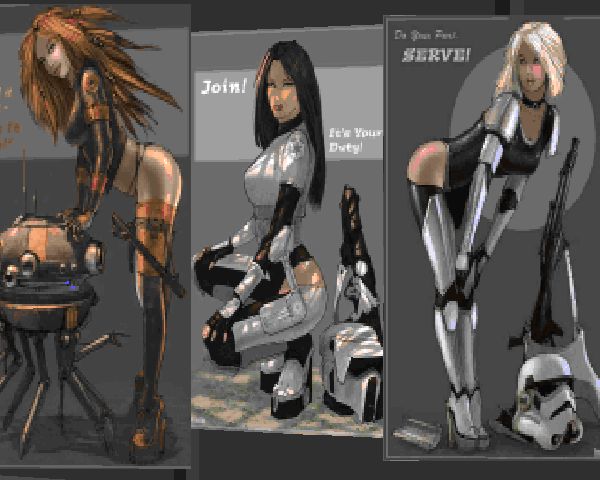 So, yeah. It's Star Wars. More than that, it's super-deformed Star Wars. LWM compares it to a cross between Yoda Stories and Lego Star Wars. I haven't played either game, but I'm familiar with the concepts. I know there's a generally jovial tone that pervades both, which definitely carries through CR, down to the enemy death – er, I'm sorry, KO – animations. Most opponents vanish, leaving a bouncing helmet that fades away. Others, like wampas, leave a single flopping arm, and the rodians explode into two wiggling antennae. It's adorable when they're not firing at you. You'll see plenty of references to characters, though not being the biggest buff I bet some of the cameos were lost on me. One thing that's a little off-putting... I really could have used as little as some throw-away dialogue for most of the chibi NPCs, especially at the base. The gawking Rebels kind of weird me out. Admittedly, this is a ton of busy work that most people would likely skip over.
Chibi Rebellion has a very simple formula. Small, modular maps are plugged into a rigid scenario skeleton at random when you begin your mission. When I say the scenario skeleton is rigid, I mean it. Hit "P" during play to access the scenario map and you'll see. Each slot in the map draws from a pool of levels dedicated to that position. CR is structured in such a way that it exhausts all unplayed maps before repeating any element. In practicality, there is enough material for nine complete episodes of novel gameplay. There are a few leftover "end" missions so you'll have to replay a bit of old content if you want to see everything 5.9 has to offer.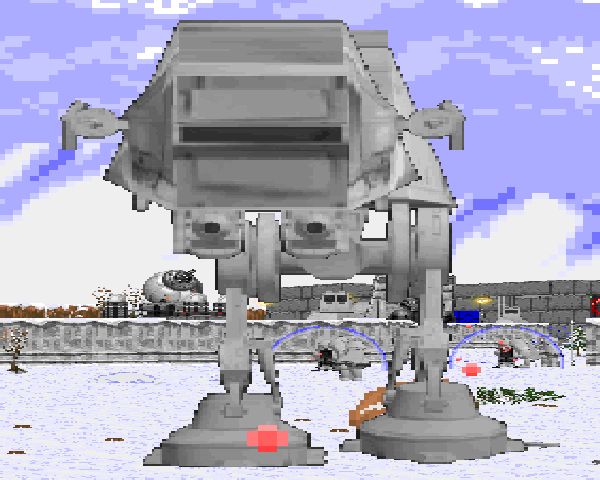 Though some of these areas are pretty simple, there's actually a ton of maps featuring clever puzzles, like tower of Hanoi mechanics or one involving gas pressure that may take a second or two to reason out. Others present the player with unique exploration experiences, like a series of tunnels with constant cave-ins, using tauntauns for greater mobility, or exploring the exterior of a station in the middle of a blizzard. Throw in combat scenarios with imperial machinery, vendetta-packing bounty-hunters, and force-sensitive jawas (to name a few) and you'll find plenty to liven up what can sometimes be fairly rote room clearing, not that your regular opponents don't have plenty of unique attributes.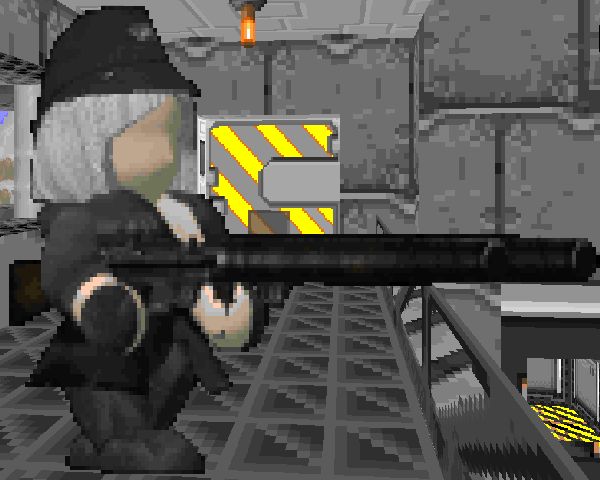 Jaiyl has quite an arsenal at her disposal. Her cutter can booby-trap machinery (including droids) and can do plenty of damage when fully charged. The blaster pistols are decent, but my go-to weapon was the blaster rifle. Don't leave home without it, except for that first time when you don't have one. The flash cannon is the SSG of CR, great for skirmishing with tough opponents. The repeater is more suited to taking down the ATs, otherwise impractical vs. packs of enemies that are easily handled with the combat rifle. The Dawnsorrow is indispensable for taking out most enemies at long range. Together, LilWhiteMouse excels at establishing a niche for every weapon you'll be using, including the thermal detonator, which is often unwieldy but potent once you get the hang of throwing it.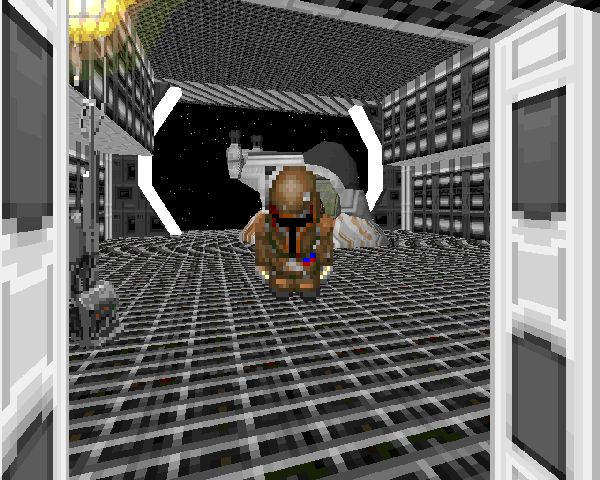 CR has shops and two main forms of currency. There's a whole host of disposable items available via credits, which either drop direct from humanoids or can be earned by selling junk dropped and found. Most of your upgrades, however, come from Holocrons, which you use to build "ultimate" versions of several weapons, upgrade technology for preexisting equipment, and some otherwise unavailable armaments (most notably the sniper rifle). All of the cool one-time credit purchases are available as rewards (or secrets) later on, though the utility belt is probably worth an early purchase.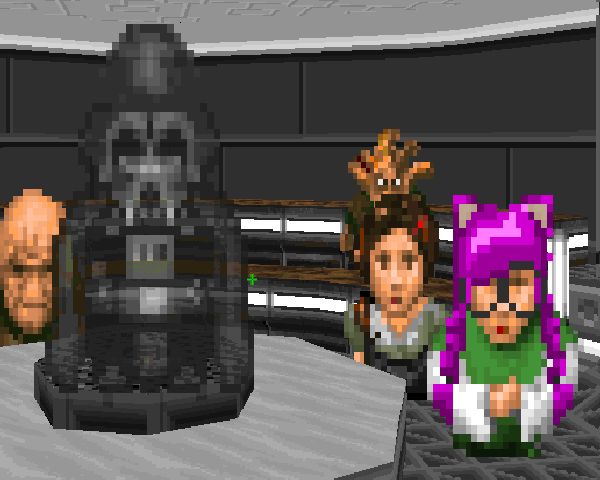 The difficulty in Chibi Rebellion's combat comes from two sources. The first is simply being outgunned, which quickly fades away as you play further into the game. A few early maps may prove pretty difficult, though, especially if you're just getting used to the gameplay. The second is Jaiyl's frailty and speed, both of which may provide challenge for players used to Doomguy's lightning speed and proliferation of health and armor pickups. CR doesn't leave them laying around for you to walk over; you'll have to buy your resources. Or, just do what I did, and raid cubbyholes in bases / smash all the boxes. Eventually you'll get used to Jaiyl's physical attributes and stop soaking up damage like a pile of bantha poodoo. It's really not that hard.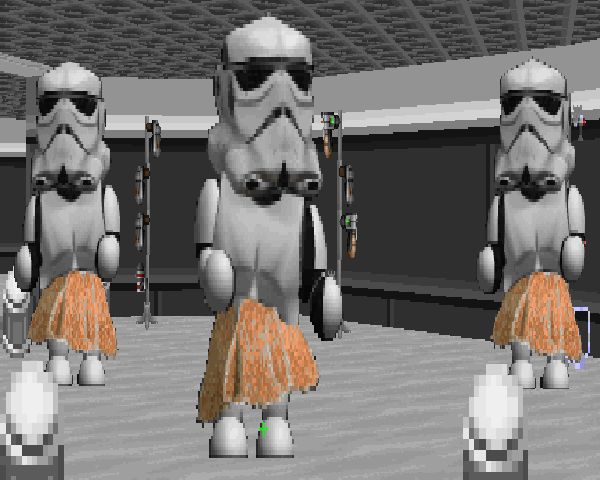 What I find most endearing in Chibi Rebellion are the little things, like its ubiquitous cheeriness, the unique elements of each scenario, and the jokes and references you can find everywhere, like in the Chibi Death Star. A lot of the physical comedy that plays out in the animations is just as important, be it the bouncing helmets (or other), the flying rebel troopers plucked from their tauntauns, or the speeder bikes gone wild. You'll also find encounters while trudging back through scenario branches, where some thought has gone into setting them up, like one point where I returned to see jawas salvaging an AT-AT I'd previously dispatched. A lot of care has gone in to making this Rebellion as Chibi as possible, and I appreciate that. There's also the final map, a great level where access can only be secured by filling out the Chibi Base hangar, which are found randomly in secrets in the maps.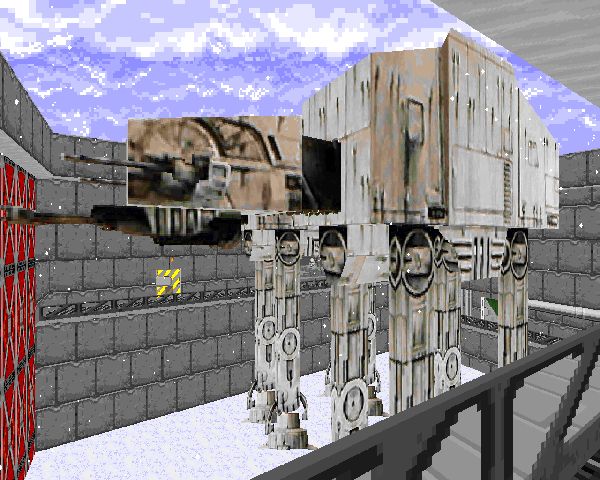 Like some of the other works released in 2011, Chibi Rebellion isn't much like Doom, carrying very niche appeal. The actual action of the maps can get samey at times when not broken up by gags and puzzles and the limited palette of environments can wear thin if you're marathoning the whole shebang. It's a phenomenal game, though. I would recommend CR to anyone looking for a new experience using the ZDoom engine that doesn't mind the lighter side of gaming. I'd say it's a must for Star Wars fans. Also, it's 100% Jar-Jar free! What more could you ask for? Well, I'd like to see more maps to flesh out the final few episodes, but wouldn't we all. Download Chibi Rebellion today and may the Schwartz be with you.
NOTE: Chibi Rebellion has a ton of short maps. I'll still be reviewing them all with screenshots, but I've opted to organize them by category as LilWhiteMouse has and initially hide the sections to facilitate easier browsing.

STAR WARS:
CHIBI REBELLION
by "LilWhiteMouse"
BEGINNING MAPS
SPECIAL MAPS
FIRST BRANCH MAPS
FIRST LINK MAPS
BLUE KEY MAPS
SECOND BRANCH MAPS
BLUE GATE MAPS
RED KEY MAPS
SECOND LINK MAPS
RED GATE MAPS
FINAL SCENARIO MAPS
THE BIG FINISH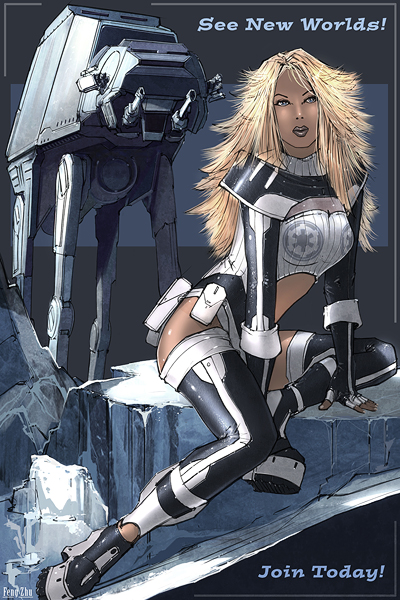 STAR WARS: CHIBI FORCES
THE SEARCH FOR MORE FUNNY