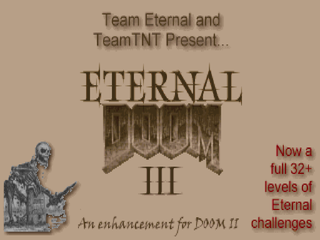 Eternal Doom
began life as a 12-map episode for
Doom II
, produced by Team Eternal and under the direction of Paul Schmitz, the author of
Artifact
and
Welcome to Hell
. A number of WAD authors cleaved unto him, including Sverre Kvernmo, who is responsible for many of the new graphics (that is, the stuff not ripped from
Heretic
and
Hexen
).
Eternal Doom
was updated two more times, adding fifteen and six levels, respectively, to turn it into a mega-megaWAD. I know this project eventually came under the purview of Team TNT, but I have no idea when that happened. I'm guessing some time during the development of
Eternal Doom II
, but I have no basis for that assumption. For sure,
Eternal Doom III
was headed by TNT, given Ty Halderman's involvement.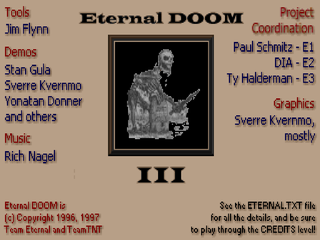 The plot is pretty canned, though well-written. Basically, the UAC puts the kibosh on teleporting through space, focusing instead on time travel. As if messing with causality is safer than battling the hordes of Hell. Anyway, with the laws of physics breaking down, pretty soon demons come pouring out of the quickly overrun time gate. Which wouldn't be that big of a deal, except that the minions of Hell immediately turn around and use it to travel back into the past and exterminate humanity in its infancy. You, a genetic paragon of humanity's warriors, are sent on a suicide mission to re-secure the gate, go back in time, and halt the invasion of Earth's past. The penalty of failure is to never have existed.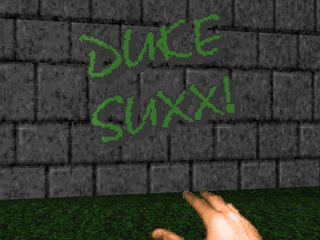 So, Eternal Doom. It's big. It's huge. It's also quite gorgeous. The mixture of Heretic and Hexen textures with all of the new stuff makes this mapset shine like nothing else. It's hard to appreciate the number of elements that were created for very specific purposes, like the simulated arches, railings, blasted-out walls, and tons of floating text, usually used to mark exits but also utilized quite extensively by Jim Flynn for his offerings. Also included are a smattering of futuristic textures you'll rarely see, especially after Sverre Kvernmo's MAP05, "Time Gate". The only real downside to all this effort is that, well, I hope you really like the castle locales. The authors manage to keep things fresh but it's medieval all the way down. If you're less forgiving the sameiness might begin to wear on you fairly early.

Another fair criticism of Eternal Doom is that, for all the vastness of the maps, some feel sparsely populated, which you can only expect with levels of this size. The authors have taken care to make the encounters fun, regardless of the time spent between them, and in some locations the maps end up with an old-school feeling as you bump into wandering monsters on your way to the next objective. It can falter, though, as the vast yards and low enemy count can leave the player feeling overwhelmed and bored, a feeling that didn't really hit me until the final map, Bob Evans's "Excalibur".
Which comes to the final bone people have to pick with Eternal Doom, that being the puzzles. Truth be told, Eternal Doom isn't that puzzle-centric. Sure, there are some unorthodox solutions if you stand the average level against the Doom II IWAD, but it's generally consistent with its applications of breaking glass, shootable walls, and switches are rarely obtuse in what they affect. If any maps could be accused of being too puzzle-centric, they would be the ones by Bob Evans and Jim Flynn. Solving their challenges is very edifying, but gameplay in "Excalibur" devolved into walking around until I noticed something I hadn't seen before, with as long as five minutes of dead time in between the puzzles themselves. They're all great, and I especially enjoyed Flynn's stuff and his sense of humor, but after a full megaWAD of this stuff, I have to throw in the towel.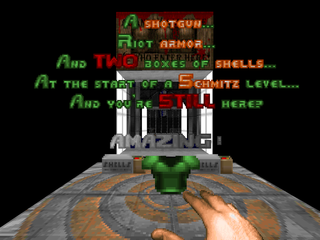 If this all seems pretty negative, I'm just pushing it out of the way so I can start the praise. There are tons of neat bits like breakable glass / stained glass, shootable walls a la Quake II, ladder mock-ups, swinging doors, and 3D bridges, not to mention core Doom values like orgasmic architecture, gorgeous lighting, and meticulous detailing. Maps like Kvernmo's "Darkdome" and Schmitz's "Timeslip" are a true feast for the eyes, in addition to a generous helping of secrets and unusual methods of progress. Toss in the snazzy new status bar, an excellent soundtrack courtesy of megaWAD veteran Rich "Weeds" Nagel, and some other minor changes (sound and the newly-colored imp), well, you've got a classic megaWAD on your hands that pushes nearly every boundary we've become comfortable with. It's not flawless, by any means, but I love the total package so much that it might as well be.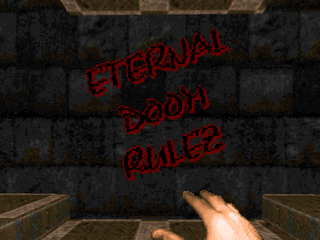 There's also the Eternal Doom frontend, developed by Jim Flynn. I didn't use it in my playthrough, but I checked it out, and it's pretty neat. It houses a wealth of information and options, including the ability to install different skies, or uses skies depending upon the computer's internal clock. Which, uh, you may be interested in doing, as all Eternal Doom maps use the dark blue sky by default. It also launches both Dia's credits map and Flynn's impeccable bonus work, "Cybersweeper", which you should play. No, really. In conclusion: Eternal Doom is awesome, puzzles are awesome, and time travel is awesome. Play this WAD, but don't feel bad if you find it boring or confusing. It's definitely not for everyone.


ETERNAL DOOM


by Team Eternal / Team TNT
Genesis
MAP01
by Alex Mayberry
Small (well, relatively) and simple starbase map. You'll have to do a lot of running as the map's sections are linked together with one large, sparsely populated corridor. Of course, you'll have your fair share of beasties sneaking up on you after you fire your first shot, but it's pretty sedate. Lots of nice bits here like the suspended animation pods or the cargo bay section showcasing the new, attractive crate textures. Among the map tricks I like are the ladders behind the blue key doors (very fresh!) and a shootable secret wall. No real standout encounters though I feel I should also mention the jail cell sequence.
MAP02
Tower of Hell
by Adam Landefeld
A large, earthen level with some techbase bits. Lots of neat things here like the eponymous tower and its stained glass windows or the opening hellhole you begin in. I particularly like the mineshaft sequence. Other fun stuff includes exploiting player exploitations with the not-teleporter-traps in the northwestern section and to spice things up a small pack of revenants in a section with plenty of cover for them and you. The arcachnotrons rising from the muck is also another great moment in a nice level, as well as numerous glass panels, some of which are broken to allow ingress. Still fairly basic puzzle-solving, keeping things moving at a great pace.
Inter-Base
MAP03
by Dietmar "Dia" Westerteicher
Nice, predominantly techbase map. Things get a little trickier puzzle-wise and you're forced to use some brainpower to solve some of the puzzles, though some like the red key can be simply brute forced. A few higher-order shootouts but the standout encounter here is probably the penultimate fight, vs. a Cyberdemon and a number of barons, with a nasty followup surprise. I also like the first shootout in the yellow key room, that is the one after you activate the switch. One of the cooler sequences has you reveal a grand pillared hall and then shut the columns down with your next move, but the most meaty series of encounters has you conquer three different wings in the base's north in the order of your choosing.
MAP04
Nucleus
by Sverre Kvernmo
Kvernmo busts into the mapset with a lovely warehouse / sewer map. Detailing is to the extreme, with an astounding amount of care and detail put into the warehouse section that dominates the north / center of the map. Crates are generally stacked in an orthogonal arrangement, though you'll see that some columns are slightly askew, giving a very shuffled appearance. The sewer portion winds around the warehouse with one main pipe going around and a nice bit to the very south, a side-segment where you climb into a pipe and investigate a different-looking section of the waste tunnels entirely, using cisterns as a motif. Of course, being a Kvernmo map, it's got a fair number of tricky encounters, with an emphasis on zombies. Of course, some bigger guns make an appearance, including a fair number of arch-viles and a novel Spiderdemon shootout with unstable cover and a time limit (your rad suit!). An excellent adventure.
Time Gate
MAP05
by Sverre Kvernmo
A considerably shorter but no less attractive map, this one taking place around a facility housing the eponymous time gate. It's a bright gray structure around which is some turf, and around that a moat. It's a pretty laid-back opening as you grab your guns and ammo, taking care to dispatch the difficult to see imps on the outer edges. I especially dig those outer columns. The structure itself has some of the best visuals, and while there is some normal futuristic stuff enhanced with excellent lighting, what stands out in my mind are the gorgeous blue interiors of the security lock facility and the time gate itself. Also take care to note a hint on one of the terminals. There are four possible exits, two of which lead to literal dead ends, one in a post-apocalyptic aftermath, the other in the fires of creation. While the level feels less intense than MAP04, it's still got a few curveballs, especially a few teleport ambushes and the final encounter, a bout with two arch-viles.
MAP06
Pathos
by Alex Mayberry
A bit of an improvement over his previous entry. Pathos signals the shift from the present to the dark ages with a medieval romp through a demon-infested cloister. There's lots of great lighting and some neat vanilla hacks, including a swinging door and a deep water romp through an underground channel. The rest of the map is a series of monastery-like compounds built on the side of the mountain with three different vistas to remind you of the fact. There's no part I'm not fond of, though I particularly like the room that leads into the sewers and the one prior to the exit. Standout encounter is a high tower fight with an arch-vile and his private army that's facilitated by a very clever layout.
The Abbey
MAP07
by Paul Schmitz
A natural extension of the medieval abbey theme from Schmitz, here. It's not as bafflingly intricate as the maps from his two trilogies, but it makes excellent use of the Heretic / Hexen textures to create quite the journey. Highlights include an eye-catching water pool in the center of the western area as well as a waterfall cascading down the cliffside that houses the red key, in addition to the abbey proper. Fighting is pretty sedate though Schmitz has a few neat encounters, including the penultimate room (riddled with chaingunners) as well as a hitscanner ambush in a courtyard that later houses a token Spiderdemon / Cyberdemon fight. My favorite moment, though, is when you're locked outside early on, having to fish the shotgun and some ammo out of a water pool. My big bottleneck: figuring out the skull switches in the eastern section of the abbey. I could just barely make out the Keen noises over the music and mistook them for a pistol sound addition I hadn't recognized before. Otherwise, an excellent offering.
MAP08
Woodhead
by Dietmar "Dia" Westerteicher
Another excellent medieval building that emphasizes wooden textures. The main castle compound is pretty snazzy with excellent lighted hallways as well as a neat secret segment but the true stars in my mind are the two exquisite outdoor areas that, much like MAP07 before it, frame the starting area on either side. The northern section is a nice, though not difficult romp, while you get a nice shootout in the southern one. Westerteicher is great at economical use of his assets, throwing the same Cyberdemon at you on three separate occasions. The best and most difficult fight is the climax, a final showdown with your special friend, but you can use the opportunity to get some good infighting going on, which helps as he teleports everywhere, making him hard to get a bead on.
Forlorn Fortress
MAP09
by Chris Couleur
Another great castle-style level. This one feels like the largest yet. There's some gorgeous architecture, particularly the symmetrical northern hall and the grand staircases in the southern dining area. Also no less than three grassy outdoor areas to spin things up, with plenty of fighting to be had. The map still feels a little empty, but most of the harder-edged fights are pretty sweet, and there was a bit of a surprise waiting for me at the map's very end. Couleur unfortunately uses a number of secrets as puzzle solutions. Most of them were fairly obvious (hit a dead end? Prolly a secret!), but the final switch to start the end sequence was particularly obtuse. Still very nice.
MAP10
Crimson Tide
by Kathy & David Bruni
This particular keep has a large moat that surrounds it and some nasty snipers in the towers. While not as lovingly detailed as some of the other maps, it still looks great due to the Eternal textures. Highlights include the cacodemon wave at the map's opening, the sensible cathedral complete with snipers in the balconies, and a "secret" that dumps you on the ramparts of the final battle making it a tad less dangerous to confront. While you'll do plenty of running between the particular key wings, the Brunis repopulate the castle foyer. I just wish they'd pick some more thrilling opposition... Also, the blue key is in a secret area. What gives?
Dawn of the Dead
MAP11
by Chris Couleur
An enormous, nebulous construction with plenty of running and switch hitting to be had. The amount of secrets alone is pretty impressive. Most of the running around appears to be based off of two major courtyards, one of which houses a pretty conspicuous BFG, the other a number of goodies, including the yellow key. Generally you'll be darting to and fro, pressing buttons and monitoring the changes. Fighting is a little more intense, with some nastier monster packs, but none of the encounters really stand out except the final battle, between three Cyberdemons. The true test will be your puzzle-solving skills. I did like the vine-covered room, a bit of a departure from the immaculate castles presented so far.
MAP12
Darkdome
by Sverre Kvernmo
A masterpiece to top off this chapter in the Eternal saga. The lighting is immaculate, with darkness, brightness, and shadows cast every which way. Absolute care was poured into every portion, from the docks you arrive at to the grand checkered hall that dominates the map's center, to the gorgeous east and west wings. It's a Kvernmo map, and he doesn't disappoint in difficulty. There are some nasty ambushes, like the trick floor by the blue key, some nasty arch-vile placement, and plenty of close-quarters encounters with toughs, not to mention the hitscanner assault at the map's onset. The encounter that had me sweating involved an arch-vile and four revenants emerging from some nasty flames... Puzzle-wise, it ranks among the toughest. Mark the location of all the yellow switches you see, because in order to grab the key, you'll have to go back and hit each one, thankfully livened up by some surprise encounters. Not to be missed.
Drop 'em!
MAP13
by Dietmar "Dia" Westerteicher
The original release ends here, with Eternal Doom II picking up. This map is just a way to enforce a pistol start in the next segment, by way of one of three poisons. "The Bird" forces you to execute a simple arch-vile jump. The "Exploding Fist" has a Cyberdemon "punch" you into the exit segment. "Burning Feet" is just a simple dust-up with two revenants on some acid while you wait for the teleporter to descend. It's a nice way of starting things up without messing with Kvernmo's offering.
MAP14
Pistol Only
by Dietmar "Dia" Westerteicher
This map lacks the pristine architecture of previous Eternal Doom maps while forcing the quirky gameplay of the Tyson style on the player. It's in kind of a castle style, emphasized by a very baroque score. At the very least, Westerteicher varies things a bit by showing that, while pistol and fist will be your only weapons for much of the map, they're not the only things you'll use to kill. Infighting, telefrags, barrel blasts, and crushers become part of the player's arsenal. Just watch your health when you're getting punchy as there isn't a lot between the oases. Standout encounter, probably the Cyberdemon fight, just for the sheer infighting spectacle.
Celebration of Evil
MAP15
by Adam Landefeld
Landefeld's replacement for MAP15 takes the medieval theme in a bit of a surreal direction, with the opening area suspended in midair. The lighting stands among the best this WAD has to offer and the detailing is superb, especially usage of the hanging banners. I particularly liked the bit in the northeastern section of the main area. It's actually not that puzzle-dense, thankfully, with the main attraction just being a series of excellent encounters, like the arch-vile fight on the isle of fire, or what feels like a constant stream of cacodemons trickling into the map bounds. I also liked the very curious cathedral to the east and its eastern burning tree. And, uh, that's quite the surprise at the exit.
MAP31
Monster Mansion
by Jim Flynn
Refreshingly, Jim Flynn's maps are still Jim Flynn maps. This particular iteration is a fairly realistic facsimile of a resort of some kind. The grounds have features like a fountain, garage, and mountain scenery, while the main building houses things like a den complete with manipulable TV, a security room, swimming pool, the works. Combat is mostly rough cramped quarters stuff excepting one major fight on the west side, a pretty cool long-distance shootout. Inside it's textbook Flynn, with complicated puzzles that slowly open up the map as you solve them. It's a good feeling when you figure out a solution, not unlike hearing the shell horn from La-Mulana. The bit with the TV is one of my personal favorites, but there's so much to see and do here, my blurb won't do it justice.
Halls of Disarray
MAP32
by Matt Bollier
A fairly banal level for Eternal Doom, clad primarily in wood with some stone showing here and there. Most of the map takes place on raised walkways over fluids. It's also not that puzzle-centric. Most of the difficulty is in the encounters, which aren't tough, but set against a general lack of health and you'll have to be somewhat careful. There's a neat imp ambush for the unwary as well as a few not so dangerous arch-viles. Really, most of the memorable action in this level revolves around imps. Well, there's a nasty crossfire on your way to the blue key room, but you can sidestep it and take care of the lower area first, leaving the upper for later. Biggest issue is that the fairly long opening segment is entirely devoid of monsters. It didn't help build my suspense.
MAP16
Guardstation
by Adam Landefeld
An interesting diversion rife with fun architecture like columns and, most importantly, aquaducts. Other neat bits include a spiral staircase only slightly marred by the non-silent teleporter as well as megastructures like the northeastern amphitheater and the main hall around which the map is based. The monster fights aren't that tough, with a few surprise ambushes. Mainly what you'll feel is Landefeld's tight grip on health and armor, tempered with some secret knowledge. The only encounter that sticks out in my mind is the battle in the station's basement on account of its cramped quarters, but the total environment looks great.
The Crypt
MAP17
by Dietmar "Dia" Westerteicher
Continuing in the vein of smaller offerings comes this mortuary-themed map with a small graveyard, crematorium, and chapel, the last of which has a very nice front. The intimate setting lends itself to some more tailored encounters, with a few potentially tricky arch-vile fights as well as a pretty simple Cyberdemon battle followed by an invulnerability-aided corridor clear. Some good uses of revenants, too, putting some pressure on the player. I like the more prevalent toughs; they help sell the action despite their small number.
MAP18
Stands
by David Brachman
Another short map that starts out in some sewers with a great passage reveal. It feels a little more punchy, similar to MAP17, with a lot of monster ambushes, particularly the one at the top of the spiral staircase in the northeast. Brachman uses some of the tech textures from "Time Gate", namely the computer panels, in a less than intuitive manner, but that's the only failing I can really give. The action in this level is very nice and there are a few tiny puzzles to solve, as well as a secret that lets you neuter a trap up close and personal.
Warheroes
MAP19
by Chris Couleur
Another gorgeous, dense brick and mortar map, with a lot of running about and a constant trickling in of enemies, mostly cacos, imps, hell knights and revenants. It's dominated by water in the center of the map, whose navigation is key in order to solve the level. Most of my favorite encounters happen in the southern section, particularly the successive arch-vile battles by the red key and the whole southwestern section, where you have to take out enemies on islands at a distance, as well as a Cyberdemon bridge guardian to gain access to said islands once you feel it's safe to proceed. The action isn't that intense, but Couleur keeps things constantly busy, so the areas you backtrack through rarely feel deserted.
MAP20
Silures
by Bob Evans
Evans busts into Eternal Doom with a fusion of metal and classical fantasy architecture that's as dense as it is packed with monsters. It can be frustrating for a variety of reasons. All of the higher-end firepower (super shotgun, rocket launcher, plasma rifle) are tucked away in secrets. The SSG and RL are part of the same branch early on in the level, so if you're feeling outgunned, take a step back and thoroughly plumb your explored locations for better weaponry. It's also up to Jim Flynn levels of puzzle-solving, so if you don't see anything obvious, start activating things you wouldn't ordinarily think of as being switches. There are a lot of optional areas to explore. Finally, this map has two exits, an early easy one and a harder one which on UV requires an AV jump somewhere down the line. Standout encounters for me are the red key cacodemon / mancubus ambush and the rocket launcher room.
Fire and Stone
MAP21
by Adam Landefeld
Again, a little bit of a breather from Landfeld (welcome after the last few adventures). More of his large architecture and outdoor areas, with a nice cathedral and some great use of the burning fire texture. Some neat sequences here, like the arachnotrons in space shootout or the cathedral floor that erupts around you, forcing you into a tight fight with another arach. The most memorable section, though, is an outdoor area with arch-vile torches. After you get blasted up onto the outer wall you have to extinguish each torch one by one by entering the dead recesses. I also feel I should note the fire fountain that closes out the level.
MAP22
The Seeker
by Chris Couleur
Absolutely massive castle-style map, clearly divided by the author into two major sections. The first involves virtually all of the map's puzzle-solving, and a whole mess of fights as well as secrets, including a very memorable trek through the map's outdoor section that makes up the southwestern area. Actually, there are a lot of nice-looking open-air segments. The puzzles are all fairly straightforward this time, too. The big change of pace occurs upon crossing through the yellow key doors. Couleur has built a massive, square-shaped arena with grand architecture worthy of Hell Revealed, and while the exterior fighting may not look the part (monster use is fairly light considering its size), the inner section has plenty going for it, including four Cyberdemons split between two tiers. Very fun.
Time Gate 2
MAP23
by Dietmar "Dia" Westerteicher
An amusing and short sequel to Kvernmo's original where the "Time Gate" is the focus of the map and not its ending gimmick. The main structure that houses the gate looks very nice and has a fairly obvious secret sequence; one might think that Westerteicher was just too proud of his caco heaven fight to let it just slide on by. He does a good job repopulating the base for when you return from the other two areas. The first is a small but pleasant stony romp in some kind of volcanic crater, its highlight encounter an instance of monster crossfire in the large, circular room. The second is set in the ruins of the future, where you have to conquer four demon-infested buildings, including a spiderdemon visible from the onset. And, of course, the super secret caco heaven, which while fairly simple and easy is some good mindless fun.
MAP24
Rainbow Bridge
by Chris Couleur
A mastodonic semi-medieval contribution that feels more like a ruined cityscape. This map has two distinct sides, the west and the east. The west involves the glut of the map's puzzle-solving including a particularly dense building with plenty of lifts and switches to navigate. There's also a memorable shootout where you crawl along a bridge while monsters from all the desiccated buildings fire upon you. The eastern battle has shades of his MAP22 finale except with a little less action. Most of it's based around a central outdoor area surrounded by a raised bridge where you'll have plenty of monsters to kill (and more keep wandering in from other parts of the map). My favorite part has a building collapse into flames before your very eyes, lending to its post-apocalyptic landscape.
Beginner's End
MAP25
by Jim Flynn
Another modern-style Flynn masterpiece, this one set in a labyrinthine bank complex. The puzzles are comparable, with some great bits like the Diablo defense system or the northwestern room with its pillars and security code. The overall flow is quite different, however. Flynn exercises much more control over player movement, sealing off bank wings by doors, with movement only becoming transparent once you've reached the end segment. Fighting is also a bit more cramped than "Monster Mansion", as the level takes place almost entirely indoors, and the sections that aren't usually have plenty of obstacles to contend with. Some great moments to be had here, like the burning cage with the Unknown Doomer or the potential ghost caco trap as well as the vault itself or the final erupting construction that delivers you to the exit. Favorite encounter, I dunno. I think the main bank offices to the south are pretty keen.
MAP26
No Parking
by Jim Flynn
Flynn's final offering in Eternal Doom's standard set is another puzzle-laden modern map, this one with a downtown-ish layout. As with his previous levels, it's quite dense. The main city block is populated with plenty of opposition, not to mention the northwestern and eastern segments, with a memorable arch-vile battle and clever Cyberdemon puzzle, respectively, the second with a little bit of blockmap trickery. Besides the city block and massive eastern library complex (well, library-ish), there's a large canyon to the southwest complete with campgrounds and a list of rules (which you have to break to even get in!). Your main goal is to get into the four arachnotron nooks located in the street center to hit the four switches, but it won't be easy. It's possible in several places to mess up irretrievably, one of them being the "rocket armor test" room. Be on the lookout of well-camouflaged switches in the canyon section. All in all, it's a very fun (and tricky) map, worthy of Eternal Doom.
Paldorian
MAP27
by David Brachman
Brachman bangs out another map with a fusion of futuristic and medieval sensibilities. It's a fair shake larger than his previous level, "Stands", and has many more puzzles as well as some pretty hairy situations. The opening room, for instance, houses a number of pressing encounters, including several hordes of demons with low ammo as well as the final battle, a congested baron / hell knight hunt with a number of short pillars serving as obstacles. Among the features I found most memorable were the yellow key puzzle (neatly orchestrated) and the southwestern section with the tiered corridor loops / sewer fight. It's a very cool map, a bit more consistent than "Stands", and managed to keep its manic energy up throughout the entire journey.
MAP28
Timeslip
by Paul Schmitz
Schmitz counters his earlier, gorgeous medieval offering with an absolute masterpiece of a futuristic base (with some more organic bits). While the map seems daunting at first glance, it has a very specific flow, with the player beginning in the northeast section and then sweeping his or her way clockwise deactivating forcefields to facilitate better movement. Architecture and lighting are top-notch and help paint it as a very believable location. Difficulty is fairly punchy despite its low monster count through use of dangerous beasties in cramped corridors (namely the revenant). Puzzles, however, are very straightforward. I'll hold the "secret" Cyberdemon fight as my favorite encounter (fairly dangerous) while my favorite areas include the creepy southwestern basement-type halls as well as the portions surrounding the two main computer cores to the north and south. I believe that "Timeslip" rivals the best of the maps Eternal Doom has to offer.
Dominion
MAP29
by Chris Couleur
Couleur's final entry is another megacastle much in the style of MAP22 or 24. There's a nice central hub, where enemies are re-seeded along with some handy supplies, and three major wings to the north, south and west. Each of the wings must be conquered and explored in sequence, earning the key to the next. Despite all the baddies, the three hundred or so monsters seem pretty spread out most of the time, with plenty of space to maneuver, but you'll have your fill of revenants, cacos and even arch-viles. None of the big bads, though. Each of the wings looks and plays pretty great, with the western one being my favorite with its puzzle sequence and excellent second-tier reveal. Also of note are, of course, some grand outdoor vistas, including a burning tower which a number of cacos pour out of.
MAP30
Excalibur
by Bob Evans
An incredibly expansive castle map to finish out the set, and as difficult to solve as Evans's "Silures". Actually, it's harder, requiring you to find six keys in order to exit to the final battle. The castle grounds feature a variety of scenarios and examples of Evans's imagination, and while the map isn't packed tight with bodies, what's still kicking around are among the tougher monsters Doom has to offer, including two Cyberdemons. Most of these puzzles kicked my ass. I managed to find everything up to the yellow keycard solution on my own, but I threw in the towel around there, and that's after two and a half hours. One particular neat gimmick has Evans sending arch-viles back into the main hall when using the keys. Thankfully, you're not lacking for health. Medikits may be in short supply but there are plenty of megaspheres to be had. Just sit down, take your time, and if all else fails, look the solution up.
And, hey, here are the two bonus offerings. You can run
CSWEEPER
and the
CREDITS
wad outside of the shell as MAP01 replacements, but the former has much of its functionality stripped out when played alone.
Cybersweeper
MAP01
by Jim Flynn
Because Jim Flynn is such a stud, he included this little gem. It's Minesweeper, of course, but with Cyberdemons instead of mines. You just walk up to each square and hit spacebar, removing the square and telling you how many Cyberdemons are nearby. The Cyberdemons are confined to a 6 x 6 grid, with the number changing depending on the difficulty picked in the Eternal Doom shell, though there's another layer surrounding it that gives you your beginning hints. When played outside of the shell, I believe the map only has eight, the number allotted for skill 1. When you've isolated all the Cybs, you pop in a teleporter and telefrag them all. Even classier, Flynn included a utility that randomizes the placements (RANCY.EXE), giving it virtually unlimited replay value. Very cool.
MAP01
Credits
by Dietmar "Dia" Westerteicher and Ty Halderman
Just a short little credits map with monuments to most of Eternal Doom's authors utilizing those scrolling textures. The second hall is a nice reveal, with a tribute to the "God of Doom". You can probably guess who that is.
CONGRATULATIONS!
YOU MADE IT TO THE END OF THE REVIEW