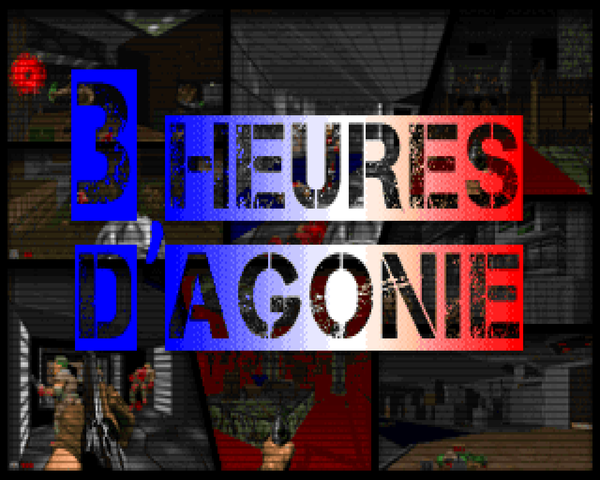 Necromantic Thirst
may be on hiatus but French Doomers JC and Oxyde managed to wring some maps out of their burgeoning community. Speedmaps, that is.
3 Heures d'Agonie
was constructed under one general guideline; authors were to map for no longer than three hours. Of course, it's just a guideline, with some taking slightly more time in their editor of choice.
3HA
is a collection, offering no major themes and no given story. It does fill all thirty-two map slots, though, to be played with
Doom II
in limit-removing sourceports. While there's no defined theme there are a fair bit of custom textures added so that you have something new to look at and a pretty good soundtrack to enjoy them with.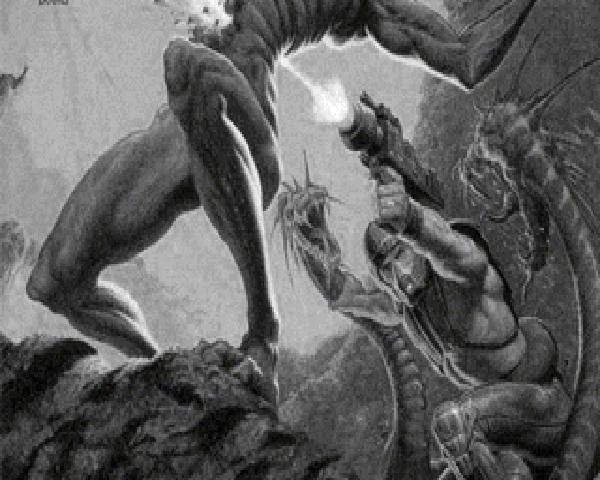 Because it's a community project, and limited to (roughly) three hours, the results are inevitably scattershot. I'm familiar with four of these authors, but the others are new to me, not having seen them in any of Doomworld's community projects (
PRCP
being my first introduction to their works). The fresh faces are just as welcome and in my estimation stand out for their experimentation. It doesn't always succeed for me, though, as you'll find out. JC's levels are typically medium-size with some big slaughter levels that are fun to play; franckFRAG doles out much smaller works (think 1024-size) that are pretty congested but fair. The others I can't really sum up as they either only have a few maps or are pretty adventurous in their designs.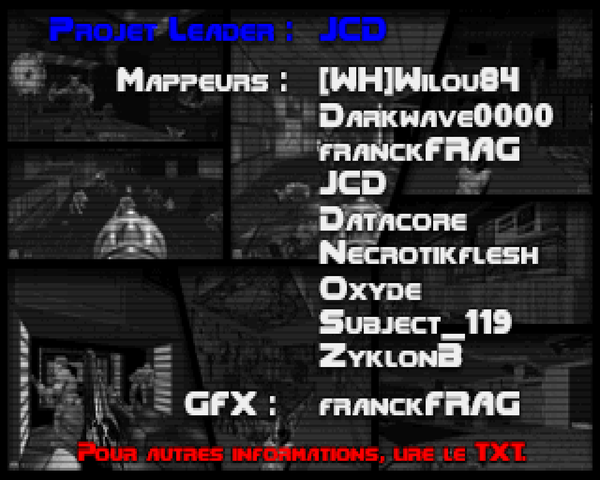 3HA
may not be a 5-star megaWAD (especially if it never even gets on to the archive)
(EDIT: and it's on as of 02/28/13!)
and its authors may not be the most seasoned, but most importantly these maps are with a few exceptions playable little morsels and fairly quick from start to finish. You're risking nothing by downloading
3 Heures d'Agonie
and giving it a shot and cruising through to see what you like. It'll be interesting to see where the French community goes from here.


3 HEURES D'AGONIE


by assorted authors
Upsilon-Synth
MAP01
by William "[WH]-Wilou84" Huber
A very short and nice-looking techbase map with a lot of riff-raff. You'll probably be bowled over by the sheer amount of flesh at the red key trap if not anywhere else. Adherence to the normal shotgun makes some of the combat drag, but it all fits in with Huber's theme of overwhelming the player. I'm mostly thinking about the cacodemons, here. Favorite map detail is that elevator that also serves as a walkway to the yellow key switch. Very neat!
MAP02
Unité de Traitement
by Riad "ZyklonB" Cherigui
Small and easy tech level built around a central hub. The lighting goes a ways toward making this look not quite so plain as you run around offing zombies and some slightly tougher enemies. The combat isn't that memorable except for the highlight, a hallway full of entrenched former humans that you can quite honestly just spray and pray. Actually, that mess of demons that guards the red key is more interesting, but the setup with the barricades looks pretty cool.
Cubicombe
MAP03
by Franck "franckFRAG" Livolant
Barely a map fragment. You have a bunch of imps waiting up on a ledge while some other things run on the ground to mess with you. It's basically about rushing the SG and then cleaning house while taking care not to get surprised by commandos or the hell knight that's thumping around. I think the real challenge is to do it fast and grab every secret...
MAP04
Petite Mort
by Christophe "Necrotikflesh" Calamoneri
A congested techbase that sucks most of the fun out of the game mostly due to an overabundance of hitscanners that forces you to do a lot of corner popping while you clear out like forty or so zombies, else you risk getting sucker-punched while you take on an arch-vile with your shotgun, which also tends to resurrect more hitscanners if you don't control it. Apart from all the bullets flying around, I do enjoy that imp ambush toward the end, which is a much better way of putting pressure on the player while keeping him or her moving.
Experience Interdite
MAP05
by Maxime "Datacore" Bisiaux
It's a little homely but it plays alright. Two major areas - a tech room with a tight spectre trench that encourages you to chainsaw some imps and the frankly more memorable Hell area where you dodge imp fireballs on a narrow walkway as you take out your aggressors. The finale is nothing much, though you might find the barons and arch-vile slightly taxing. The exit portal looks pretty cool.
MAP06
Embuscades
by Gwenvael "subject_119" Le Bihan
Interesting little level that crosses a variety of areas, all linked together via teleports. You've got to be careful how you start out, of course, or you'll be slightly lacking in the ammo department. A lot of up close and personal fighting, most memorably the fakeout trap at the finale, but that SSG pillar room is just about as frantic with the cacos and revenants. While it feels like a collection of map fragments, the sum works well, thanks to some good fighting.
Chambre des supplices
MAP07
by Riad "ZyklonB" Cherigui
Very simple brown metal map in a cross layout. Not at all exciting; clear out the sergeants at the beginning, grab the SSG, and then wax both rooms of mancubi. The arachnotrons at the end fail to thrill, though the rocket launcher grab feels just a little gutsy.
MAP08
Canyon
by JC Dorne
Really, this was a speedmap in three hours? Well, damn. This is a great big rocky level with a lot of water to kick around in. It starts out nasty with sergeants and imps at the top ledge and doesn't let up through several JC teleport ambushes and surprise monsters; the red key wing is one of the nastier bits, but you'll want to tackle it first for a combat shotgun. It also helps if you can snag that plasma rifle, included in an obvious speedrunner shortcut. All of the key traps are nice sequences; conversely, the end of level Cyberdemon feels more like a gag than an actual obstacle. Still, very cool.
Zone85
MAP09
by Maxime "Datacore" Bisiaux
Don't waste any ammo on the cacodemons in this odd Hell level. There's a switch that will dispose of them with minimal fuss. The spiderdemon is very annoying as there's no fast or safe way to kill it since you've just got shells and rockets. You can just blitz past it and take the teleporter out to a berserk pack, though, which should nullify any ill effects. The four baron finale pales in comparison. Not fun to play.
MAP10
Surchauffe
by JC Dorne
This simple outdoor level is much more forgiving than JC's earlier "Canyon". It's considerably less sneaky, favoring large hordes of monsters the player has to navigate that are more pitched battles than huge surprises. The red key fight stands as my favorite with its limited movement space and a nice payoff for saving the rockets you've found. The big horde waiting outside isn't nearly as dynamic but it's good to do some rocket suppression every now and then.
Obscurite
MAP11
by Maxime "Datacore" Bisiaux
As a concept level, this works pretty well. You're caught in a crater fending off a creeping horde of imps from all directions who you can only really see by the silhouettes they cast. After you smite the first round you need to duck back down to lure the rest to the edge rather than take fireballs as they gang up on your position. The ending seems more like an afterthought, but I guess if you sucked at the first part you might be low on ammo. I liked it.
MAP12
Fourbe
by Franck "franckFRAG" Livolant
Another map fragment from franckFRAG, but this one is tough as nails, as if standing behind two revenant pillars with a measly shotgun standing in front of them wasn't enough to clue you in. That arch-vile reveal is the bigger surprise; what little there is does a good job of keeping you on your toes and exhilarated when you're finally done. That pack of hell knights and surprise arachnotron barely even registers after that opening. Cool stuff!
Le Souterrain
MAP13
by JC Dorne
Sewer level that's pretty wide open and comes with some great moments of putting pressure on the player, most recognizably in the basement with the blue key. You'll probably be better off if you clear the upper floor for the rocket launcher and take it down with you but I managed to make it with the plasma rifle alone. It was...pretty fun, all told. I didn't like the concept of the final fight until I realized there's a safe spot (w/r/t nukage) with plenty of maneuverability for you to hang out in. Cool stuff.
MAP14
L'Arene de la Douleur -
by Maxime "Datacore" Bisiaux
A mostly very easy slaughtermap where all of your problems are solved with the liberal application of rockets. The first stage has tons of imps and apart from a few stray fireballs should be a piece of cake. The mancubi are slightly harder to handle but with some caution should offer little resistance. The big snag is the finale, with four arch-viles, two cyberdemons, and an invul sphere. It's still pretty easy as long as you stay focused, but if you're totally lost you might be awhile.
Secteur Delta
MAP15
by JC Dorne
Another JC semi-slaughter level, but toned down quite a bit. Sure, you're gonna have to fight to get to the SSG, but after that you can more or less take your time as you clear out the warehouse and revenant chamber. Nothing really threatens with the plasma rifle in hand, unless you really suck at getting the Cyberdemon / Spiderdemon to infight (or just failed to get them to warp in). Short and fun.
MAP31
Casemate
by Riad "ZyklonB" Cherigui
It's a boring Wolfenstein level with a few deltas like some rooms full of imps or a cage of revenants. The strongest weapons you have are the shotgun and chaingun so none of the tougher monsters - like the slaughterhouse full of mancubi - are fun to clear out. I guess it's nice that this was just a speedmap.
Ta Mitralleuse
MAP32
by Maxime "Datacore" Bisiaux
Datacore informs you that if you can beat the level with just the chaingun that you are a super player. That's very sweet, Maxime, but this level is mostly a test of patience, taking on hordes of imps with just the chaingun. It does have a nice feel as long as the repetitive action doesn't get to you, like a budget Sunder where you carefully trim back the tide of brown beasties. This map peaks twice, the first in the huge room with the invul (save it, dummy) and in a claustrophobic battle at the very end. All done with the chaingun. You decide whether you want to be a super player.
MAP16
Metalocauste
by Franck "franckFRAG" Livolant
Props to franckFRAG for coming up with something more substantial than his previous offerings, even if the monster count is inflated by a zombie horde. Same idea as the previous stuff - push the player forward by adversity until they can catch a breath - after which you can deal with everything you blitzed past. Some nastier tricks here, like a slow crusher trap. There's also the spiderdemon, which you'll probably be poledancing with as you handle your SSG. That first jump toward the exit is a pain.
Place Abandonnée
MAP17
by Christophe "Necrotikflesh" Calamoneri
This is a horrible, horrible nightmare of a level. The concept is okay, a presumably abandoned warehouse with demons lurking around every corner. But ammo is at a premium and the horrible lighting combined with spectres and other high-hp monsters means you're in for a non-stop paintrain, with the dual cyberdemons at the penultimate switch serving as a final fuck-you to the player. The amount of work you do with the SG and CG is unreal compared to the monsters you fight. I suppose you could blitz your way to the rocket launcher and plasma rifle, but I don't think that's feasible.
MAP18
Stupide Dilemme
by Franck "franckFRAG" Livolant
Another cool little outing from franckFRAG. Even more sedate than previous outings, the traps are quite forgiving except for the SSG grab, though you'll probably survive with the health he's got laid out. I like the red key room's lost soul / hell knight staged fights and that finale with the Cyberdemon is a good way to make an otherwise routine fight interesting, by restricting the area you have to dodge in a non-irritating fashion. Cool stuff!
Terrible Technologies
MAP19
Arnaud "Oxyde" Florian
Reminds me of some of Adelusion's crazier levels... Oxyde's map looks nice and is a claustrophobic beast with one of the nastiest openings yet, where you have two revenants from two windows with a huge gang of imps across the bridge. There's no clean way to move forward and if you overstep your gains you'll only make things harder. After that, most of the nastiness comes from interstitial arch-viles which do a good job of making you waste ammo, at least that very first one where all you have is the SSG. Diabolical.
MAP20
Archeologie
by JC Dorne
Very fun semi-Egyptian slaughtermap. The layout is basic but the three major encounters are pretty fun with the climax involving some light pillar jumping. The imp / hell knight room was fun to let infighting do most of the work and that initial courtyard battle with all the cacodemons flying around in addition to the arachnotrons on the ground was enjoyably manic, along with revenant rocket dodging to the east. Those arch-vile pockets wear a little thin, though. Still, another cool level from JC.
On t'as eu !
MAP21
by Maxime "Datacore" Bisiaux
Short cathedral map. Looks okay and has some odd gameplay where you may want to get the Spiderdemon to infight so that you're not riddled with bullets as you do your dance to grab the various goodies (SSG / RL / YK). After that it's a pretty easy run to the exit, though the staged arch-viles at the exit drag things on a bit too far.
MAP22
Désastre
by Franck "franckFRAG" Livolant
Fun little romp from franckFRAG based mostly around SSG play. It's mostly slow projectile-throwing monsters, except for the beginning, where there's a big brawl involving a ton of hitscanners teleporting into a room you'll need to watch out for. After that it's smooth sailing unless you cock up and slide yourself into some fireballs. Good stuff!
Après Les Restes
MAP23
by Christophe "Necrotikflesh" Calamoneri
I'm pleasantly surprised by this mostly-normal Hell level from Necrotik, which plays significantly easier if you can recognize the two (pretty obvious) secrets, giving you an early shotgun and an otherwise-absent chaingun. After a little claustrophobic encounter in a marble chamber you take a jaunt to some red rock Hell followed by a more prominent marble finale with an interesting layout and a couple of big waves of imps on your way to the exit. The only problem is that everything must be fought with the aforementioned weapons, including the end of level Cyberdemon, but you can cheese him with the staircases. Just make sure you brought enough ammo. Pretty fun.
MAP24
Ruin-Tech
by JC Dorne
This very small level from JC pays wonderful attention to lighting but is perfectly bisymmetrical and nearly every single fight will be fought with either the shotgun or chaingun, which makes the second round of each obstacle that much more tedious. I suppose some of these monsters could be saved until you grabbed the SSG - namely the revenants - but that's about the best you can do to ease the tedium. On the plus side, the climax is a nice, sharp shock, probably the best bit of the whole map.
Le "Q"
MAP25
by Franck "franckFRAG" Livolant
franckFRAG's level here is another short bit that's heavily-focused on trappy encounters that may get the best of you the first time around, but wise Doomers will know what to expect. The plasma rifle ambush is easily nullified by a quick run back where the insurgents will take themselves out and the SSG party affords a great outlet for your ill-gotten gains. After excising some hardbodies you can move to a pillar-hop of an exit with some dangerous yet easily-handled arch-viles. Chalk another one up for franck!
MAP26
Le Village Maudit
by Maxime "Datacore" Bisiaux
A very small sandbox-style level with a bunch of monsters you can get to infight each other, not that you'll need to save much ammo. Unless you decide to run out and kill the arch-vile for the rocket launcher, you won't feel threatened at the least, even with the dual cybers. Of course, you're better off saving the vile for when you have the BFG so you can grab the rad suit and take care of those behemoths posthaste. It kind of works as a tiny puzzle map where the enigma lies in the monsters.
Sang Innocent
MAP27
by William "[WH]-Wilou84" Huber
To be honest, when I saw Huber's name on the setlist, I had a different concept of the kind of maps I'd be playing, and "Sang Innocent" fits the bill. It's a tight slaughtermap with tons of nasties crawling around. It's all about making a safe space at first, which Wilou gleefully violates in one of the major traps. Actually, the alcove with the blue key switch is kind of hard to open in the port I used (ZDoom). After wandering around for a few minutes I hugged a ledge that had previously housed a key and got the mother of all map invasions. The finale is just as appropriate, with a ton of arch-viles in one corner and a Cyberdemon in the next. Good fun!
MAP28
Impulsion
by Maxime "Datacore" Bisiaux
An unusual abstract Hell level with a neat opening where you're swarmed by demons running out from the fire. After that it's kind of a tricky obstacle course clear with arch-vile closets, revenant cages, and a mob of hell knights before another obligatory double-Cyberdemon gate battle, which is always just a tad bit awkward between both the playing area and the fact that it's two Cybies, a situation not known for guaranteeing precise movement. Still, kind of neat. A significant portion of the level is wrapped up in secrets; good luck getting there!
Dernier Voeu
MAP29
by "Darkwave0000"
Starting at 1100 monsters and ending just shy of 1800, this is not a map you should try blind. It quickly escalates into a huge multi-tiered battlefield where health is at a premium, especially when all the spread-out commandos do their dirty work, and Darkwave isn't one to let all that open space go to waste once you've cleaned it out. Monsters will repopulate the level at several critical points, with the arch-viles playing the clear villain with all their medical skills. I really don't know how to otherwise describe this map. It's huge and it's got great architecture and it's way beyond my skills to really appreciate it; I almost gave up at several points. I will say that those enormous blue columns in the exit area look very sharp.
MAP30
Quarante-deux
by JC Dorne
Your standard boss-shooter map preceded by a bunch of berserk punching arch-viles in cramped corridors. Well, unless you score one of the other weapons they're guarding, but I'd save your plasma ammo for the main event so you have plenty of time to figure out what the right height to shoot your rockets is. The corridors look cool and the finale comes as a welcome change after the previous bastard of a level; it's nice to be able to relax.
THE AGONY AND THE ECSTASY