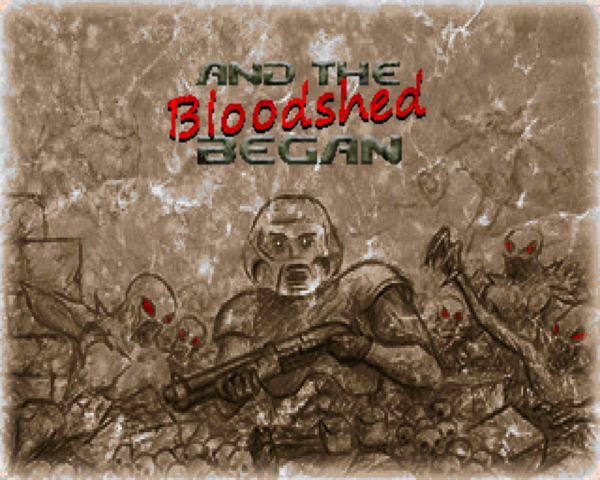 The first glimpse I had of the French Doom community was through their contributions to the
Plutonia Revisited Community Project
, a mapset near and dear to my heart. They've been slowly working on the much-awaited
Necromantic Thirst
, but somewhere along the way, JCD got a few of those that I'd never played before to contribute to
3 Heures d'Agonie
, an interesting if scatterbrained sampler from authors polished and not. Datacore and Subject_119 were two such contributors, and they combined their developing talents to bring us
And the Bloodshed Began
in 2014. It's a full megaWAD for
Doom II
, to be played in... PrBoom, I guess, though I didn't see anything specific to Boom. Datacore and Subject_119 have included no story, so just enjoy this collection of carnage for what it is.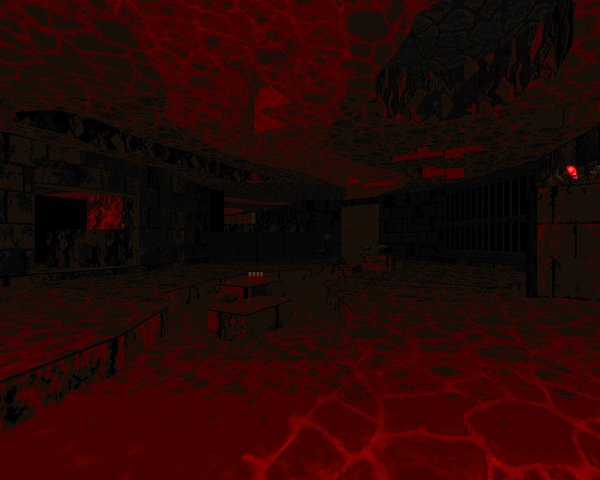 ATBB feels more or less like an extension of 3HA, if anything. A few of these levels are very large and, while rough at times, memorable journeys. Many of the remaining ones are fast, crude slaughters. It's clear that Datacore - the major contributor - can come up with some decent concepts (as well as poach them from "official" works) but if you're expecting a collection of levels with some substance, you'll be disappointed. Stuff like "They are Waiting For You" and "Ketamine Intravenously" is about as simple as can be. Open a door, tons of one single monster type boil out. Wash, rinse, repeat. I wouldn't call them filler maps, but they feel more like they should be part of a level to me rather than the whole thing.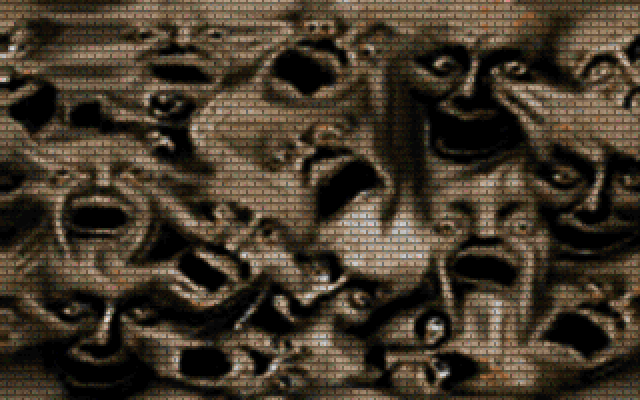 You know me, though. Or do you? I can appreciate small, simple levels, but the latter maps don't show the promise I saw in earlier works like "Gloomy Melancholy" and "Blood Caves". I guess I was expecting something larger, but less straightforward than Bisiaux's pair of MAP19 and 20, to show up further down the line. Oh well! I had fun with 3 Heures d'Agonie, too, and that's about as ephemeral as it gets. I just suspect that ATBB will not be an experience that sticks around with me, except for perhaps its gratuitous moments of pointless monster slaughter. Otherwise, I like the cheeky tone manifested in the level titles, some of which I recognize as jokes stemming from IDMUS tracks. There's also some new music to be had to vary up the experience. And, uh, kickass titlepic, Franckfrag. Thank you for another megaWAD to play; I hope you put the experience toward your next!

AND THE BLOODSHED BEGAN


by Maxime "Datacore" Bisiaux
and Gwenvael "Subject_119" Le Bihan
Out Post
MAP01
by Gwenvael "Subject_119" Le Bihan
Short and easy "Entryway" but with a few surprises, like a demon and - more importantly - a cacodemon. I hope this points the way toward things to come. It has a very basic layout but the optional area off to the east is appreciated and Subject does a decent job of hiding monsters to keep you just ever so slightly on your toes. The final room is probably the most effective; a few more zombies wandering around in it would not have hurt.
MAP02
Cleaned Up
by Gwenvael "Subject_119" Le Bihan
Another base that's an improvement over MAP01. I like the zig-zag layout running from the east to the west. It's got some neat aesthetics, like the teleporter room and that first corridor's mirrored pods off the north. There are a few more monsters, and they come at you a bit more heavily, but the only real surprise is a Hell knight, who isn't much to take down, especially if you grabbed the early combat shotgun. I also like that northwest sewer annex, which I guess frames this as some sort of water treatment plant given the nice, clear water to the south.
It is a Trap
MAP03
by Gwenvael "Subject_119" Le Bihan
A simple but effective arena fight that puts you in the middle of an ambush with hitscanners and imps and then dumps more monsters at you with the flip of every switch. The only one you really have to watch out for is the double-pronged monster closets, where you basically let one side police itself while you grind down the other, earning yourself a handy chaingun in the process. The imp / sergeant and imp / Hell knight waves aren't nearly as threatening.
MAP04
The Grassland
by Maxime "Datacore" Bisiaux
The first half is a fairly underwhelming grassy green maze that's choked with shotgun guys, plus a few non-hitscanners to mix things up. Standing back and letting the zombies come to you is the best way to mop things up. Letting the arch-vile find its way to you would have been a neat touch, but that's okay, he's still slightly tricky to take out in the room he's in. The other part is a semi-arenaish layout with zombies and imps ringing the inner and outer boundaries that will do a job of keeping you occupied long enough for the spectres to surprise you.
No Time to Sleep
MAP05
by Maxime "Datacore" Bisiaux
It's basically re-imagining of "Hell Keep", as far as the layout and encounters go, just with harder monsters (like revenants and arch-viles) and a more action-oriented opening where you fend off imps and hitscanners from several directions before starting things proper. I like the opening firefight but there is far too much time spent with the slow-ass shotgun and chaingun, I think. Maybe you can work things faster by squeezing past the cacodemons and arch-vile for the SSG after taking out the baron room, but on an initial play, it's kind of a drag.
MAP06
Gloomy Melancholy
by Maxime "Datacore" Bisiaux
Maxime takes things in a neat direction with this fairly bloody outing. There are some decent visuals to mix things up, albeit with a good ol' maze thrown in there. It's also got an (obvious) hidden SSG near the beginning to ease you into the action and plenty more secrets to boot which makes this otherwise fairly short offering look intricately designed. I like the individual themes of the disparate sections, and there are a few timed ambushes that actually caught me off-guard. Waking up all those monsters at the beginning is a good way of keeping the player on their toes, too, or at least a little concerned as to where those noises are coming from.
Blood Caves
MAP07
by Gwenvael "Subject_119" Le Bihan
A pretty cool map that avoids the typical "Dead Simple" tropes. There is a lot of blood, of course, and plenty of other memorable segments including a variety of large, memorable rooms with neat features and squads of monsters to gun down. The fights are never too overwhelming and 119 manages to keep you occupied from enough angles to really bring out the best aspects of Doom's encounter design. Standout encounter: definitely the big ambush over the blood channels to the north.
MAP08
Downstroy
by Maxime "Datacore" Bisiaux
I'm not sold on the simple compass layout but the rooms you wander through as you hunt down the keys to reach the exit have some pretty neat hooks. I especially like that red brick megastructure off the poison pit to the west, but smaller sections like the imp cave to the north are just as interesting. If the monster use seems irresponsible from pistol start, that's because there's an early plasma rifle that should help you take down some of the more troublesome enemies, like the arch-vile guarding the red key. I also like the northern fight with the mancubi and then trash monster reveal, where fun times are had by rushing forward and around and laying down some plasma suppression. Cool.
Toxic Waste
MAP09
by Maxime "Datacore" Bisiaux
A short and very trappy offering from Datacore. The opening shotgun guy slaughter is a little heavy on the hitscanners, but nothing you can't handle, and I actually enjoy that nukage catwalk section to the east. The cell maze to the west, though, hits the level's nadir as you wipe out featureless room after room of enemies, an experiment in "choose your own adventure" that doesn't really carry its own weight. The fights leading up to it are pretty cool, though, even if that first arch-vile is kind of awkward to take out.
MAP10
Send It is Weighted
by Maxime "Datacore" Bisiaux
This is an unrewarding linear shooting gallery opening with the pointless slaughter of nearly one-hundred zombimen. The action feels rote until you get into the outdoor sections, where you're no longer shooting bullets down corridors, but I'm not much of a fan of this level's gameplay. The large western room seems like a missed opportunity for a slugfest, though the plasma rifle trap is appreciated.
Hail to the King !
MAP11
by Maxime "Datacore" Bisiaux
Same compass layout as in MAP09, but minus the interesting areas to explore. The western section is a good ol' marble maze-like, though it gives its barons a chance to actually feel threatening for once. The eastern area is my favorite, loaded with monsters and some less rudimentary architecture to keep the excitement flowing. The exit run feels incredibly old-fashioned, though, as you claw your way through a linear line of chambers housing monsters organized from the least HP to the most. The lack of space makes the Cyberdemon potentially challenging, at least.
MAP12
Blood For Blood
by Maxime "Datacore" Bisiaux
A short, underground slice of Hell with great atmosphere and some nice fights. I don't care much for the ring of shotgun guys in the tunnel, and the four pairs of arch-viles in the exit room is beyond the pale, but I like the rest of the battles. Taking down a bunch of lost souls is always an exercise in panic and clearing the squad of cacodemons that repopulate the main room is a nice coming home party. Datacore does a great job creating a memorable environment with limited resources.
Reload 404
MAP13
by Maxime "Datacore" Bisiaux
This decent-looking level is absolutely swamped with lots of imps, lots of mancubi, and lots of shells. You aren't going to deviate much from the SSG found at the level's beginning; even when you grab the rocket launcher, you're much better off using the tools presented to let the Spiderdemon off his buddy and leave you a few shotgun blasts away from victory. For such a short map, it feels like a slog, but if you don't mind grinding through mancubi and imp packs there are a few dicier encounters to be had, like an arch-vile / revenant ambush.
MAP14
Air Mail 4 the Archvile
by Maxime "Datacore" Bisiaux
This is basically a big loveletter to Plutonia's "Hunted". Datacore tries to vary things up by throwing the big surprise at you twice, and the first time, it's a bunch of revenants, though you don't have the nasty linedef trigger maze to contend with. It's just sparse, brown outdoor hallways. Oh, and the revenants and all their friends have to be taken down by the normal shotgun and chaingun. It's kind of a drag, especially that pack to the southwest. The second wave is more fun as Bisiaux supplies the bigger guns, but he wasted the good surprise on the skeletons, so you're pretty much ready to go.
Small Phobia
MAP15
by Gwenvael "Subject_119" Le Bihan
A very small but adequate combo of two outdoor areas with an adjunct techbase for each. Most of the action is centered around the outdoor sections, one of which has a Spiderdemon which you'll want to set fighting a squadron of imps and Hell knights. The other is some more classic combat with mixed demons, revenants, and a mancubus. The base sections barely register, but it's a cool little map.
MAP31
Shame on Them
by Maxime "Datacore" Bisiaux
There is nothing memorable about this "Wolfenstein" level. It's got 150 Nazis to blast through, so have a ball if that's your thing.
World It is Just a Fake !!
MAP32
by Maxime "Datacore" Bisiaux
A confusing BFG frenzy survival-style as you mow down a cacodemon clusterfuck, dispatch some spoiler arch-viles, and then some more cacodemons before turning your attention to the nukage-cloaked Cyberdemon. At the very least, the action is very short, so it works for what is basically a sequence of combat puzzles.
MAP16
Ketamine Intraveneously
by Maxime "Datacore" Bisiaux
A very simple level focusing on claustrophobia. There's an inner chamber that's initially empty with outer chambers that dump more monsters into your playing area as you progress. The first wave is all chaingunners and shotgun guys. The next, depending on how you handle it, is revenants and cacodemons plus maybe some barons. The last is a deadly dance with two Cyberdemons. It's not that tough, especially when you remember that you can retreat from the second wave into the space that housed the first.
Chaingun Guy to the Rescue
MAP17
by Maxime "Datacore" Bisiaux
I think the joke is that you are the chaingun guy, judging by the token hitscanner sniper point with a commando loadout. In any case, this is a little red rock and marble corner of Hell that is loaded with IMPS! Glorious imps, carpeting the outdoor area and clogging up the tunnel leading to the sniper point to the north. And some tougher monsters, too, but mostly imps. The real snag is that all of your footwork will be done with the shotgun and chaingun, if I'm not mistaken. It makes for some pressure on the player but grinds a few of the fights to a standstill. Good thing there's only one baron.
MAP18
Mistake Nostalgic
by Maxime "Datacore" Bisiaux
More imps, but this time you're in a beige brick rectangular arena that's inundated with blood. There are some demons and Hell knights roaming on the ground floor, but the real threat comes from the few hundred imps in the rafters, hailing you with fireballs. If you dart around and grab the rocket launcher before heading back, it's pretty easily handled. Nothing spectacular, but the arena is a cool set piece in and of itself.
Transient Amnesia
MAP19
by Maxime "Datacore" Bisiaux
Kind of an offbeat budget slaughtermap. The first leg you can handle however you want; I grabbed the berserk and got to punching imps. After that it's wholesale rocket slaughter of imps and Hell knights - like shooting fish in a barrel - before a long, drawn-out battle with a never-ending torrent of demons. It's mostly about staying in the long, courtyard area so that you don't get boxed in and bit to death. The arachnotron / Spiderdemon room is pretty awkward and challenges your ability to combat arachs in tight spaces. The finale is pretty tame in comparison, provided you still have some plasma ammo lying around.
MAP20
Milk It
by Maxime "Datacore" Bisiaux
A very large level that is also very linear. Datacore masks this fact through height variation so that you at least get to see where you're going and fight stuff not immediately on your plane, but there's one major path through the whole ordeal with little or no side-stops. You do get some options, though, like the plasma rifle in the spectre pit, but you'd better grab it if you want to make it to the finale. I like the crazy, pell-mell architecture, and my favorite fight by far is the reveal once you grab the red key, a big ol' free-for-all.
Pain Elemental's Castle
MAP21
by Maxime "Datacore" Bisiaux
This level has a fairly small body count - initially. It IS the "Pain Elemental's Castle", though, and while the bastards aren't too jam-packed, there are enough of them in instances where they will summon a lot of lost souls, though whether they abort in close quarters or not, is up to your standard of crowd control. It's a pretty fun little map with a few tricky parts, like ousting the Cyberdemon who keeps you from re-entering the castle courtyard, and the fast-warping arch-vile who you can take out with but a little patience.
MAP22
Green Peace
by Maxime "Datacore" Bisiaux
Something unusual. The level has a definite "green" theme going on, but it also has an unorthodox weapon loadout. The only armaments you'll be using to slaughter hordes of zombies and hordes of Hell knights are the chaingun and the BFG. Yeah - I haven't seen quite so many zombimen before, but here we are. A lot of it features boring symmetry and I'm not ecstatic about grinding down any large bunch of enemies with the chaingun but the sheer number of zombies makes them a force to be reckoned with.. Using the BFG to speedily take down Hell knights in tight corridors is kind of a challenge, especially in not getting burned. There's an invul you can save for whatever fight feels the most awkward; I used it for the Cyberdemon.
They are Waiting For You
MAP23
by Maxime "Datacore" Bisiaux
Another budget slaughtermap, this one with you opening up chambers in a network of alleyways and unleashing squadrons of monotypical monster packs. The most important thing to help yourself out is to grab the BFG, which is hiding in one of the crates in the alley after you fight your way through either one of the arachnotron columns. That should make the Hell knight and revenant battles that much faster. The actual finale is a bit of a dud, but I think Datacore has an imp fetish.
MAP24
Hell Into My Eyes
by Maxime "Datacore" Bisiaux
Hey, I've seen this setup before. Bisiaux tries his best at emulating a short Doom 3 adventure, complete with caged journey into the depths of Hell. It's kind of atmospheric, and very tight on ammo. Knowing that there's a combat shotgun to fight to might have made that first major fight a little less tedious. The mancubus fight is a little tricky just through sheer numbers. The finale is wall after wall of Cyberdemons guarding switches; kill them all before your invulnerability runs out, because you won't have enough room to comfortably dodge them all.
I Will Find You
MAP25
by Maxime "Datacore" Bisiaux
Back to a more or less garden variety Doom II level. After a close imp encounter, you rush out into a huge crossfire where Datacore sends out a ton of demons as interference. Things gradually get worse, especially if you summon up the arch-vile, but once you get inside the compound things quiet down. It's mostly hitscanners save for a few melees, like cacodemons in the dark and that five-deep revenant rampage. Letting a few arch-viles loose in that elevated tunnel with the imps and sergeants is some nice, low-budget pressure.
MAP26
Full Damage
by Maxime "Datacore" Bisiaux
This is a big indoor colonnade cut in Hellish red brick. You have a lot of room to move around in, and that's good, because if you can't figure out how to grab the BFG (I couldn't be bothered to), infighting is your best friend. Datacore dumps all manner of beasts into the two blood pools at the level's climax, and the increasingly cramped environment loves cutting you off with demons as you stroll around, trying to let things clear out. The pair of Cyberdemons at the end is more an exercise in tedium without the handy 9000.
In Hell They Trust
MAP27
by Maxime "Datacore" Bisiaux
Some more red rock Hell in a subterranean locale. It's a decent setting and I like how it gives way to the more structured red brick on the west side of the level. Action is pretty heavy from the beginning, as you're dancing with skeletons on a little island after grabbing some weapons from behind them. The Hell knight / cacodemon / revenant room is a pain in the ass to break in to as everything is just clustered up at the front. The mancubi that come after are a nice surprise; I actually had two of the bastards sneak up on me while I was busy with the others.
MAP28
Towers of Hate
by Maxime "Datacore" Bisiaux
Starts off with an unusual techbase jaunt that's crammed with mostly trash monsters and then descends into a pretty grueling key hunt as you have to slay eight Cyberdemons with various armaments while imps, Hell knights and mancubi fire at you from afar. The step pyramid is a visually impressive structure, at the very least, and it's a decent setting for a fight. Eight Cyberdemons is too much, though, especially with all the room you have to maneuver in.
Shub-Niggurath's Pit
MAP29
by Maxime "Datacore" Bisiaux
Shub-Niggurath is a spider, and she is a pain to get around. You got a little cover here and there, but monsters come at you in threes - either two revenants and an arch-vile, or two Hell knights and a baron. None are particularly easy to deal with, and all the while the Spiderdemon with her arch-vile consort fires away from the center of the level. You can leash the vile to her or just kill both straightaway, I guess. The fidelity to the original Quake map is okay, at least.
MAP30
Painfull Mortally
by Maxime "Datacore" Bisiaux
A super-fast boss shooter pumping rockets into the maw of some horrible abomination. Double the spawners in such a tight area makes it so that you don't have a whole lot of time going in blind to figure out just how to sink explosives into the beast. As it turns out, "blind" is the operative word, but you need to be using bullets, not rockets. You'll know when you've scored when some of those blood bars disappear.