ORACLE...


by Jim Flynn and Scott "MadMax" Harper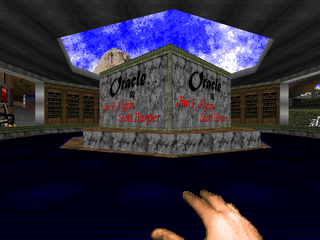 Oracle
is a two-map minisode for
Doom II
, replacing MAP02 and 03, by the duo of
Jim Flynn
and
Scott Harper
. I'm not sure exactly how the pair developed but looking in Harper's assorted .TXTs, it's likely he found a kindred spirit in Flynn, who appeared to be a source of inspiration much in the same way that
Anderson
influenced Flynn. Overall, I'd say these maps have two things in common. First, they tend toward more surreal, abstract architecture. Second, they are very puzzle-centric, in both good ways and bad ways. The first map is the main one, and it's VERY large, much in keeping with Flynn's design sensibilities. The second is much shorter, constrained to a small, circular area, but (as mentioned) it's similarly complicated.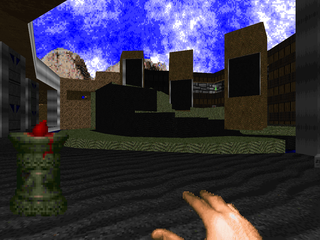 Oracle takes place on an earth-like planet within the Regulus cluster (77.5 light years from Sol, for those keeping score). Apparently, a survey team discovered an alien base which they're almost absolutely positive is uninhabited, so they're sending you in with nothing more than a pistol, expecting no resistance. They note that several features of the structure appear to be active in spite of its apparent derelict status. So, uh, what's the Oracle? The marine's codename? The secret nature of the alien base? Maybe it's a reference to the minisode's most notable feature...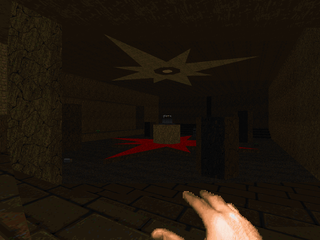 MAP02 is the main attraction. It's what Kurt Vonnegut might call a blivet, and I mean that in the best way. Flynn and Harper crammed more stuff into this level than I would have thought possible. To go over each area in detail would take more time than I'm willing to spend. Suffice it to say, like much of Flynn's stuff (I can't vouch for Harper), it's a portmanteau of texture themes. The individual rooms are internally quite consistent but individual sections vary widely, from earthen to brick to techbase to molten rock and more. There are some new textures, interestingly enough, though they don't really stick out that much. If there's one thing tying MAP02 together, it's puzzles.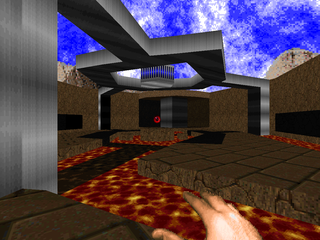 Puzzles everywhere; switch hunts, key grabs, you name it. There are a fair number of traps to contend with, too, but they're not nearly as difficult to handle. The true antagonist is the level itself, the clever brainchild of Flynn and Harper. They've cut you a few breaks, though, by providing you with the mapset's most memorable features, a series of animated textures that clue you in on what switch you must press to cause X result. Some of them are more along the secret variety, like "here's the automap", or "here's the rocket launcher". Others, though, are direct references on how to access the level's keys, and serve as a good marker when you reach a familiar area, to remind you that something important is supposed to happen there.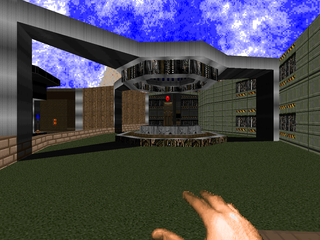 Among its more memorable puzzles and encounters, I'd cite the main hub (one of the largest and most consistent sections), the whole eastern area with its pentagon platform, twisty tunnels and compact staircases, the northern section for its open-air battlefields, and the western section for its goofy mountain climb. There are some other things, too, like using the teleporter hub to add another puzzle layer onto the exploration angle (as some areas are inaccessible by anything than the starting teleporter), or some of the more impressive architecture using outdoor space to create faux-3D structures.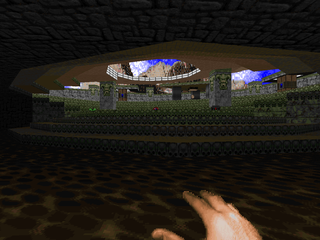 MAP03 is more like an afterthought. It's a high-octane plasma rifle fight in a circular arena that dissolves into one of the more obtuse puzzle-fests I've played. Getting out of the opening pit is a chore as you're a) being harried by revenants the whole time and b) the switch is located on the back of a crusher you have to activate. From there on it's basically a good ol' fashioned switch hunt as you run around the outer rim, exploring the rectangular (but jam-packed) buildings. The final building is essentially an exercise in timed switches, leaving you in the lurch as you rush back and forth attempting to beat the hatches before they close.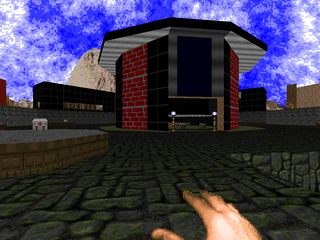 All bitching aside,
Oracle
is a great WAD. It's more of a brain teaser than, say,
The Interdiction Zone
, as its puzzles are more long-term than
INTZONE
's immediate gratification. When you've finally unraveled the guts of the alien outpost, you'll be quite pleased with yourself, and that's considering that you don't even have to explore all of MAP02 in order to make it to the exit. Indeed, there were at least two places I had unrevealed when I had found the exit switch. MAP03 feels more like butting heads with the developers at times, but I still felt like I'd accomplished some minor feat when I finally slammed the exit button. Both of these are fun adventures any Doomer should play, loaded chock full of action and surprises.


TWELVE INCHWORMS TO A FOOT