VESPERAS


by John "Dr. Sleep" Anderson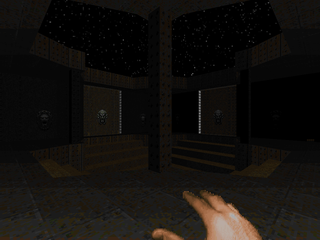 Vesperas
is the final canto of
Anderson
's included in id's
Master Levels for Doom II
, a replacement for MAP09. The eighth canto,
Chiron
, found its way into id's
Thy Flesh Consumed
as E4M7, "And Hell Followed', and the final canto,
Lethe
, in which Dante would presumably have encountered Satan, remains unfinished. The only clue to which circle of Hell this level represents is its name, which Sleep notes in the text means "evening ceremony", alternatively vespers. It could in theory be the ninth circle of Hell, where the betrayers are punished, but it doesn't really resemble the freezing ruin of Cocytus. The only thing I can tie
Vesperas
to is the War of the Vespers, a civil war which occurred in Dante's lifetime (rebelling against French rule) and which figured heavily into his life experiences, indeed resulting in his eventual exile.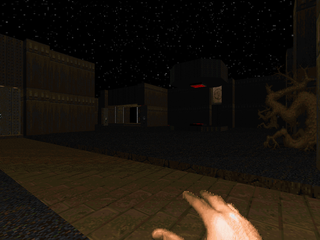 No specific portion of Inferno mentions the Vespers, however. In fact, its few appearances in the text itself occur in Purgatorio and Paradiso. So, I'm not sure what circle of Hell
Vesperas
represents. Anderson noted that the Cantos don't necessarily represent the circles in a particular order. What I can say with certainty, however, is that this level is great fun. As usual, it exhibits Anderson's brown brick and metal style, this time with zero intrusions of other themes (such as green marble). Rather than
Geryon
's
free-wheeling layout, it resembles more
Nessus
or
Minos' Judgement
, focusing on a Hellish fortress with right-angle hallways with more circular rooms where the important progression occurs.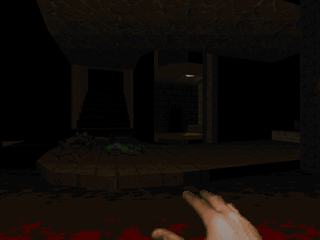 The level is dominated by a large outer yard around which the hallways and battlements have been constructed. You are under fire by various monsters on the high ground (most notably a pair of revenants) while there are some demonspawn trash that teleport in, both at the beginning and at later points in the map. The first wave isn't that threatening, especially if you grab the powerups squirreled away in the opening room, but a later wave with a pain elemental has the potential to do some harm if you don't handle him quick. The battlements themselves are close-quarters slugfests with monsters that otherwise be quite laughable, including a few nasty traps using instantly-lowering floors that keep you on your toes.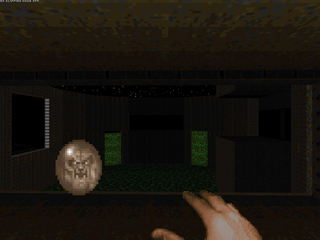 The map's more memorable encounters occur in the annexes of the map. The northeastern section isn't particularly difficult but has three barons to deal with. The western section is a great shootout over a nasty 20% damage cistern that immediately puts you in close contact with a revenant. Once you clear out the side jobs, you have the difficult task of locating the yellow key. I'll admit, I checked
Henrik Larson's FAQ
, and was pleasantly surprised, though the automap should really have tipped me off. This of course leads you to the northwestern section, not that rough though it does feature an arch-vile and a few barons that teleport into the room after the key grab.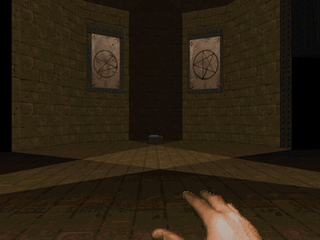 The real climax is the northern room. It's a fitting final battle, looking gorgeous and with a number of baddies teleporting in to meet you, including a Cyberdemon (!), the first to appear in the cantos. Anderson has given you more than enough tools to take it down, however, the experience greatly resembling a similar (but easier to handle) encounter in E4M7 of Thy Flesh Consumed. It's quite a moment, though, as I initially scoffed at the wave of demons and cacodemons. "That's it?" No; no it isn't. From there it's a quick jaunt over to the exit room, located at the beginning (and which has one albeit predictable stinger).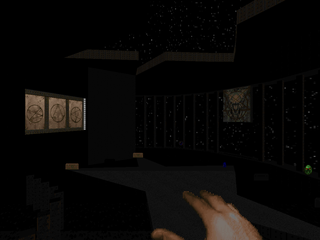 Vesperas has some great detailing and lighting, using raised skin textures to help keep the walls interesting and as always excellent attention to hallway illumination. It's a great cap with an excellent climax certainly worthy of the Master Levels, especially as Anderson's final contribution. It showcases his distinct style and has some neat fights. I just wish he'd finish Lethe, so the Inferno series could get an official conclusion. That's assuming of course that he hasn't forgotten about it...



This post is also part of a series on
John "Dr. Sleep" Anderson's
Inferno
series