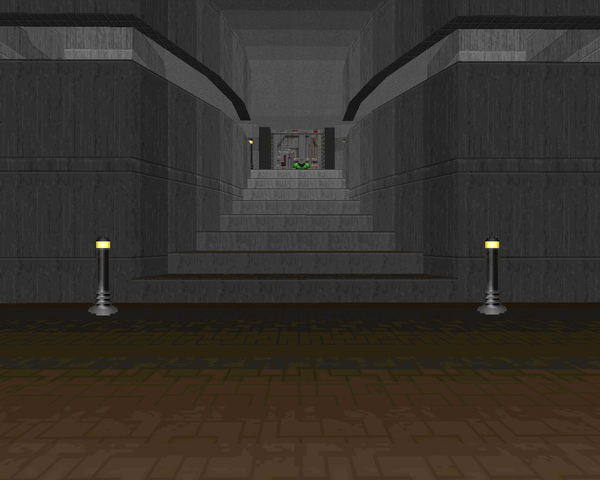 Mal Blackwell
has worked on a variety of FPS projects in the past, but in 1994 he was making
Doom
levels like just about everyone else.
Redrum
is one of two single-player maps he released for the original
Doom
, and it's a big one, housing nearly 300 monsters and apparently bumps up against the save game limit (thankfully a non-issue for modern ports).
REDRUM
has no given story; it's just an expansive, organized techbase with tons of monsters to slay. The map is some kind of large, complex techbase housing quarters and facilities for personnel.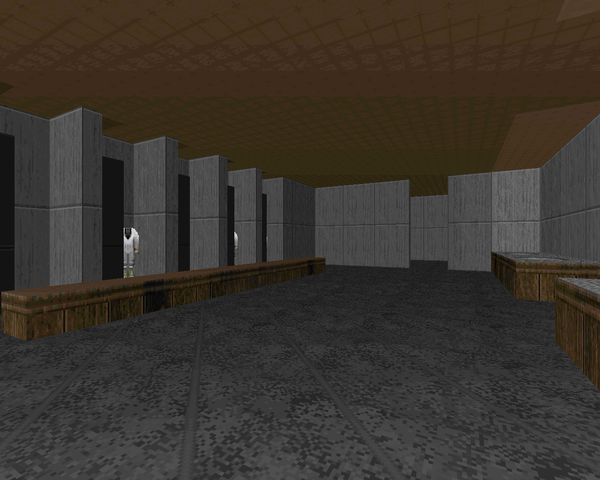 One of the chief issues you'll encounter with Redrum – Mal Blackwell cops to it in the readme – there are a lot of hidden doors in the map, clocking in at sixteen secrets. More importantly, few if any of these secret doors are marked, requiring Wolf3D wall-humping. Sometimes the indication of a secret is the fact that there's no other possible way to get to a location. And sometimes these doors are required in order to progress through the map. There's also several parts where you can be irrevocably stuck, like the blue key door hallway and the large walkway above nukage to the northeast. Falling in nukage is one thing, but getting trapped in the blue key passage is pretty nasty.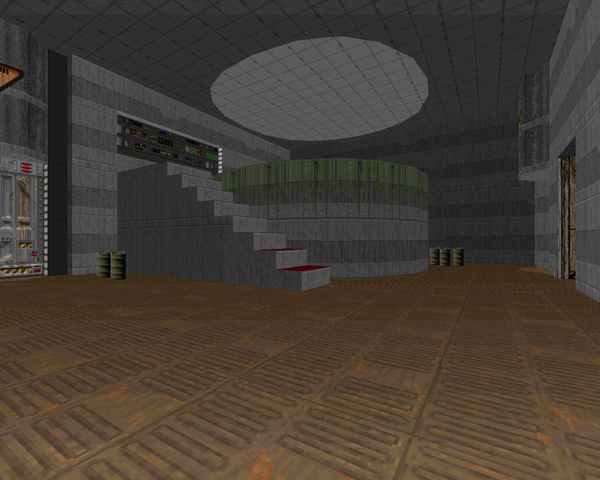 Redrum is actually a pretty hard play. If you don't find the handy ammo secrets (or that almost essential soul sphere and combat armor combo) you'll be scrounging for scratch in all the old familiar places. The high enemy count and some nasty combat bouts makes for challenging OG Doom gameplay if not by attrition than places like the northeastern nukage corridor – lined with sergeants and imps with lost souls and cacodemons in the middle – or the courtyard teleport ambush, which is bound to distract you on one front while forces from the other sneak up on you and swap some lead upside your head. If you manage to secure the rocket launcher or plasma rifle, you'll definitely have an easier time of it.
I like the look of the map. Though the texture alignment isn't perfect (particularly around staircases) Blackwell does a good job at giving each section its own distinct character, with great sections like the reactor room or toxic cistern serving as landmarks for those players who prefer to navigate without the automap. The base foyer and exterior staircase are the perhaps the two most interesting, with some nice, eye-catching lighting and geometry rarely seen elsewhere in the sprawling base layout. It's not as abstract as Rick Lipsey's Doom II levels – which a comparison might be drawn to – nor as challenging puzzle-wise, outside of Wolf3D style wall-humping.
Mal Blackwell may not be one of the most-remembered of
Doom
's early pioneers – though he's often mentioned in the .TXTs of his colleagues, like Chris Klie and John "Dr. Sleep" Anderson – but he had some talent back in the day. If you're a fan of more exploratory levels for the original
Doom
, and don't have a problem with being dicked around with (beyond the usual monster traps), you should give
REDRUM
a go. Note that there was a
Doom II
-ified version going around somewhere; I recall it being a decent play, as it was included in a compilation by the late Jean-Dves Delpech. If you're at all interested (I don't know who did the conversion) it's available on the
Maximum Doom
collection originally bundled with
Master Levels for Doom II
.