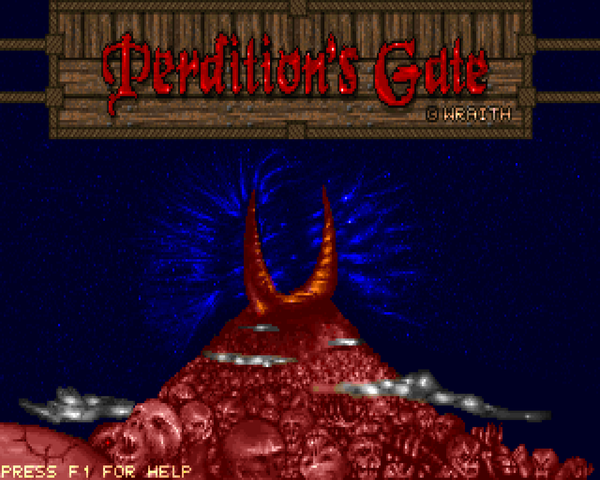 Perdition's Gate
was one of a suite of
Doom
commercial WADs published by WizardWorks. The project started out between
Tom Mustaine
and his father, Bob, as a third megaWAD for inclusion with
Final Doom
, but at some point "the
Final Doom
window of opportunity had closed", so they took the project over to Wraith Corporation. Composed of some prominent members of the community (notably Jim Elson,
Jimmy "EvilGenius" Sieben
and
Mackey
"Avatar"
McCandlish
), they were producing a megaWAD that wasn't being released by id,
Hell to Pay
. Wraith Corp. helped finish out the rest of the megaWAD, giving the community another pair of commercial products, roughly analogous to
Final Doom
.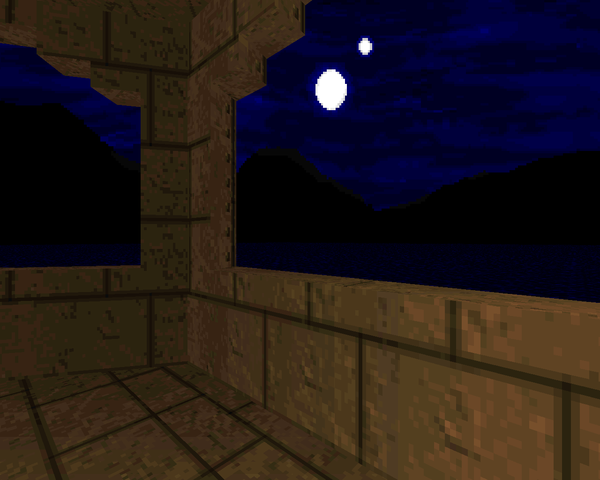 The story: A long, long time ago, there was some ancient race of beings, hereafter referred to as the Ancients, protectors of the universe. Their advancement led to conflict with numerous other alien races, though, including the demons from Doom. Since they couldn't make peace with pure evil, the Ancients decided to halt its spread by shutting down their inter-dimensional teleporters, but not before some of the underdeveloped worlds suffered demonic incursions. Among the assaulted planets was Earth, the invasion forming the foundation for many of humanity's beliefs.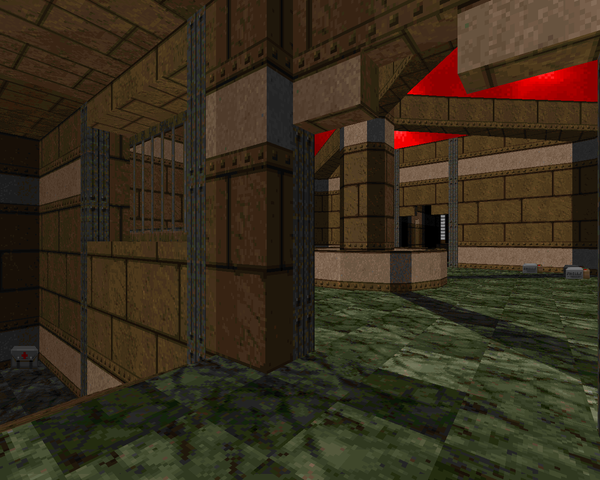 The Ancients lost, though, and while humanity developed, Hell integrated their technologies, including the inter-dimensional teleporters. Then the experiments on Phobos happened, with humanity revealing its presence to Hell, resulting in Doom and Doom II. Four years later, whoops! UAC continues to run controlled experiments and the protagonist of this megaWAD (not the Doom marine) arrives at his workplace, finding it already taken over by hellspawn. He readies his service pistol and begins a journey across the universe, perhaps to the plane of Hell itself.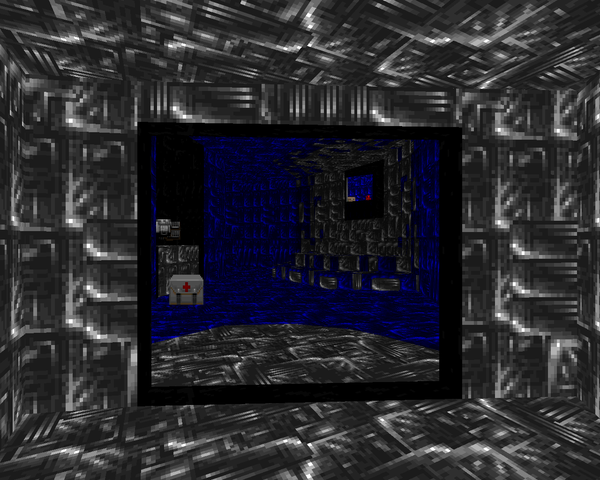 Perdition's Gate is much shorter than its alternatives. I'm just speaking from a perspective of map length and monster count. It still has 32 levels, with semi-realistic mapping in many spots and clever use of the Intermission screen to link the map storyline together with small couple-sentence blurbs (though they weren't able to modify the text of the Doom II episode dividers). It can be hard at times, but it's rarely overwhelming, just loaded with some tough firefights and awesome sequences not seen in any of the official id WADs.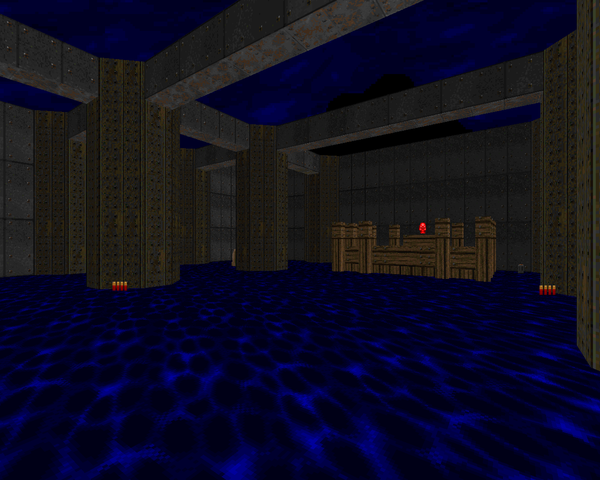 There are a variety of map themes, starting with UAC compound, moving to sewers, then back to techbase, then to the peculiar style of the Ancients' worlds (with jaunts to alien planets), and then finally Hell itself. The new textures are almost always great to look at and manage to complement the "plot" of the WAD very well, keeping the experience fresh, especially in the visits to the more bizarre planets. I love the themes explored in the second "episode". Some larger maps in this vein would be greatly appreciated; maybe someday my favorite authors will conspire to create a Perdition's Gate 2 after they've re-imagined
Evilution
and
Plutonia
for the tenth time.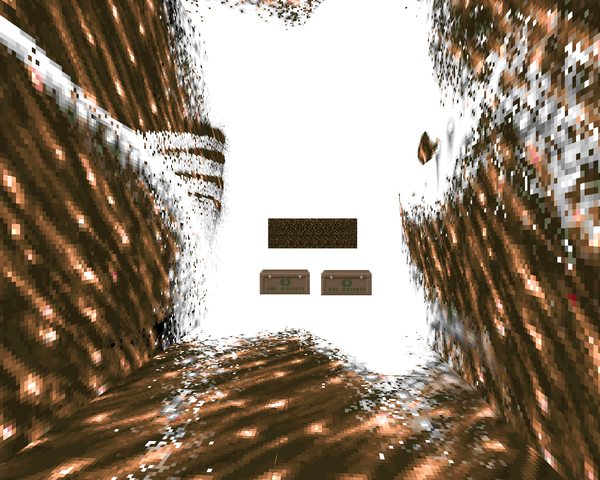 Should you play Perdition's Gate? Absolutely! The hard part is tracking it down, given that it's been discontinued and Atari (who owns the rights) is unlikely to make it freeware. The demos are freely available, at least. I just wish Atari would pull an Apogee and put it out while absolving themselves of any support responsibilities. It's worth finding a copy, though, as you're looking at the output of three relatively well-known Doom mappers (well, some may question McCandlish's works), all of whom went on to work in the gaming industry, and who now have varying degrees of influence inside it (most notably McCandlish, recently lead designer of Modern Warfare 2). I wish the levels were longer, of course, and I always like seeing newer stuff like monsters, but it's a great mapset regardless.

LINK TO OFFICIAL DEMO

PERDITION'S GATE


by Bob and Tom Mustaine,
Jimmy Sieben,
and Mackey McCandlish
UAC HQ
MAP01
by Tom and Bob Mustaine
This is a fairly realistically designed techbase. The secrets are pretty cool, they have that WOW! factor I think Doom secrets usually lack, but which games like Duke3D and Blood peg pretty well. It's mostly zombimen and shotgun guys, but with the blue armor you have little to fear. The layout is a little confusing, but that's what I can expect from a more realistic level design, and I actually feel like I found something when I get out.
MAP02
UAC Complex B
by Tom and Bob Mustaine
Techbase plus sewers; pleasant layout. More of the same but with demons, spectres and chaingunners added into the mix, in typical foiling fashion. It's quit a bit rougher, and no armor helps that curve along, as well as some nasty chaingunner positioning. As always, cut the pie with corners and you should be good for the most part. The music for this map is nice and tense.
Recreational Yard
MAP03
by Tom Mustaine
More techbase, and a little too symmetric. It didn't bog down the other maps, and it actually creates a pretty intense opening bout, but the map is a bit short to waste half of it on a mirror image. Other than that, great design, loved the use of secrets here. Favorite moment was probably waking up the whole first half of the map and then shooting it down in the opening corridor. Fun times!
MAP04
Storage Area
by Tom and Bob Mustaine
A really action-packed level, a lot of things to kill in a very small area. The main room with the portal siderooms is one of the best firefights up to this point. There's some chaingun snipers but nothing maddening. Also included is a nice spiral sequence with demons around the corners, of course. Sadly, the SSG makes its first debut practically at the very end of the level.
Sub-Basement
MAP05
by Tom and Bob Mustaine
Really open techbase style level. Quite tougher than the previous map. You pretty much start out in deep shit and have to pick your routes carefully while a horde of hitscanners on the other side of the map snipe you through windows. There's a cacodemon who makes an effective appearance here but the two revenants are not so well utilized. Really, the multiple routes lend themselves well to a map with a main space as symmetric as this one.
MAP06
Delta Area
by Tom and Bob Mustaine
Edging out the techbase theme for a sewer feel. Pretty good opening, revenants are used intelligently. There's also a nice SSG secret near the beginning, but don't think that makes this easy. The mancubus makes his first appearance, as well as a few hell knights rounding out the maze, which I must say uses brown textures on the corners quite well to spice what would otherwise be some deadly dull walls. Favorite encounter, I don't know, the cacodemons in the main nukage room caught me off guard when they activated. Made an interesting fight in the buildings.
Toxin Refinery
MAP07
by Tom Mustaine
Hah, they managed to hack the in between level screens to tell a continuous story but didn't change up the main intermissions? Curious. This is a fun little sewer level. Most of the encounters aren't very imaginative, but they're tough, like the cacodemon swarm or the surprise arch-vile. Love the room flooding with nukage. Not sure about the arachnotron; doesn't feel very good here.
MAP08
Drainage Tunnels
by Tom Mustaine
This is a very short and very rough level. The area's jam-packed with enemies and the given weapons aren't ideal for dispatching them, particularly the SSG for the mancubuses / demon pit. It's still highly doable, and loaded with enviro suits, so thumbs up there. The secrets don't really help; by the time you get two of them, the level's practically over.
UAC Experimentation Center
MAP09
by Tom and Bob Mustaine
Transitioning to a different style techbase. Not nearly as cramped which helps this out a bit, especially next to the last map. The monster blocking line takes the sting out of the arch-vile but the Cyberdemon completely surprised me. I like the architecture here, especially the two domed rooms. The red key doors seem kind of redundant, though they certainly add to the verisimilitude.
MAP10
High Security Area
by Jimmy Sieben
Pretty brutal, but where other monster layouts served the architecture, here the encounters seem more tailored to their environments. The opening is a rough battle but the blue key room is the main thorn for trying to 100% it. I'm not sure how I feel about the Cyberdemon, especially when the BFG secret dumps you right behind him, but it was a nice level to hack out.
UAC Teleporter Labs
MAP11
by Tom Mustaine
The end of the techbase maps and quite a sendoff. This is a pretty white-knuckled level. The opening shootout is hectic, there's a swarm of monsters later in the same chamber plus an arch-vile, and at least one more mystery revenant elevator trap. On the plus side, it's pretty fun when you have it down, and there's some great cinematic stuff at the end of the level where a series of controlled explosions wipe out a horde of imps clogging up the teleporter chamber. Big props to the Mustaines.
MAP12
Ancient Gate
by Tom Mustaine and Jimmy Sieben
Ditching the techbase designs of the past levels and going to the Ancients-style levels, which have their own distinct texturing theme plus strange jaunts to other worlds. Maddening level design with cramped-ass corridors. The architecture is great but all the monsters stuffed in here are quite nasty. The little safehouse near the level's beginning is a godsend, thankfully. Lots of nail-biting moments but the arch-vile takes the cake.
Teleport Platform
MAP13
by Tom Mustaine and Mackey "Avatar" McCandlish
The next series of levels tends toward an open air feel with giant buildings surrounded by water. This one's a bit better than the last, though I feel really exposed when Mustaine lowers the impassable walls. The off-world teleport in that silicon/ice/water/whatever is a really cool moment. The new textures don't quite fit in but they evoke a completely different atmosphere. Pretty much the entire citadel section is the standout fight as it never seems to end.
MAP14
Transfer Locking Area
by Jimmy Sieben
This is one hell of a firefight that barely lets up. The teleport spawns after the red key grab are pretty gnarly. I don't know how you're supposed to take care of the big one, though. He's not in a particularly reachable location. Also, the yellow key apparently counts as a secret. What? Well, whatever. I had a lot of fun with the bare-bones start.
Teleporter Center
MAP15
by Tom Mustaine and Mackey "Avatar" McCandlish
More intense cramped fights. Well, monster space isn't cramped, but with you restricted to the walkways, there's not a whole lot of maneuvering room. The callback to MAP11 is awesome and the other world you visit (the yellow key world?) makes good use of the custom textures. All in all, a fun WAD. My big bottleneck was the randomized situation that usually happened when teleporting back to the main hub, especially since there's an arch-vile wandering around.
MAP31
World of Wonders: The Planet of Living Rock
by Mackey "Avatar" McCandlish
Both this secret level and the next compose an entire jaunt to one of the strange planets Doomguy visits. There's some really cool mapping concepts here. Half of the fighting takes place in an area of living rock while the other half takes place in a solid white twilight zone which uses the obscuring texturing to create memorable exploration puzzles. None of the fights are particularly intense and the Cyberdemon encounter is oddly out of place, encounter-wise and in texturing. The room sticks out like a sore thumb. I had a devil of a time when I went for the secret secret level, though, since I ended up skipping the first room and all of its goodies on accident. Still beatable, though.
World of Wonders: The Sea of Radioactive Waste
MAP32
by Mackey "Avatar" McCandlish
This has a pretty cool concept. The first segment takes you through the final room of 31 in reverse, after which you start a boring teleporter puzzle with a couple of nice secret rooms inside. After this you end up in a nukage chamber that uses fake deep water to create the image of you sloshing around in toxic waste while monsters teleport in. The final room is even more interesting, with an invisible true floor creating the image of floating in water. The action is a little tepid, but I like the concept.
MAP16
Teleporter Power
by Tom and Bob Mustaine
These next Ancients levels ditch the open-air islands for more enclosed spaces with grass. There's a few really cool fights here, particularly the opening sequence, hemmed in by eight revenants while monsters teleport in semi-randomly. Also the room with floating monster condos right after the red key door. The ziggurat room has some nice architecture too. In the end, there's probably way too much ammo here, but all the challenge is in the beginning room, at least from my perspective.
The Throne of the Vile
MAP17
by Tom and Bob Mustaine
A fairly unremarkable level, a pretty benign slogfest. The arch-vile at the end is sadly telegraphed, but the cramped quarters make for a few interesting fights if the monsters get the sneak on you. One thing that surprised me was a pain elemental fitting through a window.
MAP18
Computer Center
by Tom Mustaine
Honestly, I'm not sure the map name dictated by the .DOC makes any sense, as the previous level definitely has the arch-vile sitting on a throne. Actually judging by the console I'm pretty sure THIS level is "Interdimensional Control". It's got a few tough fights opening unless you grab the stuff in the first secret, it'll net you a plasma rifle. Otherwise there's some intelligent use of revenants. By far the greatest moment is the final boss arena which literally ERUPTS out of the ground. I was shocked and wowed by the spectacle; it's really very impressive.
Closer to Hell
MAP19
by Jimmy Sieben
It's another short but intense map. The action takes place in a relatively small space with a few warp waves whenever you grab a key. The beginning as always is a bit harder than the rest but there's plenty of ammo and health lying around in case you muck up like me (surprise baron attack). Short, but sweet, with an interesting teleport layout.
MAP20
The Last Stand
by Tom and Bob Mustaine
A pretty intense fight but it's slightly let down by the fact that some of the monsters can't pass the lines. Then again, I'm not sure I want to fight that oncoming rush of revenants on my lonesome. The arch-vile feels like a waste, kind of like the last map, and the chaingunner / hell knight turrets don't seem to work half the time, but the fight is still pretty good.
Hell's Gate
MAP21
by Jimmy Sieben
Ditching the Ancients-style levels to slowly delve into Hell. Short level with a hectic beginning but it eventually drops down to a more manageable pace, excepting the bonus arch-vile about halfway through that makes things more interesting. It's based around teleport puzzles and slowly opening up the upper walkway to access even more teleporters.
MAP22
The Deepest Reaches
by Mackey "Avatar" McCandlish
Another short but hectic level, a bit easier than the last one, but it has quite a start. The teleporter rush isn't nearly as brutal as others and the final room gives you plenty of leeway with just the ammo you've gotten to that point.
Hell's Gymnasium
MAP23
by Jimmy Sieben
A mini-slaughtermap with stone and marble texturing themes with a semi-interesting final wave. Most of the intermediate waves aren't too tough, and there's plenty of ammo just laying around. Looks like it's got some interesting deathmatch features, too.
MAP24
The BloodStone Gardens of Hell
by Mackey "Avatar" McCandlish
Okay, the levels got ridiculously short here. Most of these shorter levels appear to be roughly where the Hell to Pay crew pitched in. It's pretty easy with a couple of snags but it's got some interesting abstract geometry. I just don't see what the need for three keys in a level this small is; they might as well be switches.
Hell's Park
MAP25
by Mackey "Avatar" McCandlish
Another short slaughtermap, this one with a staircase theme. It's actually pretty tough, but difficulty largely depends on the order of the monsters assaulting you. The pain elemental in particular can muck things up with lost souls blocking movement and draining your limited ammo. There's a BFG, but it's only really useful the bolder (and luckier) you are.
| MAP26 | The Blood Tunnels |
| --- | --- |
| | A pretty fun sewer-esque level. There's a lot of action, and a lot of sector damage, but the crux of the battle itself is fairly easy. I also beat this level while buzzed, so any pro should have a field day. |
Hell's Masterpiece
MAP27
by Jimmy Sieben
A really fun level. Lots of corridors and secrets and health and ammo and hell, even revenants. There's a Cyberdemon, too, but depending on your angle of approach he's a big softie. I like the fact that there aren't say 20 monsters here, instead in excess of 60, more counting pain elemental spawns.
MAP28
High-Tech Hades
by Jimmy Sieben
Short, easy. A higher monster count but it doesn't add up to much as they're easily dispatched. The secrets are fairly clever, though.
The Bomb Facility
MAP29
by Tom Mustaine
Short, not exactly easy, at least on 100%. Some nice stuff around like the computer voice. I wish there were moments like these in Doom apart from BANG BANG BANG. The opening is by far my favorite moment, hemmed in once again by revenants.
MAP30
The Escape
by Tom Mustaine
Very simple level. I'm not sure how you're supposed to realistically 100% this with the two Cyberdemons at the end, but in all reality, it was probably not their intent. It results in a bit of bullet hell before the level exit, right before the obligatory arch-vile at the end.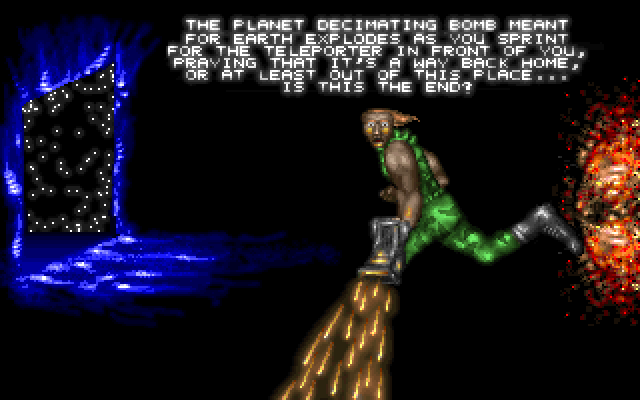 This project is part of a series on id's