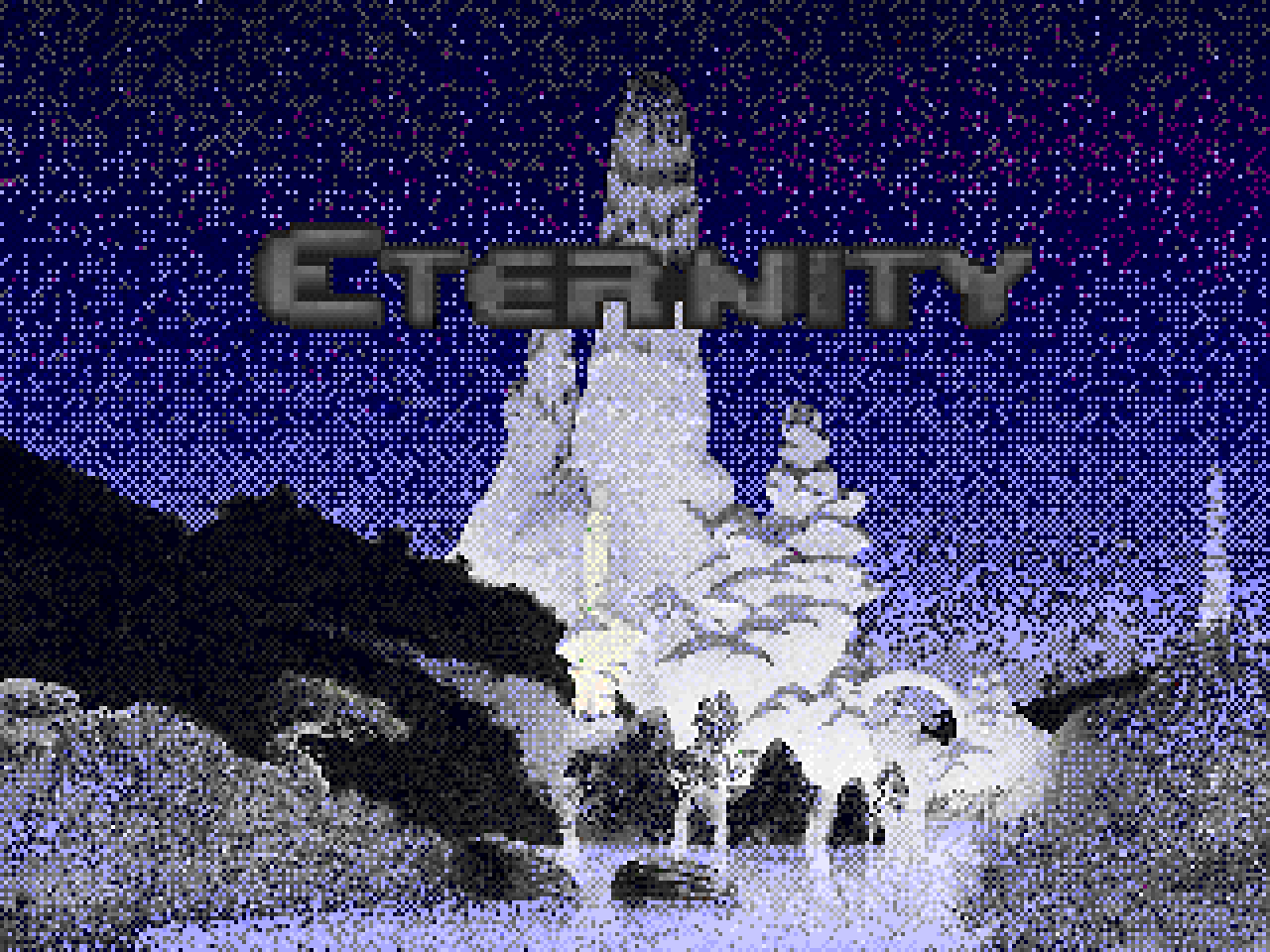 One month later and still in 1994,
Bjorn Hermans
(tester) and
Holger Nathrath
(mapper) followed up their
Serenity
Episode 3 replacement with an Episode 2 replacement titled
Eternity
. As before, there is no story or thematic consistency to this collection, just a bunch of goofy titles. This mapset is a step up in composition and difficulty from their freshman effort, but I feel that the map detailing is a bit more generic, lacking some of the interesting designs like the large pit room from "R U Lonesome?" or the movie theatre gimmick from "Doom -- The Movie". It's a pretty solid set, though, with a few caveats.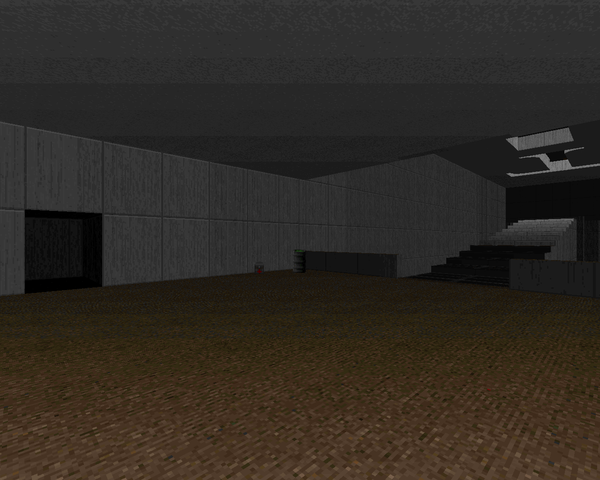 One of the biggest failings for hardcore Doomers is that Eternity was not designed with pistol starts in mind. This is no more evident than in the final level, which has zero placed weapons, and you are frequently dropped into maps with far less ammo then would be ordinarily comfortable. On the other hand, if you play carrying over your stuff from the previous level, it's almost too easy. Do yourself a favor, though, and play with saves, or at least carry overs. Pistol starts are for the masochistic. This overview is written from pistol start playthroughs; take any criticisms on difficulty with a salt lick.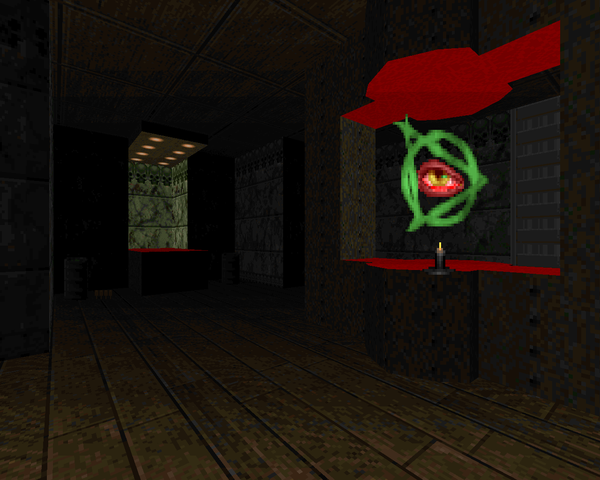 Finally, just like its big brother, Eternity has no secret level and features a selection of hand-picked MIDIs, featuring among other things the theme from the 1989 Batman movie, the theme from The Terminator, and "Eye of the Tiger". It's humorous, if a bit quaint. Some of the later tracks have long gaps of silence before they repeat, at least in ZDoom. It's a fine followup to Serenity, pointing the way toward what things were to come. Certainly, it's one of 1994's more charming relics.


ETERNITY
by Bjorn Hermans and Holger Nathrath
| From Here to Eternity | E2M1 |
| --- | --- |
| Green marble and concrete block themed. Already a few barons here to make things difficult but there's enough ammo and health to round the map out. Their eye for architecture has improved as the opening hallway is very beautiful. There's an interesting section which has you fighting in a restricted movement space while the monsters have a much better range of maneuverability. A sewer portion rounds the level out making things difficult with low visibility and numerous hazardous barrels. | |
| E2M2 | The Fat Imp Sings Your Blues |
| --- | --- |
| | Techbase and wood theme. The opening is pretty rough to muscle through; you're much better off clearing the first corridor and sprinting across to the compound. The biggest strike against this level, architecture-wise, is an insufferable door-gated maze that is too cramped and segmented to be interesting and too full of monsters to skip when doing 100%. The following section, though, is a pretty tough crossfire trap that's commendable as more devious than anything Holger and Bjorn have done up to this point. On the other hand, it's VERY difficult, and the final segment is a swift kick to the balls for anyone who managed to survive with a modicum of health. You have to run around a damage floor in order to lower the exit walls and will be taking damage from newly revealed monsters. I don't mind the level's design, but there needs to be more health, more ammo, and at least one Envirosuit in its current incarnation for it to be viable. |
| Totally Crossed Out | E2M3 |
| --- | --- |
| More green marble and concrete block. Level design is far more manageable (and pistol start friendly) with ample secrets and a neat caged-in section that gradually throws more waves of enemies at you as you explore it. There's two big gaffes; the music has a few minutes of silence built in, for some reason, and the final room's crusher trap will generally dispatch all of the Imps before they can really help the barons out. The blue key is also hidden, but it's in a place anyone with half a brain would have checked for a secret. | |
| E2M4 | Clear & Unpleasant Danger |
| --- | --- |
| | Semi-techbase with some sewer stuff. This map is quite a bitch on pistol start. Conserve your shotgun ammo and use infighting wherever you can. It took me a few tries to figure out that the baron's platform blocked monster movement which really helped dealing with the lost soul swarm in the same room. Otherwise, some predictable traps. They do throw you an Envirosuit for the sewer section and the BFG is quite apt at handling the baron to get you to the sweet spot. The architecture isn't anything special but it works. |
| Through the Eye of the Needle | E2M5 |
| --- | --- |
| Techbase theme with emphasis on the dark blue textures. Visually, it's kind of an eyesore, with ugly, square rooms and solid texturing. It plays okay, though, and gives you enough cell ammo to deal with the hardest hitters and there's an automap for anyone with a brain cell so each trap is thoroughly telegraphed. The most interesting encounter would be the thin strip pathing through the damage floor near the end of the level. Rather than completely restrict your mobility like in E2M2, they give you mobility at a cost. Of course, if you save the second enviro suit for this, you can skip it entirely. | |
| E2M6 | The Underground |
| --- | --- |
| | More or less a sewer level. Not a lot of great detail but there's a few memorable sequences like the three-part walkway room at the nukage pit. There's a bit less health here than I'm comfortable with but there's enough ammo, actually, and a quickly available chaingun to speed some sections up. The fights are par for Bjorn and Holger though there's nothing especially tricky here except maybe the baron who pops out during the aforementioned pit sequence. |
| Escape While You Can | E2M7 |
| --- | --- |
| Large, spacious and unfortunately bland techbase level. The most memorable encounter is a maze without a ceiling that has a few Hellspawn partying on the top. There's at least one good teleport trap, after picking up the yellow key, but this level is pretty sedate excepting the pistol start. There's just not a lot of health. The end of level construction is also pretty neat, but collecting all the powerups takes an ETERNITY. | |
| E2M8 | Serenity Forever |
| --- | --- |
| | Similar in texturing to E3M8 of Serenity, but much simpler layout. I think this map is pretty notorious for its pistol start by now. Bjorn and Holger neglected to place weapons anywhere in this level. Indeed, you'll need to grab a shotgun from one of the sergeants to make any headway, and that's AFTER brutally exploiting some nasty infighting. Even after taking advantage of their propensity for killing themselves, you still have barely enough ammo to finish the final boss, as Bjorn and Holger depended on you bringing in the plasma rifle and rocket launcher from one of the previous levels (520 cell ammo can be found in a semi-secret area). With the proper weapons, it's a joke, since the yellow key makes you immune to the Cyberdemon's rockets when used correctly. It should also make the rest of the level far less difficult. |
SERENITY II

Now with even more "ITY"
This post is part of a series on
the
Serenity
series