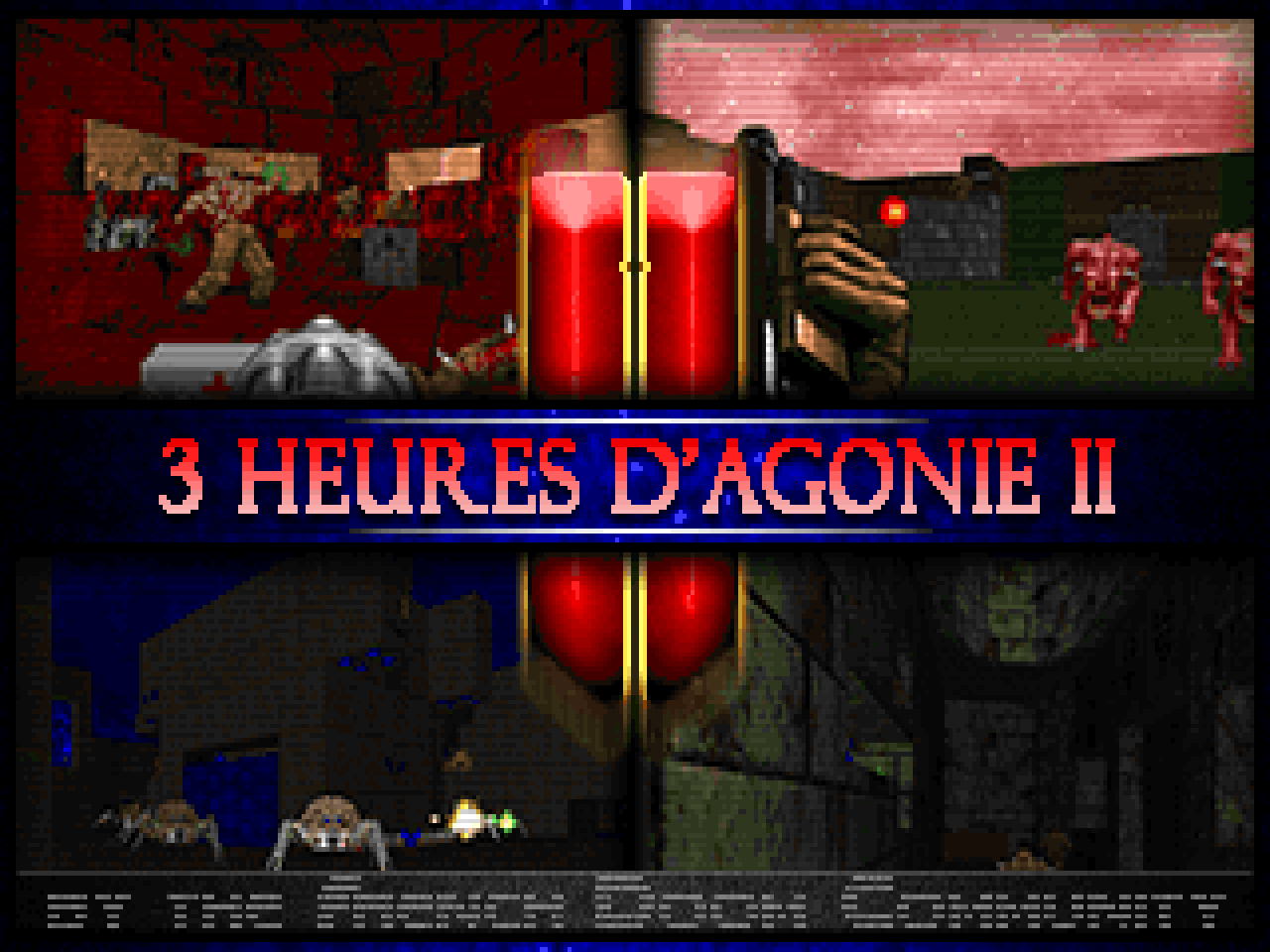 The French Doom Community released
3 Heures d'Agonie
back in 2013, a megaWAD's worth of speedmaps from a wide variety of authors, from inexperienced to guys that are established as heavy hitters in Doomworld thanks to their contributions to mapsets like
Plutonia Revisited
.
3 Heures d'Agonie 2
is what else but the second outpouring of hastily put-together levels from what is becoming an increasingly talented stable of individuals. This time, it's a full megaWAD for vanilla
Doom II
, though as could be expected there's no attached story, just raw
Doom II
.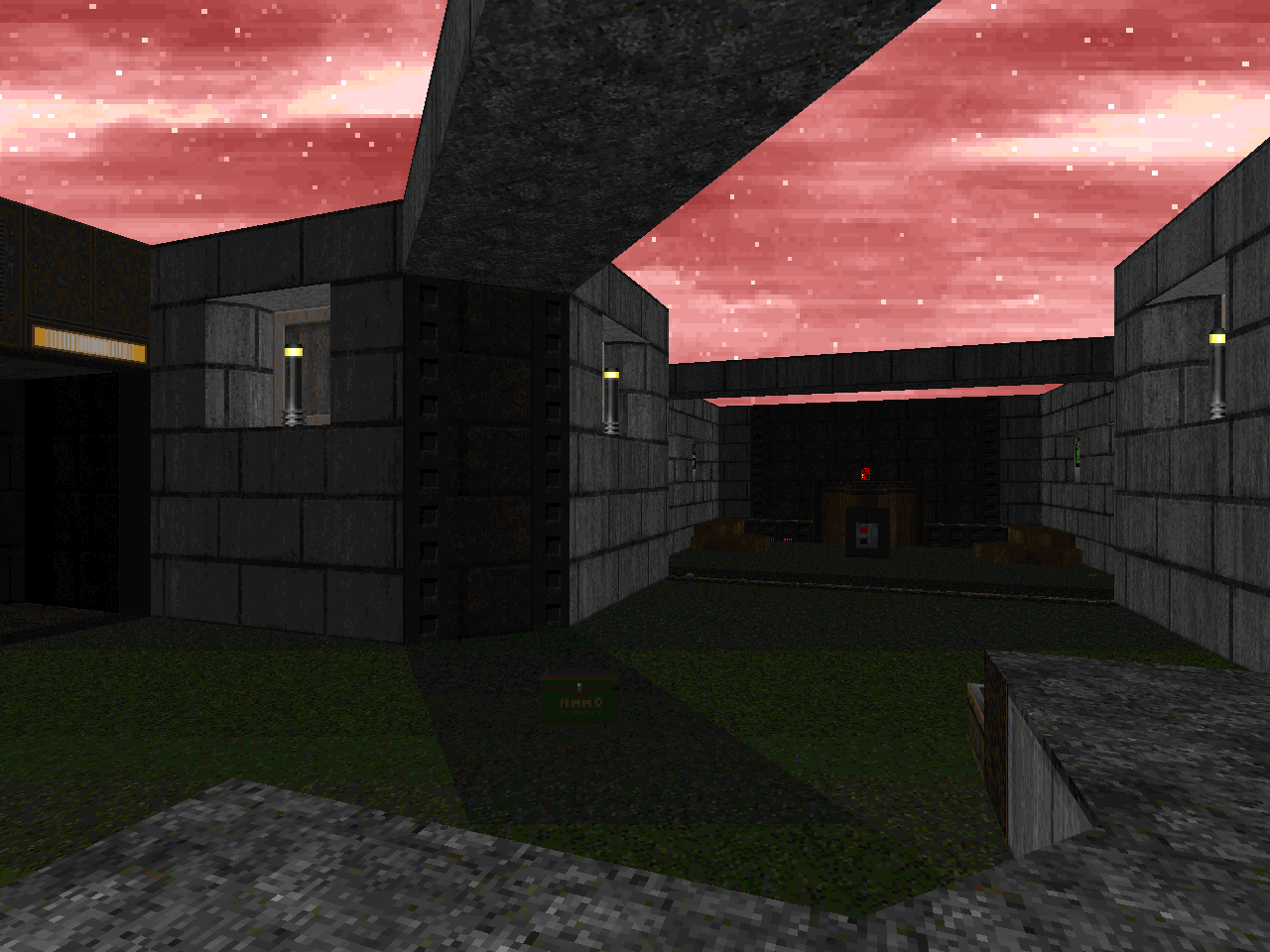 As far as the author lineup goes, it looks like subject_119 and Datacore85 have stuck around, and a bunch of new guys who I recognize from
20 Years of Doom
- Jambon, Sid Zetmeck, and NilsTheRed - have thrown some speedmaps in the pot. ChowW is the only one that's new to me, not to discount Memfis and Plut, who add their own particular flair to the experience. As a whole, the output of the authors has improved over the previous year. A lot of the Promethean "concept" levels have been superseded by maps that while still small feel more fleshed-out and full of gameplay. A few levels still fall flat, none more so than JCD's "Cendres Humaines", which I couldn't figure out a strategy for that would make the map fun.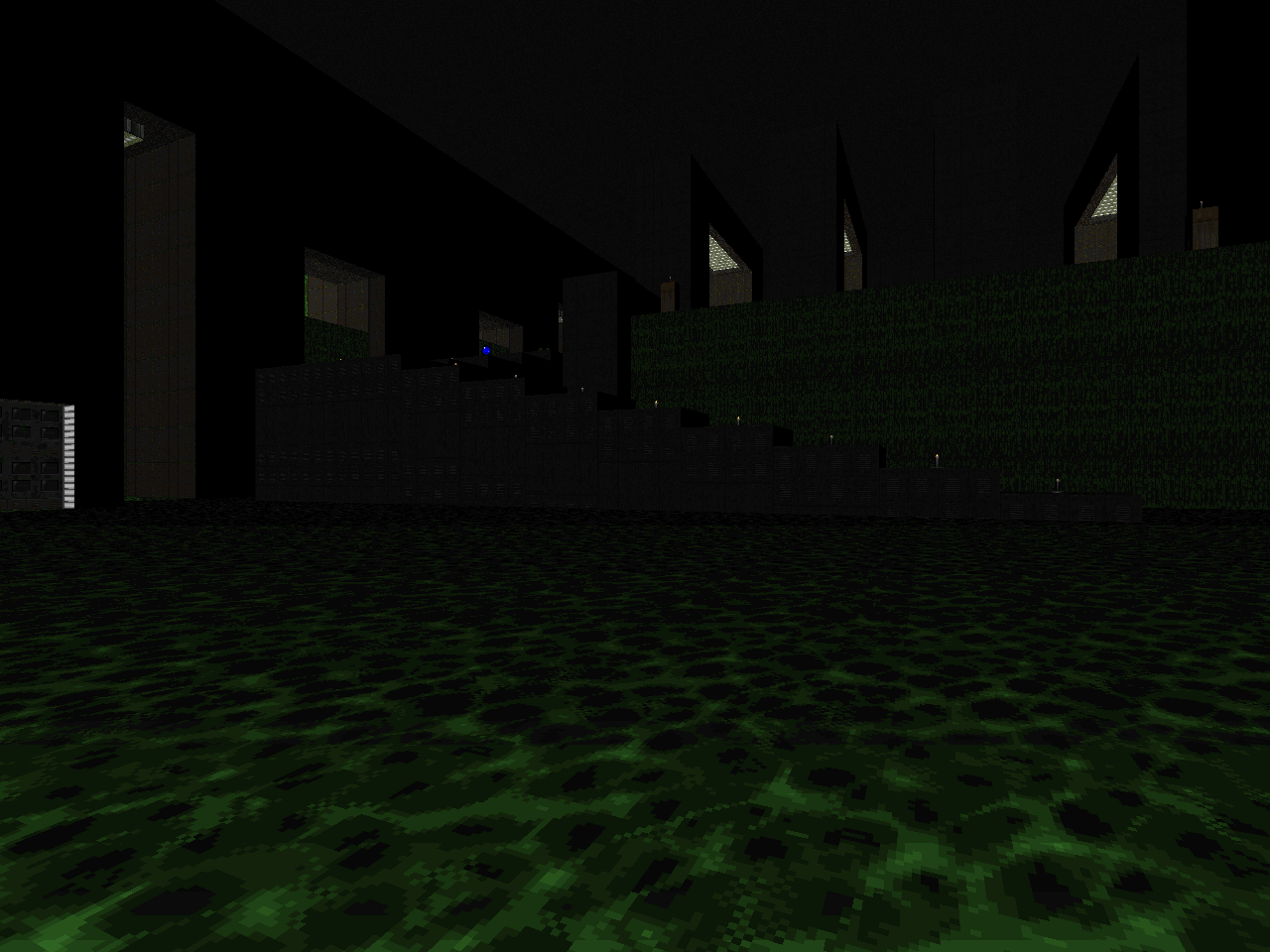 This year also packs more of an even punch than 3HA. Granted, the one author that really cut me down last year (Necrotikflesh) hasn't returned, but the set makes up for it with some super cool slaughter levels that AREN'T from JC, strangely enough. It looks like the project leader was busy or something because his brand of clean, fun slaughter isn't anywhere to be seen in this set. Most of the difficulty comes from cramming you into small areas with just enough dodge room to get by. Sometimes you have to make your own room, whether it's by cautious monster herding or simply killing them faster than they come at you.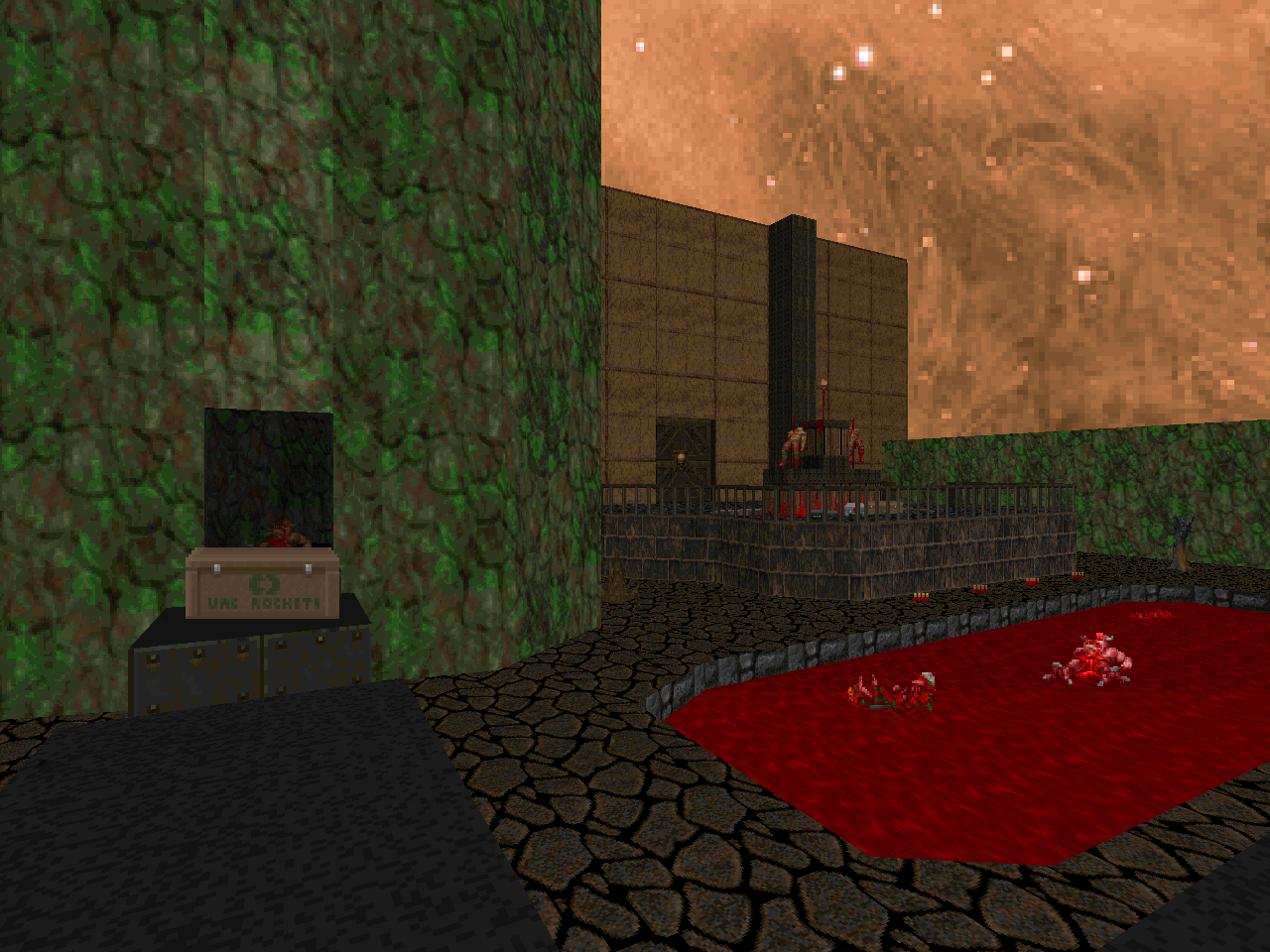 The level of quality coming out of the French Doom Community is steadily improving from what I can see. This mapset is for the most part clean and good-looking and jammed full of tricky fights that will keep you on your toes. For my own part, I hope they continue to churn out the maps, though as always I find myself wishing they were just a little longer. Good luck with the inevitable 3 Heures d'Agonie 3.


3 HEURES D'AGONIE 2


by the French Doom Community
Crash
MAP01
by "ChowW"
A cute little "Entryway"-length piece but ChowW fields a bunch of monsters that don't typically appear in MAP01 slots, like some friendly cacodemons, surprise commandos, and even a revenant. It blows by pretty fast after some pistol action and if you grab the berserk pack secret it'll be even faster. The backpack seems like a dull secret so late into the map, and on the first one no less.
MAP02
Malevolance
by Gwenvael "subject_119" Le Bihan
A short, well put-together techbase from subject_119. It's good, clean fun, with most of the danger coming from the hordes of hitscanners you'll face paired with a relative lack of health. The green armor is way too late to be of any real use since nearly everything is dead by the time you have to use the red key door. The pair of cacodemons might be a threat, though you can just run past them and let them come to you while you make off with the red card.
Sombre Angoisse
MAP03
by Maxime "Datacore85" Bisiaux
Datacore gives us this nice, compact sewer level. It's flush with zombies but has enough health (including one really handy berserk health reset) so that you can just scrape by all the ambushes. The dark sewer section is pretty dangerous since you're exposed to hitscan fire plus the imps and Hell knight a tier above. The cacodemon ambush to the southeast, not so much, especially since you should have the combat shotgun firmly in grasp by then.
MAP04
Entraxe
by Franck "franckFRAG" Livolant
franckFRAG had homely but cool and demanding (gameplay-wise) levels in 3HA. He continues the trend of fun gameplay in this base / fortress mash-up but there's a lot more visual polish to make things look more consistent. It's a dense map with several tiers of gunplay with imps and other unsavory beasts jammed up in the sides. It's not too tough except for the initial exposure but the arachnotron backed by the revenants could be pretty tricky, especially if the revenants get to run wild.
Visions
MAP05
by "ChowW"
This is a weird, quasi-industrial ruins level. The opening crossfire is pretty low-key but stuff takes off when you enter the door to the north, where you get pinned between two large groups of monsters - including two chaingunners - and must think fast. The hallway / staircase that connects the disparate portions is a nice scene for congested, pressure-based gameplay. My favorite fight is actually the one with the arch-viles coupled with a lost soul reveal that has just enough cover for you to skate by... as long as you don't bump into one of those skulls. I'm not sure what the exit reveal is all about.
MAP06
Processus Logique
by William "[WH]-Wilou84" Huber
Huber gives us a short little rusty base map with a ton of right angles. It's a solid play with some drip feed enemies sure to mess up your day (like the Hell knights) and one big brawl in the cargo storage area that lets you cut loose with the much-needed SSG. The northern hallway / room is a glorious clusterfuck of hitscanners and imps that requires some careful positioning to escape unscathed. The mirrored hallway exit area is a nice setup but I found that the arachnotrons didn't really pay off as a threat. Fun level.
Merciless Flow
MAP07
by "Memfis"
It's merciless because the water is a damage floor, which took me a little while to realize. It's got very exacting monster placement, with strategically placed chaingunners to keep you dancing. He does a good one for you by giving you a teleport pad to telefrag the mancubus, though. The final room is a messy confluence of nasty monsters, with a trio of arachnotrons paving the way for an outer arc of mancubuses plus revenants that you'll have to best in order to reach the exit.
MAP08
Simple Souterrain
by Arnaud "Oxyde" Florian
Oxyde was one of the better authors from 3HA, so it's cool to see him showing up in the set more often. This is a gritty, densely-woven techbase that is chock full of monsters and doesn't hesitate to drop you into nasty situations via blind drops and the like. Of the two nastiest fights, one involves dodging mancubus fireballs in the corner while a cavalcade of zombies slowly stroll from around the corner. The second is a pair of arch-viles that all but commands you to back the fuck up.
Generator of Death
MAP09
by Sid Zetmeck
A medium-length techbase level that has kind of a boxy main map but pays off with lots of beasties to slay and several drip feed teleporter traps that may end up with monsters sneaking up on you. The most imposing fight for me was the bunch of cacodemons backed by an arch-vile on the end run, since you never know how much ammo you're going to smoke before you get a shot at ol' scratch. The pair of AVs right after was a nice fright. The dual Spiderdemons look imposing but they are best handled by the technique time immemorial of getting them to off each other. Failing that, I guess you can hunt for the secret plasma rifle.
MAP10
Culture et Confiture de Mobs
by Jean "Jambon" Bon
Jambon presents us with a cramped, symmetric library. It looks good enough and diligently shotgunning those Hell knights down while being mindful of arch-vile fire is a little tricky. The nastiest section is trying to down those spectres in the pitch black dark, for which you are rewarded with a rocket launcher that should make short work of the commandos blocking the exit routes.
Cendres Humaines
MAP11
by JC Dorne
JC shows off this grueling, dark brown grind. After slaying the initial assortment of imps and zombies, you hit a switch and unleash two packs of mancubuses. It's possible that the author expected you to wait until the end to try and work up some infighting with the end-of-level Cyberdemon, but that still requires successfully navigating the imp / arch-vile / Cyberdemon battle on the opposite end, and you still have to navigate through what is now an arch-vile / mancubus pack to hit the switch that reveals everything. Not one to try to guess the wiles of the author after seeing the crowd of imps plus one AV, I decided to do things the boring way.
MAP12
Wrong Address
by "Memfis"
Climbing out of some cave into a tiny little sandbox-style level. It's a bit more forgiving than Memfis's earlier level since all of the heavy hitting weapons are available straightaway and should give you plenty of firepower to deal with his sneakily entrenched monsters. The only two real panic moments for me were the pain elemental, which I forgot I had a plasma rifle for though it's a fair ways away from you when it first arrives, and the arch-vile, though there's enough cover and ammo that he shouldn't be a real problem. Just try not to get sniped by commandos while you clear everything out for your safety.
Traumateck
MAP13
by Franck "franckFRAG" Livolant
Another death maze from Franck. This one starts out by going nuts with the plasma rifle at the beginning with several pockets of dangerous monsters that you'll have to deftly take out while dashing all over the place. After you clear them out you can navigate the different tiers via lifts, most of which are stuffed with trash monsters. At some point you'll unleash a couple of viles, so I hope you have the rocket launcher in hand, especially for the one in the entrance room since it comes packed with skeletons. As long as you have rockets / plasma left over the finale isn't much to worry about.
MAP14
Sarcasmes Malsaines
by Maxime "Datacore85" Bisiaux
Datacore presents with a pretty unforgiving Hellish map. Most of the really nasty fights have some kind of out if you're not prepared with any of the "secrets". The murder hall with the arch-vile can just be escaped via its normal exit, for instance, after which you can let it clear itself with some patience until a couple potshots with the shotgun end it. Using the plasma rifle is the faster choice, of course. You can just back out of the baron fight, which based on the limited health is best tackled with the BFG secret, There's no good way to slice the imp arena, though.
Les Comtes de la Crypte
MAP15
by Jean "Jambon" Bon
Jambon churns out another symmetric brick level. This one has back and forth gameplay as you hit objective after objective, running up and down that staircase. It's slow going until you eventually wrest the SSG and rocket launcher from the enemy. Save it, 'cause you're gonna have to shell an arch-vile on some revenants to death on one of your trips back to the elevator. Pistol start is pretty grueling as you'll have to whip some slightly larger monsters (demons and lost souls) to death since they're a liability when you're trying to hit bigger fish with rockets.
MAP31
Dextromethorphane 84%
by

William "[WH]-Wilou84" Huber

Huber gives us this CC4-spec tech nightmare. The hardest part for me was the opening, which is all about crowd control, though if you shape it just right you can slip past, hit the switch, grab the plasma rifle and then duck down to the basement where it isn't quite as dangerous. There are two big threats down below, the first of which is a big teleport wave of barons and Hell knights which must be diligently shelled into oblivion. The second is the teleport wave of arch-viles that appears in the same spot when you get access to the other key. Hope you brought a lot of rockets! There are also a couple of Cyberdemon fights in the starting room that you might have trouble with, especially since the second one has two, with one of them sitting on that arch-vile / revenant platform. Cool level.
Safe Zone
MAP32
by JC Dorne
JC returns to the Tron motif from his Survive in Hell for this cool little gimmick level. It's pretty easy, though. Standing on the raised yellow squares protects you from the sight of the monsters and beating each gauntlet means you are free of them, when they will eventually be crushed into fine red pastes. The Cyberdemon gauntlet is the only really dangerous fight since they continue shooting rockets in your direction whether or not they can technically "see" you.
MAP16
Vile Sombre
by JC Dorne
This level looks decent enough but the opposition is pretty heavy for having the shotgun and chaingun as your main weapons. There's a rocket launcher and some rockets in there somewhere but JC rains arch-viles down on you like it's going out of style. You'll have two gentleman callers returning to the ground floor of the main area, one guarding the exit, one guarding a switch, and two tied to the blue key door. Suddenly the rockets don't seem that helpful, especially when you have to deal with that big bunch of baddies littering the outer yard. I guess you do get to telefrag the dude on the center pillar.
Infiltraction
MAP17
by "ChowW"
ChowW channels the symmetric-linear-layout thing but has some more, I daresay, reasonable fights and takes care to vary things up in a few scenarios by dumping monsters at you from only one side of the room. The yellow key area plays host to the best of the battles, from the initial killing-imps-while-dodging-arch-vile-fire to the madness of twin arch-vile pillars and a pack of mixed cacodemons and pain elementals. The exit room isn't much fun to clear because of those mosh pits filled with revenants and demons.
MAP18
Somewhere in the Slime Ocean
by "Plut"
Plut shows off with this gorgeous, gritty techbase that's full of tricky monster placement. Just sorting out the clusterfuck of the first room is a hoot and pretty satisfying once you lay all of the monsters, which include an arch-vile, to rest. The second half of the map goes by much slower since it's done in a dark, dangerous tunnel and the encounters lean more toward the claustrophobic. Cool map!
Brexin
MAP19
by William "[WH]-Wilou84" Huber
Huber pulls out another newschool-ish slaughtermap rendered in dark gray metal and mysterious dark blue. It looks pretty cool in spite of its orthogonal architecture. The hardest part is really fighting through the opening since the main arena is pretty open at first and has enough cover for you to clear the floor so that you can hunt around for the rocket launcher and plasma rifle. Huber's ambushes are difficult if left unchecked, but it's hard to miss them. Setting the revenants and Cyberdemons against each other in a huge brawl is pretty sweet. Fun level.
MAP20
Charnage
by "ChowW"
Do yourself a favor and take a good long look at that moat area in the beginning of this unearthly outpost. An early combat shotgun will save you a lot of heartache as you pick through the heavy monsters that ChowW has placed. That goes double for the plasma rifle secret, which is one of a series of handy items found in the hedge maze that will save your bacon when you unleash a torrent of arch-viles after grabbing the blue key. The combat isn't otherwise remarkable, though the main hall and outdoor adjoining area has some deviously placed monsters that force you to seek some kind of cover.
Diabolic Patterns
MAP21
by "Memfis"
This is a very cool Plutonia-style level from Memfis with a choose-your-own adventure beginning - the rocket launcher, or the plasma rifle? Each side has its own peculiarities and you'll have to go back and clear the other in order to finish the set out. Action is appropriately punchy and weighted toward tougher monsters. I think that the opening is one of the trickiest spots to navigate, with the eastern annex housing my favorite series of fights, culminating in a cacodemon / pain elemental finish with your actual movement space somewhat limited.
MAP22
Vaine Tentative
by "NilsTheRed"
I thought this level would turn out to be the E3 equivalent of "Entryway". Boy was I wrong. Nils lures you in with low-tier hitscanners and imps before sideswiping you with tough, cramped encounters, my personal highlight being the arachnotron / mancubus / Cyberdemon room that's right before the exit. The tunnels that spill out into the southwest area are maybe a bit too cramped with spectres, but it's all in good fun.
Enceinte Infernale
MAP23
by Arnaud "Oxyde" Florian
Oxyde presents this little marble arena. The arrangement feels something more like one of Franck's speedmaps since there are deadly enemies crammed into lots of spaces but movement feels much more free. The first order of business is finding a rocket launcher, naturally, but that presents you with a problem, especially if you hesitate right before the pickup. The blue key ambush isn't too bad since there are plenty of places to take cover and fend it off. I'd be more concerned with the cover fire given to the Cyberdemon that guards the level's exit. A fun murderhole.
MAP24
Supplice Claustrophobe
by Maxime "Datacore85" Bisiaux
Datacore thrusts you into this cramped, moderately challenging red brick level. The title is fairly accurate and you will probably find yourself dancing past a fair number of the installed enemies (like revenants, arch-viles, barons) in the hopes of finding something to take them out with that won't take forever. The northern leg is much trickier than the eastern area, but Datacore also has a tiny Cyberdemon arena, though if you keep the mancubuses alive they will do a lot of the work for you.
Crise Infernale
MAP25
by Franck "franckFRAG" Livolant
It's nice getting a little Franck Hellhole to dig your way out of. All too late I realized how to grab the SSG and bonus soulsphere but there is still a lot of ground to clear, including a troublesome lost soul trap tied to the plasma rifle, made all the more sneaky due to their silence. The big speedtrap is the blue key, which is guarded by a rising and falling wall of baron flesh that is backed by two arch-viles on either side of the pocket. Granted, you don't get an ambush for your troubles, but it's a little grueling to break into. The final fight may be a bit of a shock but in the grand scheme of things, it's nothing.
MAP26
Pacte de Noirceur
by William "[WH]-Wilou84" Huber
This Huber level visits the lesser-explored "Spirit World" theme, though the new textures give it a decidedly darker tone. It's also much harder, as befitting a map in this late slot, though I had an easier time figuring these fights out than "Passage a Vide". When you're not navigating tricky arch-vile placement you're blasting through hordes of monsters that tend to pack into tight spaces, forcing you to clear what you can and then dance like a dervish. The big wave of revenants in the southeastern area is probably the most manageable manifestation of this phenomenon but for sheer insanity check out the outpouring of pain elementals and cacodemons and other such nonsense that emerges after using the blue key. The battle in the basement is a hot clusterfuck, too, with the added threat of a Cyberdemon.
Passage a Vide
MAP27
by Arnaud "Oxyde" Florian
Hahaha, holy shit. This tiny slice of Hell is densely packed and very hard to navigate from pistol start. The SSG feels woefully inadequate for the pincer attack you start out in; I suggest baiting the imps out, grabbing the rocket launcher and some ammo, and then warping back to clear the staircase so you have a decent safe zone. The combat after that isn't as tough, though there are a couple of arch-vile shocks. The second big scare comes with the yellow key grab, which summons forth a host of imps and a trio of nasty arch-viles that will put you through your paces. You might have better luck blitzing by them and activating the Cyberdemons. I was just fighting to stay alive.
MAP28
Gutter Grave
by "Darkwave0000"
Darkwave had the biggest and baddest level from 3HA so it stands to reason that he would provide a similar function for its sequel. For whatever reason, "Gutter" feels more accommodating in some aspects due to its lack of chaingunner spam and reliance on massive slaughterfights in toxic sewers highlighted by dark metal macrotecture. It's still very hard, no fight more so than the whole final leg, which starts off with a rude surprise (the pack of imps and Hell knights with a caboose of arch-viles) followed by a complete and total clusterfuck when the gates of delirium open, unleashing all manner of beasts but most importantly a ton of cacodemons and pain elementals that have no problem partying high up in the air, spreading their love everywhere. The final encounter may turn your stomach with its hall o' arch-viles, but it's not as bad as it may look at first glance. My favorite fight is in the dead center with those dual arch-vile pillars, just a fun exercise in crowdshaping so you can pull those troublesome teeth and then turn to the rest of the nasties.
Chair Brulante
MAP29
by JC Dorne
JC cranks out a tight little red brick Hell map that starts out loaded with zombies and quickly moves to bigger fish, particularly heavy on the revenants. I ended up punching the last monster to death but I picked the wrong direction to start so I missed out on a lot of SSG action that would have saved me a lot of ammo and heartache. Some of these rooms are a little tricky to break into, like the westernmost area (which has my favorite fights), but as far as most of its peers go, it's a pretty understated little level.
MAP30
3 Heures d'Agonie 2
by JC Dorne
The lead-up is great... but this is one of the most obnoxious IOS fights I've had in a long time. I think most of it is due to the fact that it's a blind drop into the hole where you have to wait a good while for the lift to descend, then ride it all the way up, all the while monsters are spawning and you can't do anything about them, plus trying to gauge where you need to time your rockets. My first attempt was plagued with pain elementals on the front side which made it basically impossible while the second was more manageable, if still besieged by fliers.