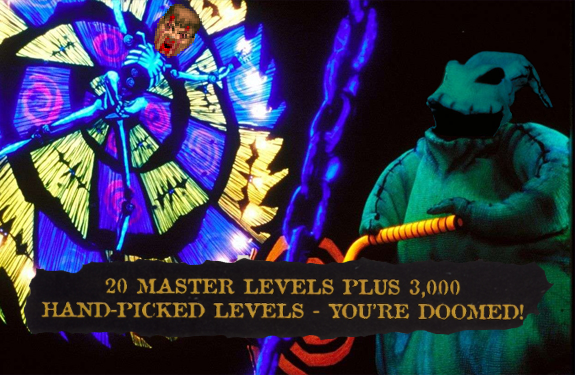 Doomed indeed. When id published the
Master Levels for Doom II
(release them as freeware already, you dicks!), they decided to do their own shovelware compilation, the now infamous
Maximum Doom
. The execution seems just as sloppy as any of the non-id PWAD scrapes, with missing .TXT files,
Doom
originals that were "converted" to
Doom II
via a cold, unfeeling utility, and amusing oversights like the inclusion of
Heretic
maps. I will say that it's a pretty good snapshot of what the user community was like at the time, a hot mess of sector savants and simpletons coming together in a blood tornado.
Since enough people have asked, I've decided to dip my toes in and see how the other half lives. I grabbed a copy of
Maximum Doom
and a
utility by Matias Nahuel Carballo
, called "Pick Me!". This won't be a regular thing, but I'm going to spin the wheel and write up the nine PWADs that come up. I won't be giving deathmatch levels proper reviews, and there's actually some overlap between the PWADs that I've already played and the stuff that's on
Maximum Doom
, so I'll give some brief summaries and link their reviews. Of invaluable worth is Funduke's
Maximum Doom Reference guide
. I'll be consulting it against every entry; some may consider the author to be the patron saint of /idgames dogshit, but I can't help but appreciate his stalwart chronicling of
Doom
's early days.
Also, while I'm sure it's an essential part of the Maximum Doom experience, I'm not going to play the shitty conversions unless I absolutely have to. Using Funduke's guide I've tracked down the originals, and that's what the reviews will be written on.
Anyway, on with the show!
Maximum Doom, Part 1
:
LEDGES2
,
SHADOWS2
,
BLT2
,
INFINITY
,
SQUID22
,
SPUNK
,
DEJAVU
,
ZEUS2
,
XENO112
(plus
SQUID
and
TRENCH
)