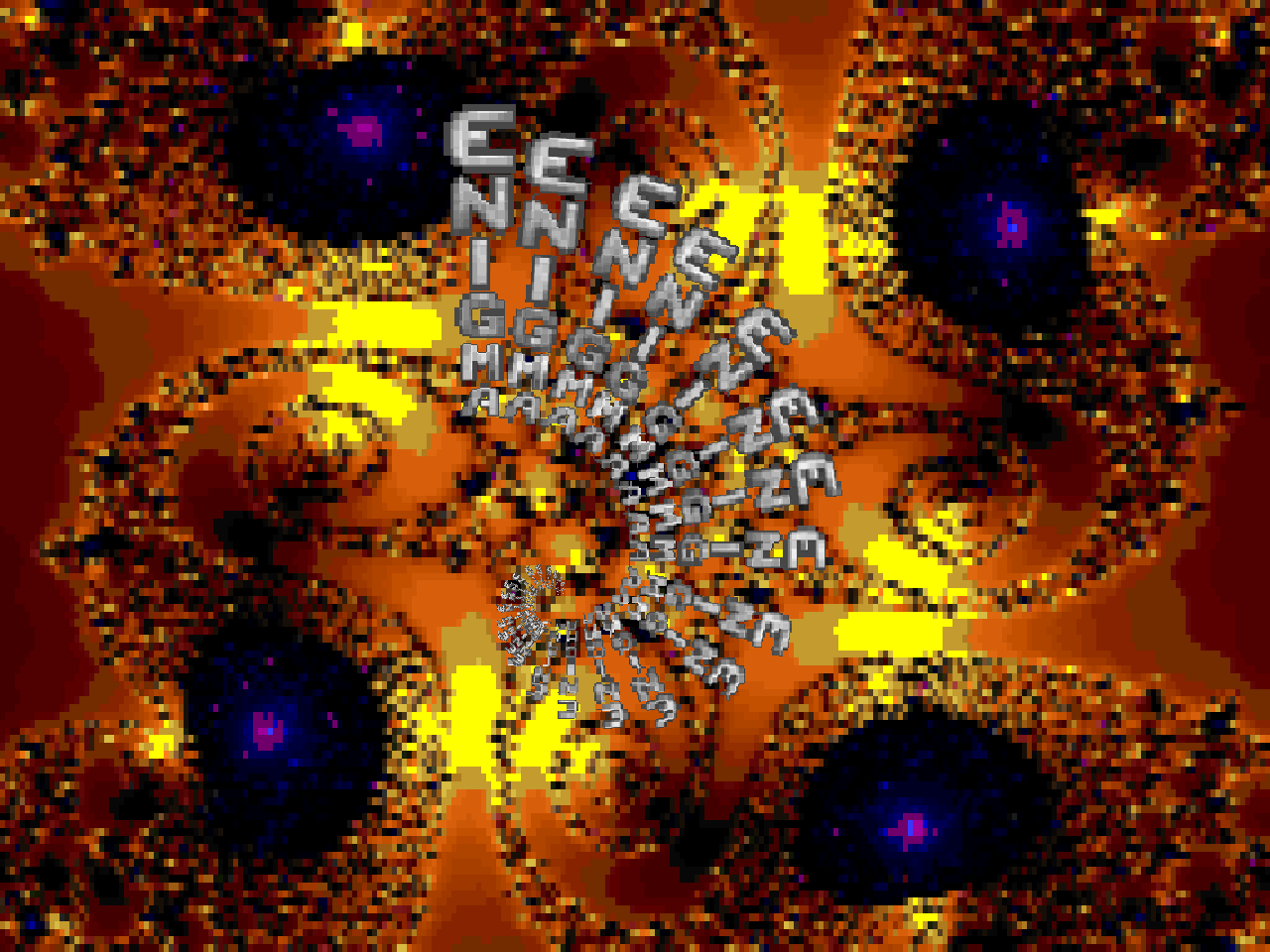 Of all the authors I've ever played,
Jim Flynn
is my favorite, and will probably remain so barring some kind of crazy
Doom
PWAD renaissance where people are straining to make large, complex levels that have solid themes or surreal texture and color combinations. Of course, Jim is mostly popular as one of the authors behind the
Master Levels for Doom II
, which brings us to an interesting point.
The Enigma Episode
, published back in 1995, is actually a re-release of almost all of Jim's older maps for the original
Doom
, painstakingly transmogrified to
Doom II
. I haven't played the originals, but some antiquarians were kind enough to put them on /idgames back in the mid-2000s.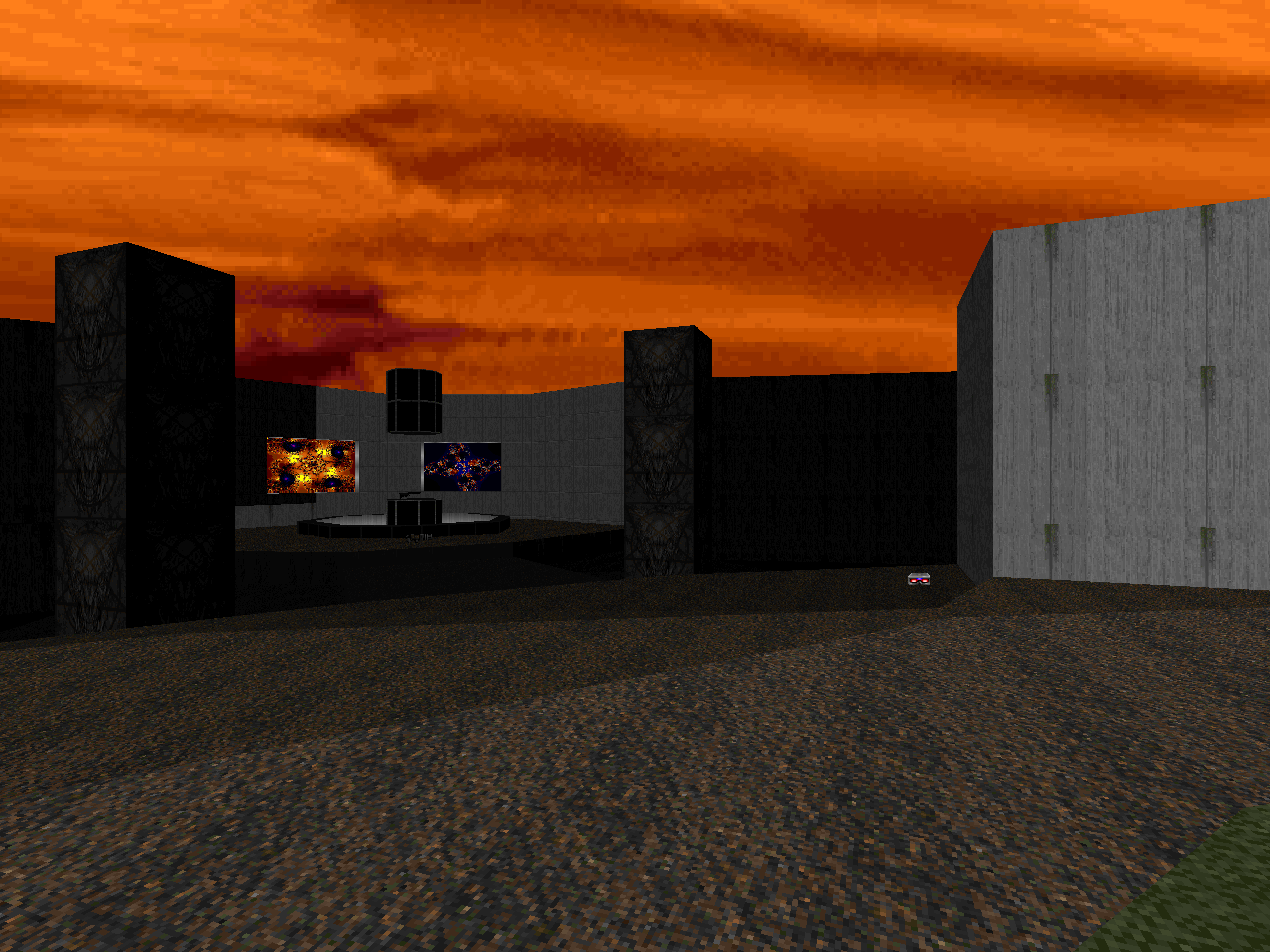 A list, for reference - "Mt. Doom" is, unsurprisingly,
Mt. Doom
. Then, of course, there's
Rings
. "Twisted" was originally named
Up and Down
, "Gulch" came from
Doom Gulch
, and "The Wheel" is
The Wheel
. "Triplet" began life as
Peano
, named no doubt for Giuseppe Peano. The rest are as could be expected, with
Wack
,
The Tower
, and
Citadel
. From what I've read, the levels present in
Enigma
have been polished / expanded or otherwise enhanced, so it might be an interesting trip for
Doom
historians to see where these levels came from. It's hard to gauge by the /idgames comments, which as I could expect regard the original levels as toxic waste dredged up from 1994.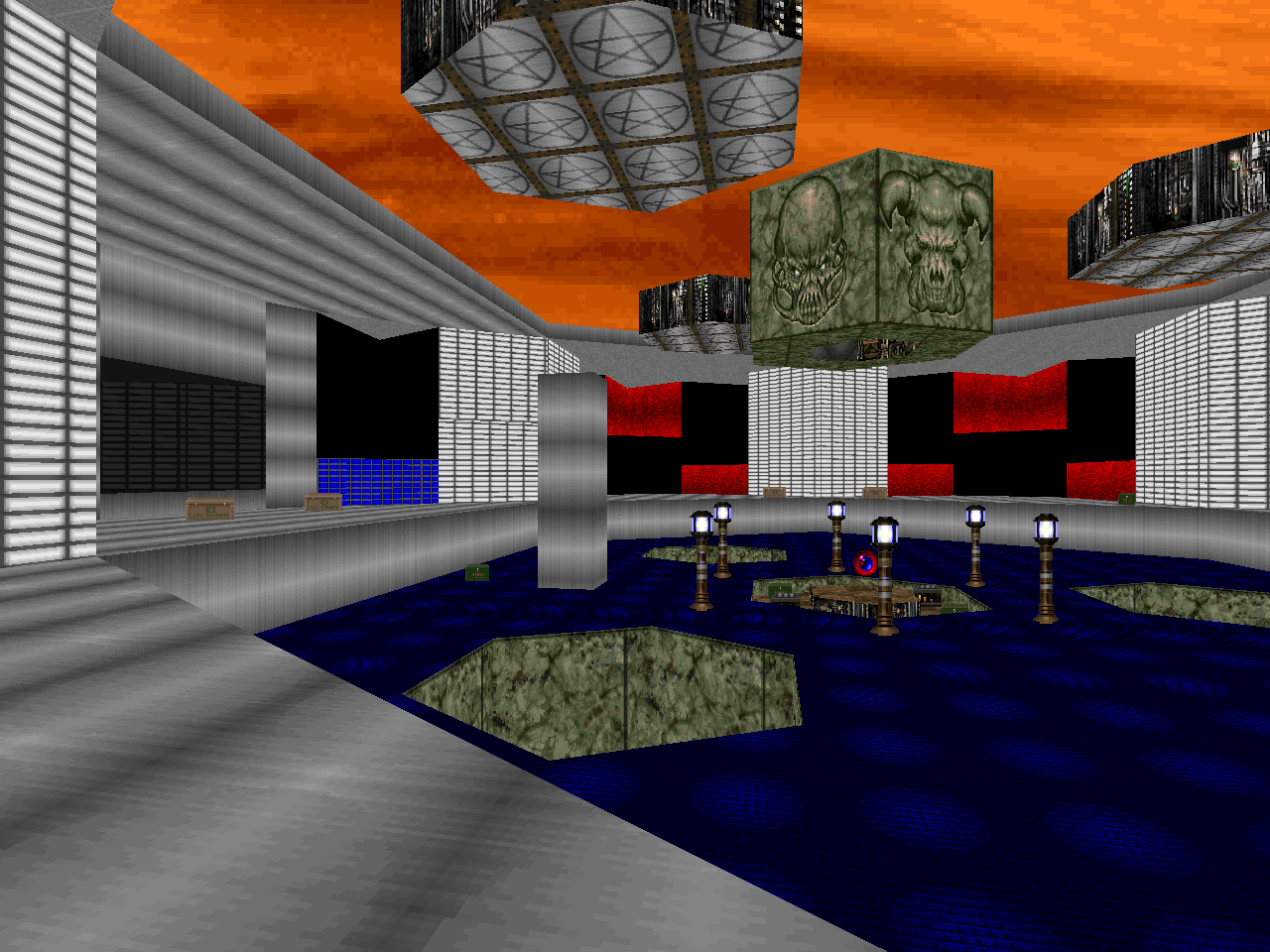 That's due to a variety of reasons. Jim Flynn has an aesthetic sensibility that is entirely his own. You can see it, here, and watch it develop across the
Titan series
. He's pretty good at
Doom
realism when he wants to try, which you can see in his
Eternal Doom
maps,
The Interdiction Zone
, and here in "The Citadel", but the architecture and detailing of these levels is pretty abstract with a lot of love of silver and huge, open areas. The color combinations are... striking, to say the least, but almost always consistent on a room by room basis. The author has also pinned up a number of Mandelbrot fractals, which adds to the strange feel.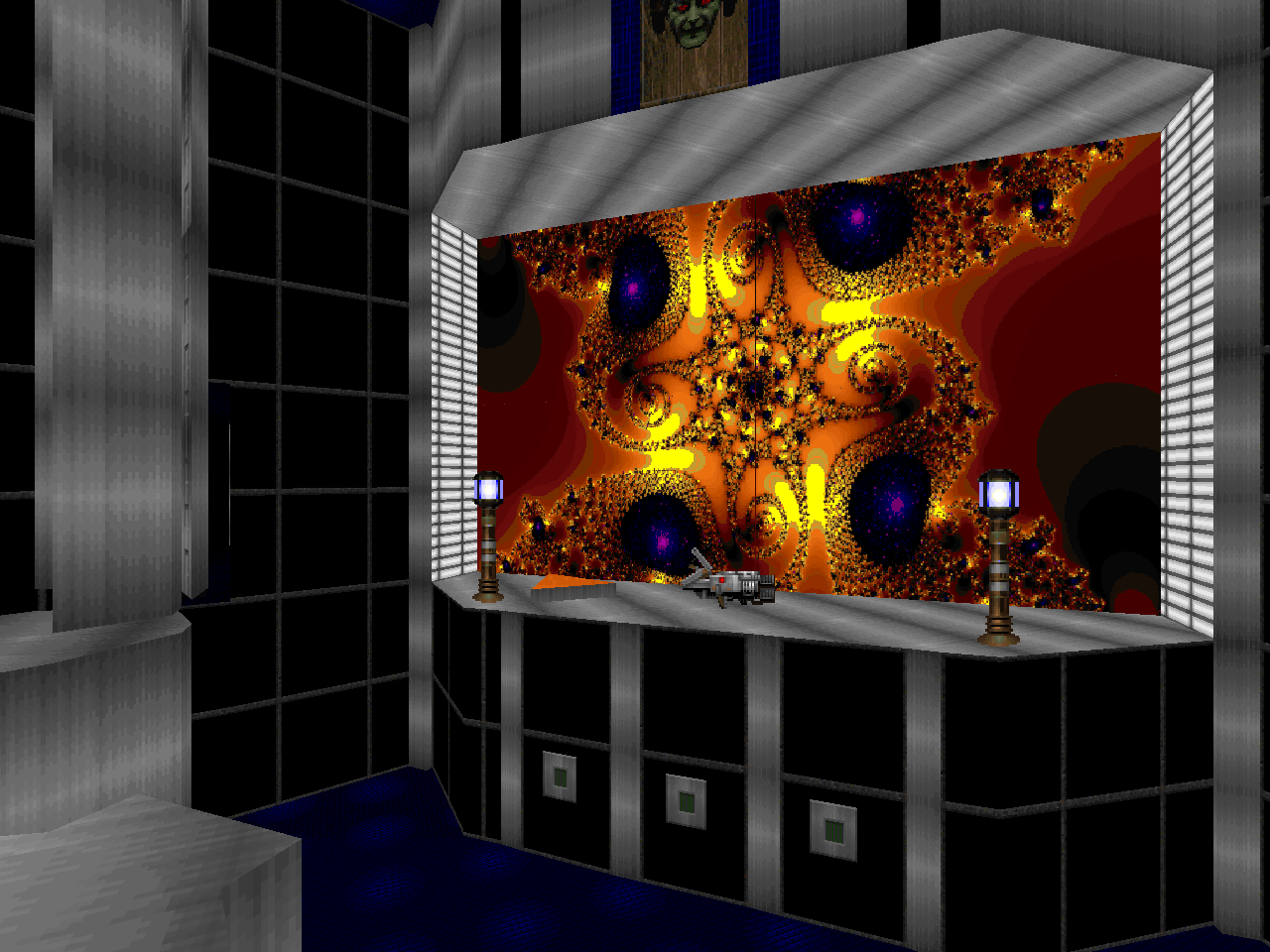 If you can appreciate the visuals, there's still another obstacle to surmount - the gameplay. Jim Flynn is one of a small group of authors who loved to cram their levels with as many puzzles as they could design, making navigation and progression pretty difficult. The Enigma Episode is a good example of a gameplay style that has become increasingly alternative in the years of PWADs that would follow; it engages the player in combat with the very geometry of the level, forcing them to discern the order of timed lifts, locate narrow ledges, or - when all else fails - wallhump and retroactively realize why you could have figured out that that was a door. The level is a Rubik's cube, and it's also covered in monsters that want to eat you.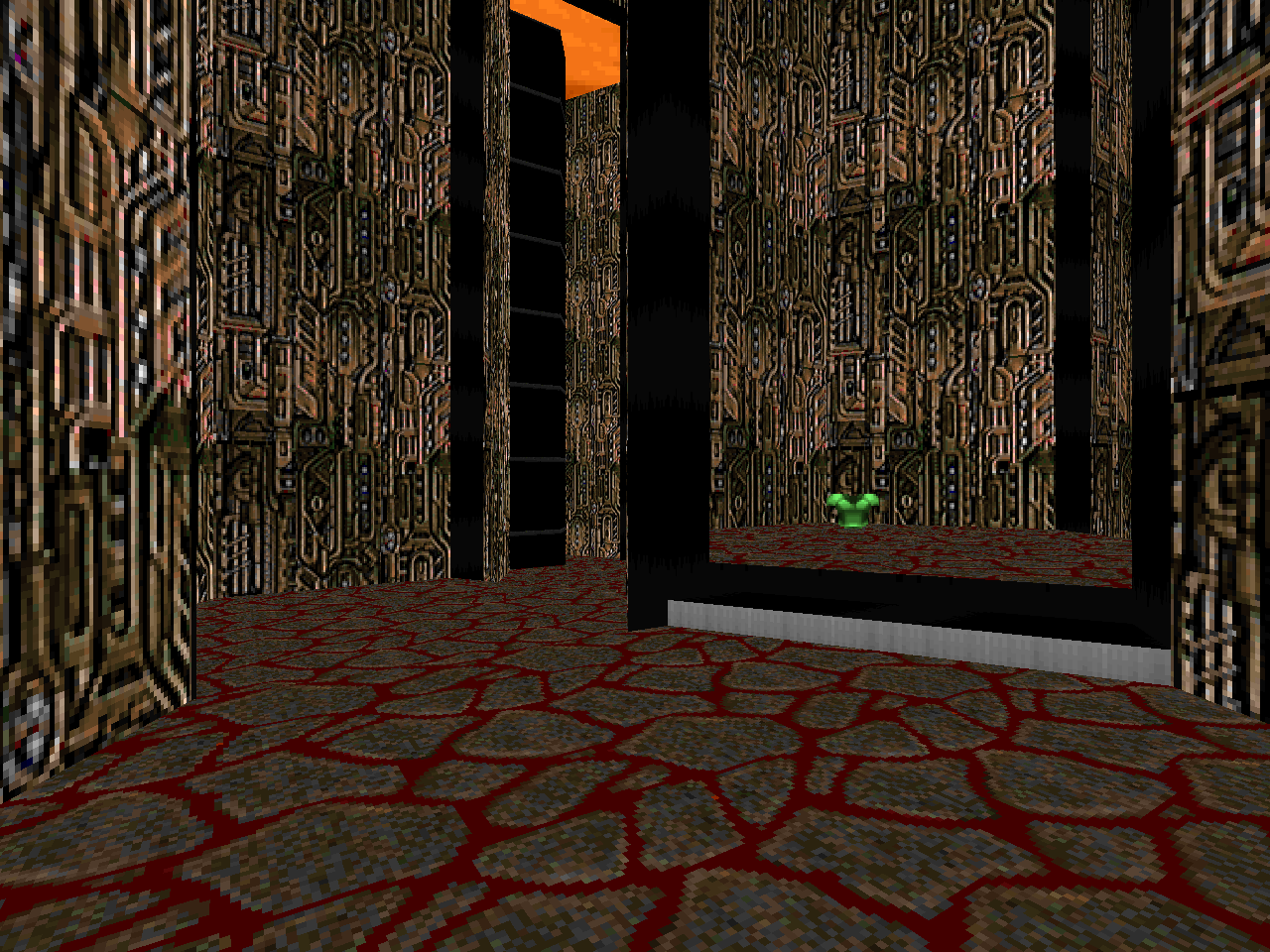 For what it's worth, the challenge isn't entirely relegated toward switch hunts and three-dimensional mazes. Flynn is pretty good about creating interesting and challenging combat scenarios and isn't afraid to use a lot of the larger, bulkier monsters. The combat is definitely tailored to the layouts, or vice versa, which might be an amusing contrast to the versions of these levels that were included in
Maximum Doom
, which were run through a half-assed conversion utility that probably butchered whatever Jim had placed when the action was paced for the original
Doom
. He is a bit more baron heavy than modern players would probably prefer. So it goes.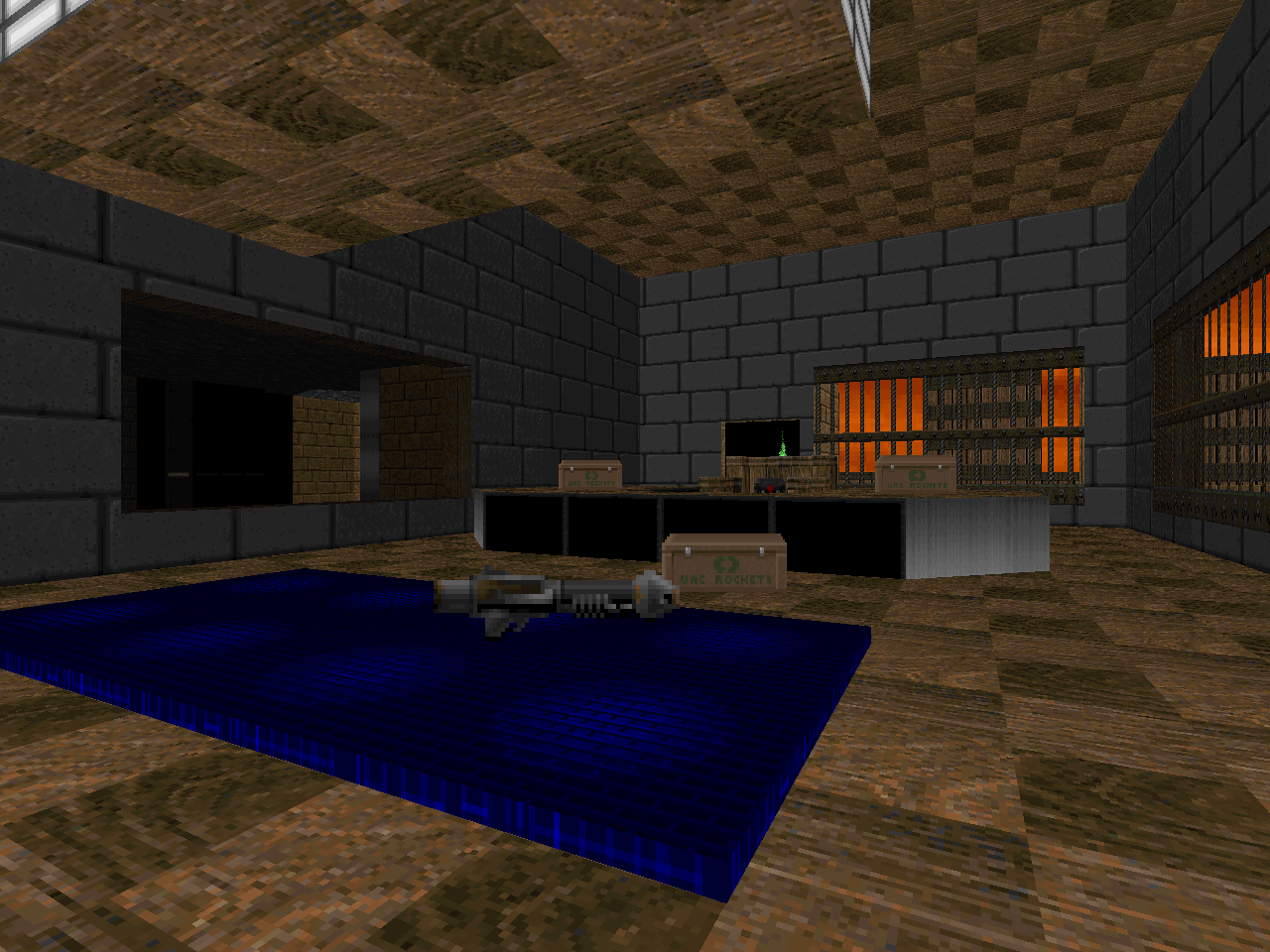 Personally, I'm a fan of Flynn's weirder stuff, like the yawning, Hellish chasms, the hexagon maze of MAP06, or the arrangement and outgrowth of "The Wheel". "The Citadel" feels downright normal in comparison, at least until you hit the outdoor areas. I mean, it's got an office, a kitchen, and some other stuff that I can't remember right now, mixed in with mysterious, monolithic black walls and hallways painted with the E2 sky. Some players might perceive the whole affair as terrifying randomness, but if you're anything like me, it's just another trip through the wild world of the dude that would go on to make "Cybersweeper".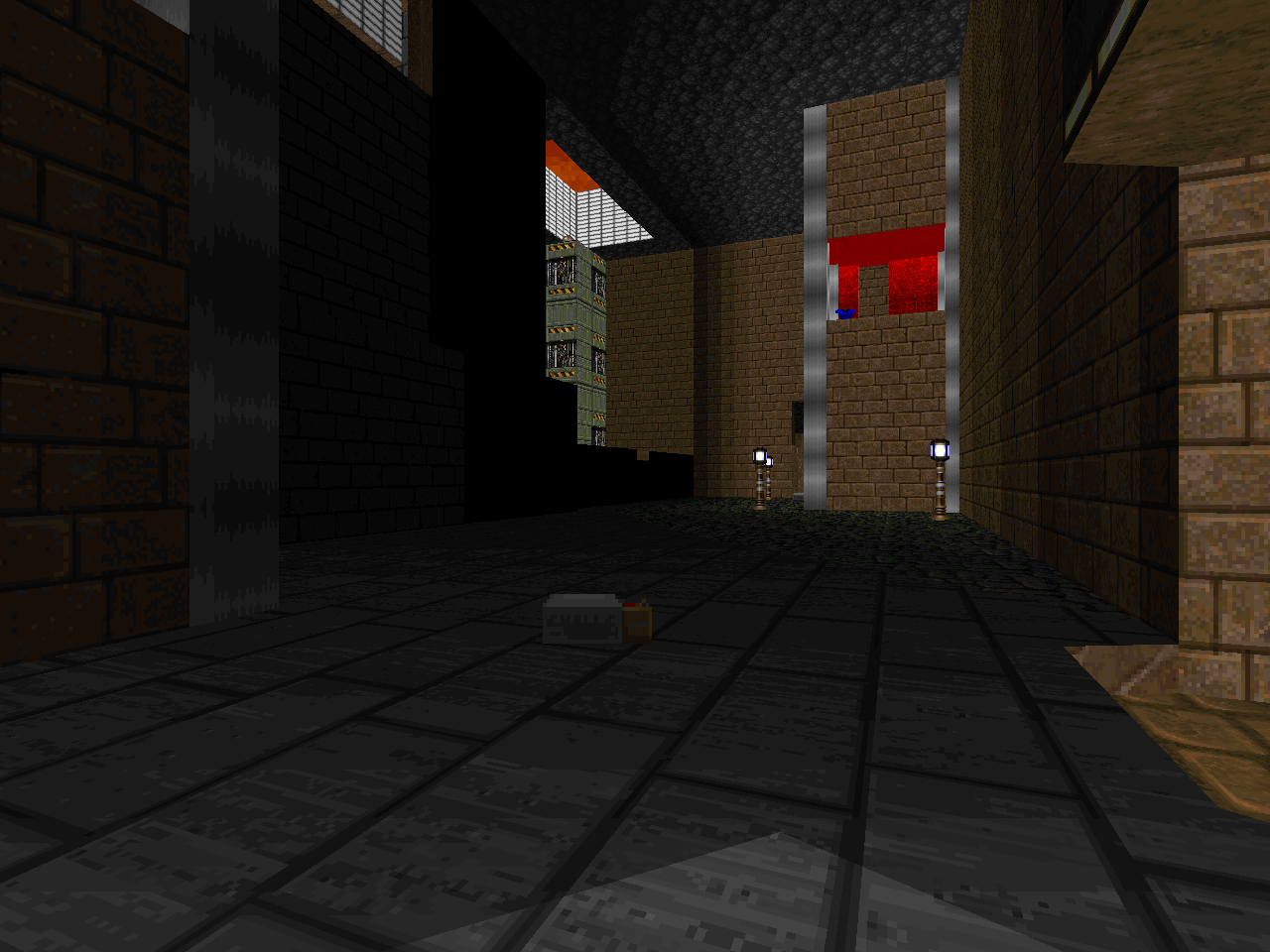 The Enigma Episode is a WAD well worth playing, though I'd shy away if you're opposed to any of the stuff that I've said in here, because you'll be seeing a LOT of it. I'd still give it a try, but if you don't like it at all, well, no pressure! There are many more levels to play in the history of Doom, and this is but nine of them.


THE ENIGMA EPISODE


by Jim Flynn
| MAP01 | Mt. Doom |
| --- | --- |
| | It's outdoors with a ton of bricks. The opening is tepid, and Mount Doom itself is kind of ugly and unimpressive to climb. Once you open up the second half of the area, things heat up. You're immediately ambushed by a number of uglies (my favorite encounter) and there are even more clamoring in the adjacent courtyard. I found that the map geometry kind of hamstrung the other groups from getting too close to you but they made for a few fun battles. Flynn's major map tricks here are using sky textures for the teleporters (has a nice, distinctive feel) and the use of tiny staircases to simulate ladders. I felt the revenants in the exit room were kind of wasted, though. |
| Rings | MAP02 |
| --- | --- |
| The beginning area resembles something of an inverse ziggurat. There are several tiers of play accessed by some similarly tiered lifts, thankfully all in one single location to facilitate easy access. The puzzle solving involves opening up the section of the tiers that are useful as there's a solid metal wall preventing you from working around the "rings". Most of the combat inside isn't rough though the chaingunners can surprise you. My main objections are the mandatory secrets which you need to find in order to clear the level. The outer area is pretty spacious but the fighting is pretty tame. The nastiest encounter happens when you return to the center ring, a surprise trap (that you should easily see coming) involving a ton of hitscanners and an arch-vile. | |
| MAP03 | Twisted |
| --- | --- |
| | I was put off by the Wolfenstein red brick at the beginning but it quickly gave way to a devious and interesting level. There's giant crusher halls, a wooden maze, many uses of lifts to simulate 3d architecture, and a grand courtyard with several stages of fights, including an ambush that caught me off-guard. The methods of acquiring the keys required to exit is consequently a bit obtuse, but I'm liking how much Flynn is making me think when exploring and solving these Doom maps. I'd say the hardest (and most memorable) part is sorting out the craziness if you activate the secret hallways at the map's beginning. Everything afterwards is just gravy. |
| Gulch | MAP04 |
| --- | --- |
| Very large and very complex chasm-based level. The geometry is spot on, but the concrete texture that dominates most of the level leaves something to be desired. It can be pretty hard, featuring two Cyberdemons and a Spider-Mastermind as well as two hard to get at arch-viles and plenty of window snipers. The opening itself is pretty intense though with one well placed shot you can clear out a nice cubby to defend. There's more than enough ammo to take on everything without resorting to infighting or crushers. Dipping down into the gulch for the first time is a great moment in terms of the sheer intensity of what goes on, though the blue key trap is a close second. Some of the puzzles can be a little arcane, like the sequence which reveals the Cyberdemon crusher switches. I dig that stair effect, though. | |
| MAP05 | The Wheel |
| --- | --- |
| | Very simple layout. It's a wheel. There's an indoor center, an outdoor ring, another indoor ring housing various nasties, and a final outer ring where most of the real action will take place. The opening is a little rough but then it lets up for awhile. I made a big mistake my first run through and dodged out to the outermost ring before activating the spokes in the center room (which you can do by jumping into the level's only "secret", the wheel's hub). Besides making the entire exterior fight much harder, it renders the level impossible to complete. So, don't do what I did. Otherwise, props for making the arch-vile ambush near the end somewhat threatening. |
| Triplet | MAP06 |
| --- | --- |
| "Triplet" is divided into four very distinct areas. The first, the level hub, features portals to the other three gates. There's not a lot to it, but there are a few surprises to be had. The second is the hub housing the blue key. It starts off with a maze built entirely out of hexagons and then proceeds to a much more knockaround sequence of battles in a tiered, outdoor area. The third area houses the yellow key. It's much simpler than the blue key zone, taking place in a huge indoor room with quite the crossfire to start off with. The centerpiece is a large structure that erupts out of the ground, a sort of grand staircase that winds in and around itself. Finally, there's the area housing the red key. The architecture is a bit plain with bland, silver hallways, but there are monster ambushes every ten feet and a couple of really brutal firefights. There's one in particular, a series of ambushes in a blood trench, that really boggle the mind. Once you get beyond the more open hallways you'll kick around in some cramped, dark corridors that criss-cross. It's an exhausting level but once you sort out the blue key wing the rest isn't quite so tough. Just be careful in the red key wing. | |
| MAP07 | Wack |
| --- | --- |
| | Another sprawling, imposing level with multiple distinctive rooms. There's several great moments and firefights, like the revenants teleporting into the opening room, or the mounting battle in the southern section, or the fight in the exit room (which is filled with lifts, confound it). There's also a memorable ledge-humping sequence near the end and a surprise encounter with a Cyberdemon and Spider-Mastermind. My favorite fight would have to be the southern room, it's spacious enough to give you some mobility while also hemming you in with a large number of toughs, though the dread you feel when the revenants begin to warp into the opening room when you're under-equipped and low on ammo (not counting the ammo-filled secret) is a contender. I just wish the exit room battle wasn't dragged down by a plethora of lifts. |
| The Tower | MAP08 |
| --- | --- |
| Chasm-based open-air level with, as always, the emphasis on exploration. The chasm itself has some nice platform-based puzzles and ledge-humping with a great crossfire in the northeastern room. The southern portion has a huge rogues' gallery of barons, revenants and cacodemons that owing to their positioning will tend to clear themselves out. There's a shootout with a Cyberdemon at the far end of the courtyard but it's nothing special. The western area is okay but Flynn's signature construction is the aforementioned tower, a massive black-paneled structure with a lift-based puzzle in its interior. There's some stairs to enter the tunnel an easier way but the first time you've got to time a running jump into the building itself. There's also two portals that take you outside, which can give you quite a backtracking headache if you haven't raised the outer staircase. | |
| MAP09 | The Citadel |
| --- | --- |
| | Huge outdoor level whose main structure is the eponymous citadel, a square-shaped building quartered into different interior sections ringed by the citadel's battlements. The monster collection of each battlement is roughly the same while the challenges in the corner rooms and interior rooms form the variety of the map. There's an interesting little puzzle section before you move onto the citadel proper, but the building is fairly low key as far as thrills go. Things can get a little tough as the plasma rifle isn't acquired until late in the map while its ammo is unusually bountiful. Still not quite sure what the point of this level's arch-vile was. On the whole, a great map, though not quite the finale I hoped for. |